Theatre New Brunswick announce 17/18 PAY-WHAT-YOU-WISH performances.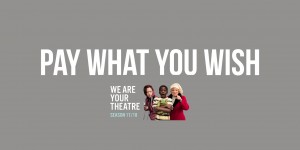 In our ongoing efforts to make theatre accessible to everyone in our local community, we're pleased to include two PAY-WHAT-YOU-WISH performances for productions running at the Open Space Theatre this season.
Our October production of Ryan Griffith's play Fortune of Wolves, and our March production of Natalie Sappier's playwriting debut, Finding Wolastoq Voice, will both feature PAY-WHAT-YOU-WISH performances on the first Sunday of their performance runs.  Both of these plays were written by New Brunswick playwrights and we strongly believe their voices deserve to be heard by as many New Brunswickers as possible.
To take advantage of these special performances, we recommend showing up early to ensure you get a seat. PAY-WHAT-YOU-WISH performances are rush seating, which means no holds or reservations are available.
Complete details on this season's PAY-WHAT-YOU-WISH performances below:
Fortune of Wolves | October 15, 2017 | 2 p.m. | Open Space Theatre – 55 Whiting Road, Fredericton | Learn more about this production
Finding Wolastoq Voice | March 11, 2018 | 2 p.m. | Open Space Theatre – 55 Whiting Road, Fredericton | Learn more about this production
If you have any questions regarding PAY-WHAT-YOU-WISH performances at Theatre New Brunswick, please contact our Director of Communications and Development – Matt Carter communications@tnb.nb.ca