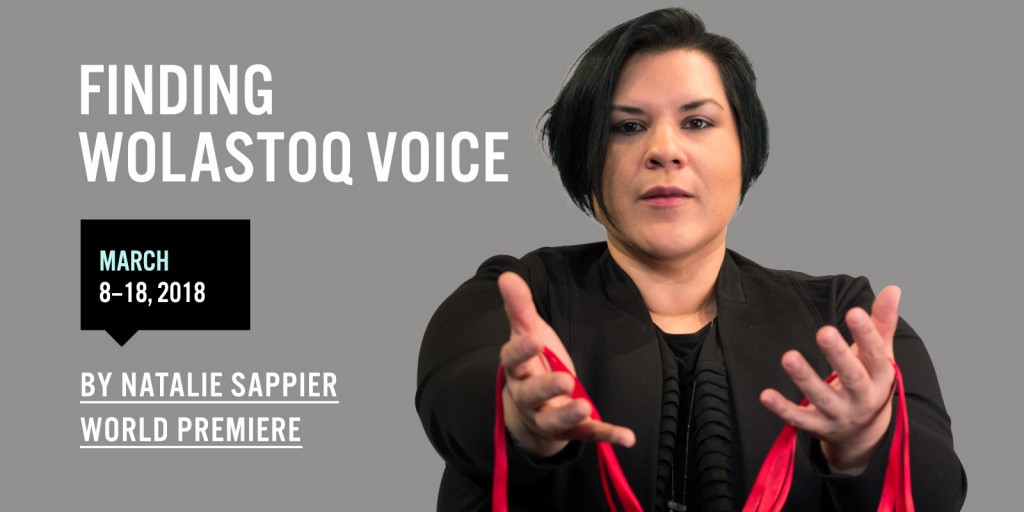 Finding Wolastoq Voice
The debut work from Indigenous artist-turned-playwright Samaqani Cocahq (Natalie Sappier) of Tobique First Nation.
New Brunswick Indigenous artist Natalie Sappier makes her playwriting debut with Finding Wolastoq Voice, a powerful dance-theatre hybrid performance that explores the personal discovery, identity and culture of a young Wolastoqiyik woman awakened by the voices of her ancestors.
Playwright and Composer Samaqani Cocahq (Natalie Sappier)
Directed by Thomas Morgan Jones
Featuring: Aria Evans
Set and Lighting Designer: Andy Moro
Sound Designer: Michael Doherty
Production photo by: Matt Carter
The development of Finding Wolastoq Voice was supported by ArtsNB and the Canada Council for the Arts with additional support from Canadian Heritage.

Individual tickets for all performances go on sale July 24, 2017.
March 8
Open Space Theatre | 55 Whiting Road | 7:30 pm | Buy Tickets
March 9
Open Space Theatre | 55 Whiting Road | 7:30 pm | Buy Tickets
March 10
Open Space Theatre | 55 Whiting Road | 2:00 pm & 7:30 pm | Buy Tickets
March 11
Open Space Theatre | 55 Whiting Road | 2:00 pm | Pay What You Wish
March 15
Open Space Theatre | 55 Whiting Road | 7:30 pm | Buy Tickets
March 16
Open Space Theatre | 55 Whiting Road | 7:30 pm | Buy Tickets
March 17
Open Space Theatre | 55 Whiting Road | 2:00 pm & 7:30 pm | Buy Tickets
March 18
Open Space Theatre | 55 Whiting Road | 2:00 pm | Buy Tickets
On Tour*
March 21, 2018
W. C. O'Neill Arena Theatre | St. Andrews, NB | 7:30 pm | Buy Tickets
March 22, 2018
BMO Theatre | Saint John, NB | 7:30 pm | Buy Tickets
March 23, 2018
théatre l'Escaouette | Moncton, NB | 7:30 pm | Buy Tickets
March 24, 2018
Bathurst High School | Bathurst, NB | 7:30 pm | Buy Tickets
March 25, 2018
Elsipogtog First Nation | Elsipogtog School | Elsipogtog, NB | 6:00 pm
March 26, 2018
Purdy Crawford Centre for the Arts | Sackville, NB | 7:30 pm | Buy Tickets
March 29, 2018
Native Earth Performing Arts | Toronto, ON | 7:30 pm | Learn More
March 30, 2018
Native Earth Performing Arts | Toronto, ON | 7:30 pm | Learn More
March 31, 2018
Native Earth Performing Arts | Toronto, ON | 7:30 pm | Learn More
April 4, 2018
Burnt Church First Nation | Esgenoopetij School | Burnt Church, NB | 6:00 pm
April 5, 2018
Tobique First Nation | Mah-Sos School | Tobique, NB | 6:00 pm
April 6, 2018
Carleton North High School | Florenceville-Bristol, NB | 7:30 pm | Buy Tickets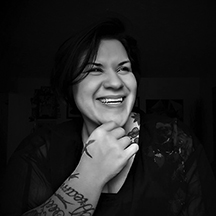 Samaqani Cocahq (The Water Spirit) Natalie Sappier
Playwright and Composer
My name is Natalie Sappier-Samaqani Cocahq (The Water Spirit) I am a Wolastoqiyik Indigenous multidisciplinary artist from Tobique First Nation. Much of the teachings carry along the Wolastoq waters and it lead me into art community in Fredericton-where my arts practice is currently based and a place I call home also.
I have always had a creative spirit-I remember being young and always being captured by the surroundings and people in my community. I would find stories in the forests and waters-some would say I was child full of imagination and was always expressing myself through spoken word, song and dance.
I began my visual arts practice in early 2000 when I enrolled at New Brunswick College of Craft and Design where I met Sagatay (Gwen Bear)-She became a very influential person in my life and through her guidance I began learning about traditional ceremonies, teachings, language and medicines. The teachings inspired but also gave a larger understanding of who I am and I began expressing that through painting.
When I paint the Wolastoqiyik motifs naturally became part of my stories, this symbolic movement in my artwork is what I call "dancing the four directions" which represents emotions, dance, of spirit and of song through Wabanaki roots. My painted stories kept me close my Indigenous ways of being, constantly teaching me and in constant curiosity. I realized early in my painting career that I was not painting just for me but I was painting for my people-I was painting for my ancestors.
Today, I stand in the Wolastoq waters I am witnessing our language being lost, our lands hurting and our water is crying. I feel our stories need to be heard louder than a painting can speak. I began my path to open my spirit to learn courage to share my songs, strength within my voice and within my words for me to continue to share stories expressed with Indigenous heart on stage for the world to see.
Learn more about Natalie's work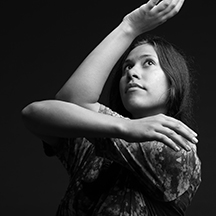 Aria Evans
Dancer/Choreographer
I see myself as a collector, a curator of human stories. I like to examine personal narratives and experiences, presenting them so viewers can identify themselves within a larger world and realize that as a species we are undivided. I believe that identities such as race or gender are meaningless and that we all share common ground. As an identified minority in our society, I use my art to advocate for the banishment of the notions that separate us.​
I am a Toronto-based mixed-race, emerging contemporary dance artist working within performance, choreography and video. In my work, through movement in performance and on film, I strive to express those ideas that are inaccessible to the spoken or written word. Contemporary choreography is the technical foundation for my work while conceptually it draws from my experiences and the experiences of others. I am interested in how dance can tell the story of our lives and bring us together as a society. My choreographic work draws attention to our unity by finding and dissecting the hints provided in our choices, our relationship to others and to ourselves.
By showcasing human stories my intention is to provoke questions about society. My work invites audiences to engage in personal contemplation and discussion. I strive to make the audiences entry into this challenge easier by drawing from and presenting everyday situations. When I create a new work, the point of departure comes from contemporary life. The integrity of my artistic vision is to speak to a diverse audience and I aspire to bring valuable and original contributions to the field of dance and dance film.

Learn more about Aria's work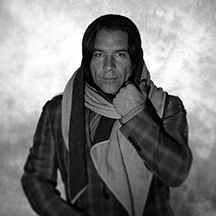 Andy Moro
Set and Lighting Designer
A Toronto-based Euro/Cree with roots in Windsor, Moosefactory, Cochrane & Hearst Ontario, northern Italy and somewhere in the Netherlands, Andy has toured extensively, implementing and operating his own designs internationally since 1990. He is a core member of the creative team at the Banff Centre's Indigenous Dance Residency, co-founder and director the multi-disciplinary organization Red Pepper Spectacle Arts and facilitated the Production Mentorship Program at the Centre for Indigenous Theatre.
Andy has worked with Native Earth Performing Arts, New Harlem Productions, Young People's Theatre, VideoCabaret, Red Sky Dance, Dancemakers, Debajehmujig Theatre, Actor's Repertory Company, Buddies in Bad Times, Sky Gilbert's Cabaret Company, Daniel MacIvor's dada kamera, Kaha:wi Dance Theatre, Western Canada Theatre, Saskatchewan Native Theatre, Halfbreed Productions, Michael Greyeyes' Signal Theatre, Cliff Cardinal with CultureStorm and many more. He is a multi-award winner and nominee and has twice been named among Toronto's NOW magazine top-10 theatre artists.
Andy is a proud founder and director, with Tara Beagan, of ARTICLE 11, a new creation and production company that celebrates Article 11 of the UN's Declaration of the Rights of Indigenous Peoples through practice.

Learn more about Andy's work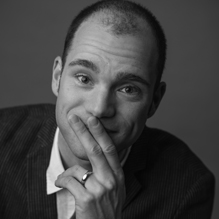 Thomas Morgan Jones
Director
Thomas is an award winning director, playwright, movement coach, dramaturg, and teacher. For over 15 years he has created theatre nationally and internationally with companies and schools that include: The Stratford Festival, Theatre Direct, Theatre Passe Muraille, The Charlottetown Festival, Carousel Players, Cia Enviezada (Brazil), NTS, Sheridan, and The Randolph Academy. He holds a BA from Guelph, an MA from UofT, and has trained with SITI Company in NYC/Madrid/Paris and SCOT in Japan and Italy.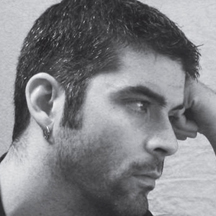 Michael Doherty
Sound Designer
Michael is an Atlantic Canadian-based composer, sound designer, producer and musical director. He is a multiple Merritt award nominee and 2007 recipient. He also received the ECMA Musician's Achievement Award and is the 2014 recipient of The Playhouse Honours. Michael is currently the resident composer & sound designer for Theatre New Brunswick. Recent credits include; Frankenstein-The Man Who Became God, A Christmas Carol, Beaverbrook; Theatre New Brunswick, 39 Steps; Harbourfront Theatre. Other selected credits include; The Lion in Winter, The Rainmaker; Watermark Theatre; Full Dark, Theatre Sheridan; As Ever, Mulgrave Rd; Homage, 2B Theatre; The Mystery of Maddy Heisler, Centaur.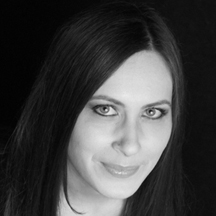 Sherry Kinnear
Costume Designer
Sherry is the costume designer for the TNB Young Company and TNB Theatre School as well as the Head of Wardrobe for all branches of the company. Sherry most recently designed costumes for The Boat, , The Snow Queen, A Sunday Affair, Marion Bridge, Vigil, The Drowsy Chaperone, The Eighth Fire, and The Net, as well as Guys & Dolls, West Side Story, The Wizard of Oz, Les Miserables and has created costumes for A Christmas Carol, Frankenstein, Miracle on 34th Street, It's a Wonderful Life, Little Shop of Horrors, Gifts of the Magi, The Dollar Woman, Treasure Island, and many other TNB productions over the past nine years.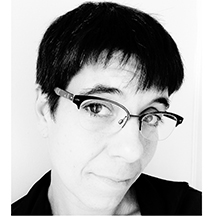 Tammy Faulkner
Stage Manager
For TNB: Little Women – The Broadway Musical, A Christmas Carol, Red, Miracle on 34th Street, The Last Five Years, Little Shop of Horrors, It's A Wonderful Life (2012), Oleanna, The Musical of Musicals (SM), Hilda's Yard, The Bricklin, Hockey Dreams, Treasure Island/The Marketeer, It's a Wonderful Life (2009), Doubt/LaTour, Tuesdays With Morrie, Vinci, For the Pleasure of Seeing Her Again, The Love List(ASM), A Christmas Carol (ASM & Production Manager) and Forever Plaid (Production Manager).
Natalie's courageous piece engages with the idea of self-discovery and also of community. How we care for ourselves, for others, for the land, and for our spirit. This play also helps us as a theatre company meet our responsibility to give indigenous voices a home and a stage to be heard here in New Brunswick. - Thomas Morgan Jones | Artistic Director
LISTEN:
Artistic Director Thomas Morgan Jones shares his thoughts on the debut from Samaqani Cocahq (Natalie Sappier).