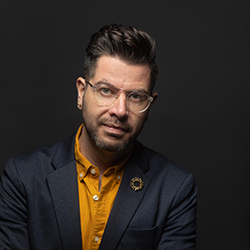 Rob Kempson
Director
Rob Kempson is a director, playwright, and educator who has more than 15 years of experience in the non-profit professional arts sector. He is currently the Artistic Director of the Capitol Theatre in Port Hope, ON and the Co-Artistic Producer of ARC. In addition to his artistic work, he has served in various leadership positions, including as Associate Artistic Director at the Thousand Islands Playhouse (Gananoque, ON) and as Associate Artistic Producer at Theatre Passe Muraille (Toronto, ON). He was also the founding Artistic Director of timeshare performance, a multi-award-winning Toronto-based collective, and has worked across the province as a freelance director and playwright.
After acting as the Artist-in-Residence for the 2019 NotaBle Acts Festival, Rob is honoured to return to Fredericton this fall to work on this groundbreaking new play by Len Falkenstein.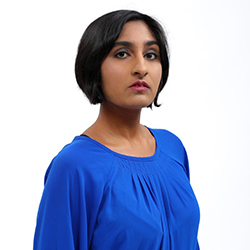 Moneesha "Misha" Bakshi
Moneesha "Misha" Bakshi (She/They) is a multi-media actor based in K'jpuktuk (Halifax). Misha is an alumnus of the Acting Program at the Fountain School of Performing Arts. A proudly bisexual and non-binary artist of color, they strive to create art that uplifts the voices of marginalized people while working her way towards becoming a C-list celebrity. When not acting, Misha is a model, cosplayer, gamer, and an avid reader of cheesy romance novels. You can follow Misha for anime memes and silly art thoughts mishasvoices on Instagram and Twitter. Selected Theatre: Mary Stuart (FSPA), ClusterF**k(Eclectic Full Contact Theatre), Hamlet (Shakespeare By the Sea), Newcomers (Halifax Theatre for Young People).
Selected Musical Theatre: Rain on the Parade (Villains Theatre, '23), Cinderelly (Shakespeare by the Sea, '22), Midsummer Night's Dream (SBTS '21).
Selected TV/Film: HOP (MAX), The Real Pigs of Norfolk County (Eastlink).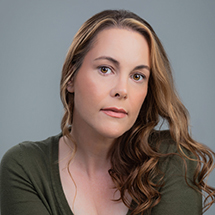 Bridget Bezanson
Bridget is an actor and musician based in Dieppe, New Brunswick, Bridget has worked in regional theatre in Atlantic Canada and Ontario. Recent credits include Come From Away - Gander (ACCNL/Rubinoff), Resident Aliens (Theatre NB). Also: Neptune Theatre, Two Planks and a Passion, Festival Antigonish, Onelight Theatre, Stirling Festival, Smile Theatre, Shadowpath Theatre, the Ontario Shebang Project, and the Newmarket National Play Festival. Other credits include voice work for CBC animation and CBC Radio. A versatile vocalist, she is formally trained in classical and jazz styles, and holds 2 Silver Medals from the Royal Conservatory of Music. Bridget is a published songwriter, a member of SOCAN, and a recipient of a New Talent Grant from FACTOR (Foundation to Assist Canadian Talent on Record). In 2022, she completed a certificate in arts and culture management at the University of New Brunswick. bridgetbezanson.com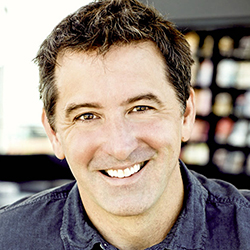 Matthew Lumley
Matthew Lumley is a Kjipuktuk/Halifax-based performer, delighted to be working at Theatre New Brunswick for the first time. Recent theatre work includes Schoolhouse, Macbeth, Elapultiek, Frankenstein, In This Light, Animal Farm, North Mountain Vanya (Two Planks), The Realistic Jones, Heaven Above/Heaven Below (KAZAN Theatre), Hamlet (Below the Salt), The Little Years (Matchstick Theatre), This Is Nowhere (Zuppa Theatre). TV/film work includes Sugar Highs (Emotion Pictures) Look At Me (Afro Viking Pictures) Hopeless Romantic (Northeast Films); Polaroid (Dimension Films), Weirdos (Shadow Shows), Mr. D (CBC). Dance work includes Archive of Loneliness (Sara Coffin), Note the Weather (Mairéad Filgate), petites danses (Mocean Dance), Partnering Apart (Kinetic Studio). Matthew wrote and performed in First Weekend and Surf Gods (airing on CBC); he co-wrote and performed in The Perfection of Man (Misery Loves Theatre Company/Eastern Front Theatre). Matthew studied at the Neighborhood Playhouse (NYC) and York University (Toronto).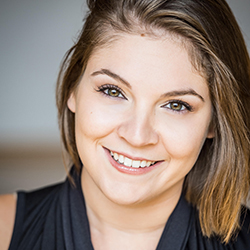 Kathleen MacLean
Kathleen is a 2Spirit Michif-Settler, born and raised on Treaty 6 Territory & the Homeland of the Metis Nation (Saskatoon). Kathleen attended the National Theatre School of Canada for Acting, and since then has had the honour to tell predominantly Indigenous stories. Kinanâskomitin to my family and to all the Indigenous and queer storytellers who came before me. I stand on their shoulders.
Select credits include: Marie-Angelique in Women of the Fur Trade. Susan Blackbird in 1939. Emily Dictionary in The Rez Sisters. (Stratford Festival); Gwynn Starr in The Secret to Good Tea (Royal Manitoba Theatre Centre); Vanessa Brokenhorn in The Herd. Charlotte Corday in The Revolutionists (Persephone Theatre); Okânawâpacikêw in nîkwatin sîpiy [Frozen River] (Manitoba Theatre for Young People); Head Full of Lice in The Third Colour (Prairie Theatre Exchange).
You can find Kathleen on Instagram @katmaclean.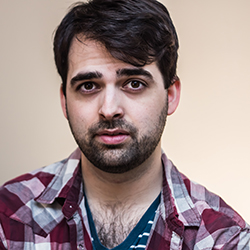 Jake Martin
Jake Martin is an actor, writer and comedian from Clifton Royal, NB. He is a graduate of St. Thomas University, where he is currently doing a residency at the Black Box Theatre. He is a Second City Conservatory alum, the former Artistic Director of the Next Folding Theatre Company and a former member of Canadian Comedy award-winning troupe, The Sketchersons. Previously he performed two summers as Hamlet with Bard in the Barracks and countless other shows around New Brunswick. His short play Someone Gets Shot was selected for the Samuel French Off Off Broadway Festival and nominated for the Carol Tambor Best of Edinburgh Fringe Award. Earlier this year he performed at the Toronto SketchFest with his solo sketch comedy show Snakes Are Cool and he can currently be seen performing improv in Fredericton with Dead Serious Comedy. Having toured across Canada with Len's previous shows, Utopia and Lac/Athabasca, he is beyond excited for the opportunity to be a part of Wood Buffalo!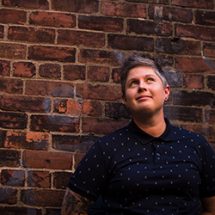 Andrea Evans
Set Designer
Andrea Evans proudly holds a BFA with Honours from York University where she studied Theatre Production and Design. With nearly 20 years' experience, she has worked as a set designer, scenic painter, and props builder for numerous theatres throughout Ontario and the Atlantic provinces. Andrea has worked for theatre companies such as the National Ballet of Canada, Saint John Theatre Company, the Chester Playhouse, Tarragon Theatre, and many others. For two seasons, Andrea worked as an assistant designer at the Stratford Festival. She has also been a guest artist / instructor at numerous high schools teaching stagecraft and design. Andrea has been nominated two times for Toronto's Dora Awards and the proud recipient of a Dora Award for Outstanding Set Design.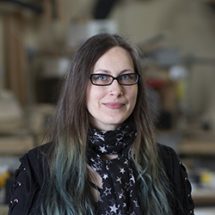 Sherry Kinnear
Costume Designer
Sherry is the costume designer at Theatre New Brunswick and serves as Head of Wardrobe for all branches of the company. Sherry most recently designed costumes for Bluebirds, Resident Aliens, The Wickhams: Christmas at Pemberley, several productions by the TNB Theatre School, and many other TNB productions over the past several years.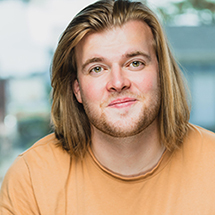 Christian Ludwig Hansen
Projection Designer
Christian (He/Him) is a Video and Projection Designer as well Performer with special focus in Collaboration, Puppetry, and Stage Combat. He is from Northern Friesland by the German-Danish border and now lives in Kjipuktuk/Halifax.
Select Design Credits: The Movements (Zuppa), Bluebirds (TNB), The Glass Menagerie (ARC), The Proletariat (HAT), #IAmTheCheese (HTYP & EFT), Fat Juliet (EFT & SBTS). Acting Credits: Midsummer Nights Dream (SBTS), Settle Elsewhere (Theatre du Poulet).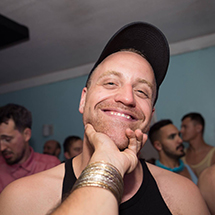 Stewart Legere
Sound Designer
Stewart Legere is a multidisciplinary artist situated between Kjipuktuk/Halifax and Tkaronto/Toronto. He is the Co-Artistic Director of Live Art company The Accidental Mechanics Group and Associate Artistic Director of ZUPPA. His performances have been presented at theatres and festivals across Canada and the internationally. He is a vocalist with orchestral pop outfit The Heavy Blinkers, and a solo singer/songwriter ("Quiet the Station" - 2017, "To the Bone" - 2020). He composes music and sound for theatre and film. An avid and passionate collaborator, his work is fascinated with vulnerability, intimacy, the destruction of persona and the celebration of performance. He is currently an artist-in-residence at The Theatre Centre in Toronto.
Design Credits: #IAmTheCheese (HTYP & EFT), The Proletariat (HAT), Glass Menagerie (ARC), Digidamara (B&B), Fat Juliet (EFT & SBTS), At this Hour (Zuppa).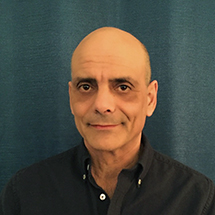 Chris Saad
Lighting Designer
Chris is happy to be working for Theatre New Brunswick. Chris is the resident lighting designer and technical director for Black Box Productions at Saint Thomas University in Fredericton. He has many lighting design credits for Theatre New Brunswick's main stage as well as providing technical support and design for TNB's theatre school. Break A Leg Everyone!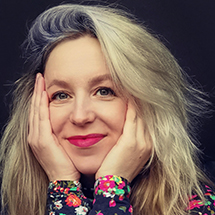 Stephanie MacDonald
Stage Manager
Stephanie is a multiple award winning actor who makes her home in Halifax Nova Scotia, and is branching out to Stage Management.Previous Stage Management credits include the world premiere of The Outside Inn (Festival Antigonish), Resident Aliens (Theatre New Brunswick), Rain On the Parade (Villians Theatre), and Bryden MacDonald's Whale Riding Weather at The Halifax Fringe Festival.