Becca
By Melanie Léger
This world premiere bilingual production shares the story of Riverview, New Brunswick teen Rebecca Schofield. After being diagnosed with terminal cancer, Rebecca (Becca to her friends) started an online movement to encourage people to perform acts of kindness and post good deeds to social media using the hashtag #BeccaToldMeTo. Her actions quickly spread around the world and continue to resonate today.
With an extensive provincial tour set to begin on the sixth anniversary of her passing at the age of 18, Becca will be a celebration of life and a reminder of how a little kindness can have a lasting effect.
Becca is produced in association with Caraquet's Théâtre Populaire d'Acadie.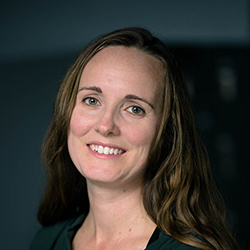 Melaine Léger
Playwright
A native of Shédiac, Mélanie Léger writes for theatre, television and film, in addition to working as a director and actress. She has written a dozen plays for the stage, including several for young audiences. A screenwriter for numerous documentary series and television variety shows, her first feature-length fiction screenplay, Notre-Dame-de-Moncton, opened the FICFA 2022. More recently, the documentary Des étoiles plein les yeux was released on the AMI-Télé web platform.