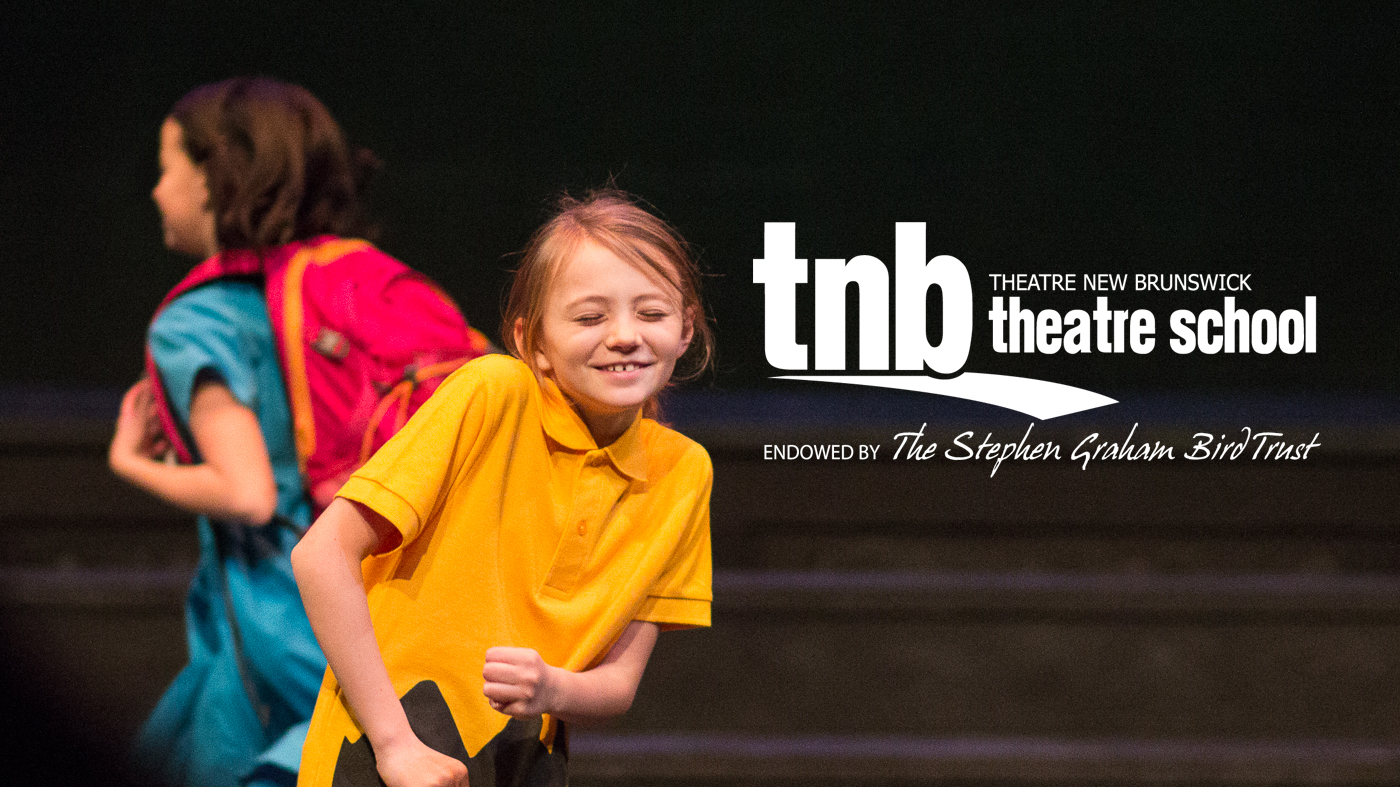 TNB Theatre School Fall/Winter Programs
At TNB Theatre School we pride ourselves on offering our students a safe, fun and supportive environment where they can learn and develop their theatre skills.
With Covid-19 restrictions no longer in place, we are continuing to work hard to make sure we maintain a safe and clean environment for all students and teachers, and strive to maintain the highest standards of communication with our students and parents. Our current plan is to go ahead with our fall/winter programs. We reserve the right to make updates on an ongoing basis in response to any additional changes to New Brunswick's COVID recovery strategy. This could mean anything from adjusting class sizes, mandating masks, or moving classes online.
In the case of another outbreak of COVID-19 across the province that forces us to close, we are prepared to move all classes online. We will adapt our theatre school rehearsal hall into a live-stream studio for instructors' use. Class time will be made up of a combination of live instruction, pre-recorded lessons, and additional student-led follow-up activities. In any event of a change in our plans, parents and students will be contacted directly.

Registrations for all classes opens Dec. 14, 2022.
Registration Form:
CLICK HERE to download the registration form for all playtime, junior level programs.
Instructions:

1. Download Form
2. Complete the form (including credit card information)
3. Save As= Registration Form_Student Name
4. Email the form to theatreschool@tnb.nb.ca
Please note due to varying browser requirements, if you wish to submit the registration forms via email, we recommend downloading and saving the form to your computer first before entering any information.
Registration is based on a first-come-first-served basis.
Class size is limited.
Payments
A non-refundable deposit of $50 is included in the tuition price, and required to hold a spot in the class. Full tuition payment is due by the first class for 12 and 8 week programs. TNB accepts VISA, Mastercard and American Express, cheque or cash.
We do not accept Visa Debit or Mastercard Debit.
HST is applicable for all students aged 15 and up and is not included in the fees.
Two payments via a valid credit card or post-dated cheques must be given at the time of registration.

Class Sizes and Wait Lists

To ensure the highest quality teaching, each class has a strictly enforced class size. We believe these sizes ensure optimal focus and productivity, equal learning and performance opportunities, as well as allow for students to receive personalized programming and guidance from their instructors.
Due to demand for program spots, wait lists typically exist for all program levels. Students will be advised if they have been placed on wait lists. Wait-listed students could be called for enrolment until the third class of the program.
Refund Policy
Single Semester Programs (fall to winter/winter to spring): TNB offers a two-week grace period at the beginning of each program. Students withdrawing during these two weeks will receive a full refund less the $50 non-refundable deposit. After this grace period no refunds will be given.
Full Year Programs (fall to spring): In the case of full-year programs where payments are made in two installments at the beginning of each term, any student withdrawing from the program prior to the commencement of the second term will not be required to pay for the second term. Notice must be given two weeks in advance before the start of the second semester. If a student withdraws following the commencement of the second term no refunds will be given.
In rare circumstances (serious illness or injury, death in the family, etc.), full or partial credit may be issued at the discretion of the Theatre School Director. Refunds will not be given in the case of students expelled for behaviour or excluded because of repeated absence.
*Should the Government of New Brunswick require us to close our facility due to COVID-19, classes will switch immediately to online learning. Refunds will not be issued due to government closure.
TNB Theatre School Policies

We encourage all potential and current TNB Theatre School families to familiarize themselves with our TNB Theatre School Policies. A limited number of TNB Foundation bursaries are available for eligible students. To apply for our bursary program, please email theatreschool@tnb.nb.ca to request an application.

Student bursaries for our 2022-2023 season are supported in part through a grant from the Fredericton Community Foundation and the Jackson Wright Youth Fund.