A closer look at TNB Theatre School's Junior Acting program.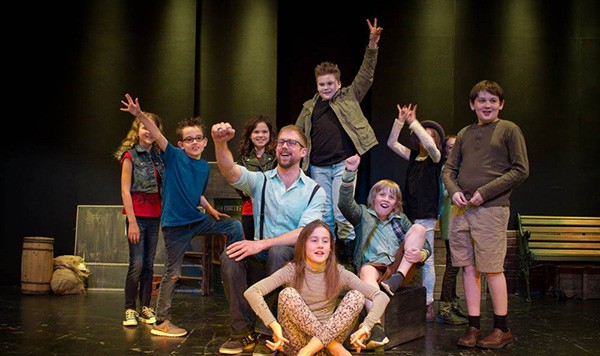 With fall program registrations well underway, we thought it would be fun to speak with TNB Theatre School instructor Sarah Bell to learn what's in store for students enrolled in this fall's Junior Acting program.
"I love this class," said Bell. "It's the most fun for me because I get to hang out with incredibly creative souls and build a play with them. We are all a team and work together to create the best possible play for our class. It's really exciting!"
Junior Acting's fall program begins in the middle of September and runs through until December, when students will perform a play that they've created together as a group. Unlike other TNB Theatre School programs that focus on building specific musical performances by combining voice, dance, and movement in large ensemble settings, Junior Acting and Intermediate/Senior acting programs develop in a very different way.
"This program is special," said Bell. "We work through a series of books and write an adaptation, meaning we take the story and we kind of write our own version. We explore through movement and improv, while following the storyline of the book. It's really fun. After playing with a few books, we sit around a table and talk about what book we should do for our show."
Once a few ideas are tabled, students then vote to decide which story to adapt, resulting in a final production all their own.
Besides a healthy exploration of acting fundamentals, all TNB Theatre School students also develop self-confidence, creativity, imagination and life-long friendships.
"If you are creative and like to make up stories and characters, this class is perfect for you," said Bell. "Although we loosely follow the book, we have the freedom to change things. We can add characters, or take them away and we can change what characters say! It's so fun. As a group we create our own world. We're not handing out scripts day one, we write it together and every idea matters!"
Junior Acting runs from September 19 through until December 12 (12 weeks). Students can register online or in person at the TNB offices, 55 Whiting Road, Fredericton. Learn more at tnb.nb.ca/theatreschool.