Upcoming training opportunities in theatre tech, stage management, scenic painting, fight choreography and several other aspects of the theatre process.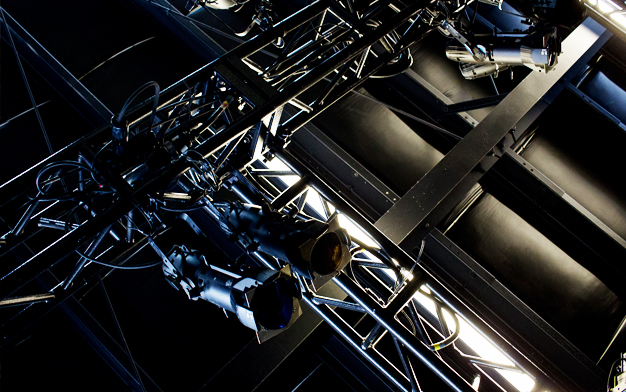 We're excited to launch a full series of public workshops this season covering a variety of theatre skills from technical production to performance. Whether you're a would-be theatre artist or an experienced performer, our 2019-2020 workshop series has something just for you. Let's learn and grow together!
Following the success of recent workshops in voice, movement, theatre tech and dance attracting theatre artists from across the Maritimes and other parts of the country, our 2019-2020 season will include a full series of workshops aimed at strengthening the provincial theatre community by providing new training opportunities in theatre tech, stage management, scenic painting and stage combat among several other aspects of the theatre process.
"I think it's really important that this company shares its resources and experience," said TNB Artistic Director Natasha MacLellan. "There are so many emerging professional artists in New Brunswick and so many people making theatre for their communities. It's just wonderful to see theatre alive and well in my new home province. By providing training opportunities for both the performing artists and those who work behind the scenes to make any show happen, we are not only helping to create inroads for a new generation of theatre makers but also helping to foster a continued love for the art form."
2019-2020 Workshops:
Setting the Stage
An overview of theatre light design with instruction from UNB Technical Director Trent Logan.
Manager on Duty
A stage manager's role in the production process with guest instructor Judy Joe.
En Garde!
Fight Choreography with guest instructors Karen Bassett, an internationally performer and theatre instructor and TNB Theatre School instructor Jean-Michel Cliche.
MOVE
A workshop in movement with guest instructor Alexis Milligan, a Nova Scotia based actor, choreographer and teacher.
Setting The Scene
A hands-on exploration of scenic painting for theatre sets and props with instruction from TNB's Head of Props and Paint Elaine Bellefontaine.
A Sampling of Technical Theatre
A remount of our 2019 workshop offering an overview of lighting, sound and projection for theatre, with UNB Technical Director Trent Logan and local guest artists.
An Introduction to Musical Theatre Dance Technique
A adult class with instruction from TNB Theatre School instructor Courtney Arsenault.
Select workshops will be presented in partnership with UNB and STU's drama departments. All workshops open to all ages unless otherwise noted. Dates, times and locations for all upcoming workshops will be announced in August 2019.
This series is made possible in part by support from the City of Fredericton.