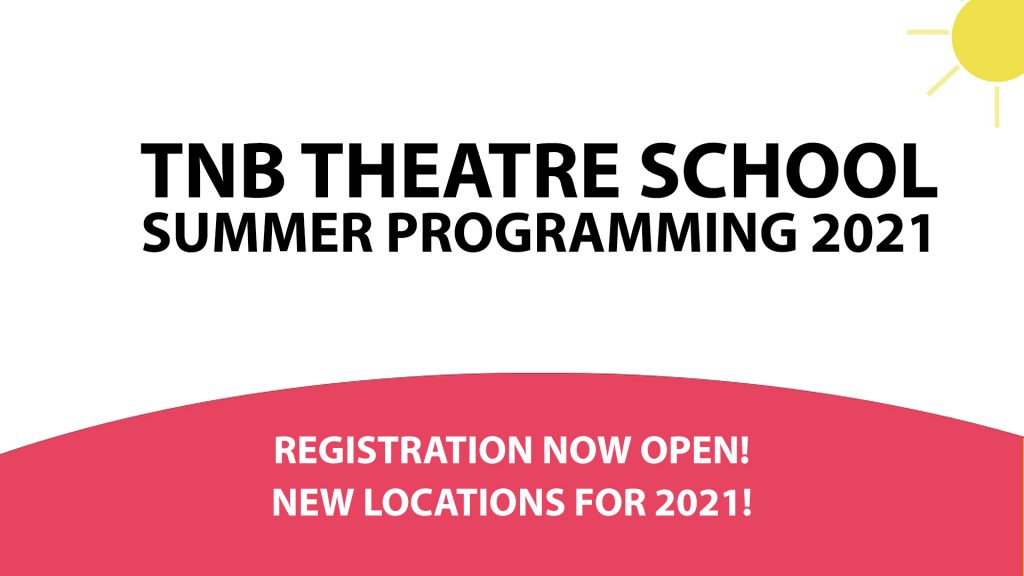 Registration is now open for all summer programs at the TNB Theatre School. 
The TNB Theatre School's annual summer camps are a go for 2021! With continued health and safety protocols in place and a few surprises in store, we're excited to announce our summer programs will begin in late June.
Due to a series of planned renovations taking place at our 55 Whiting Road location, many of this year's programs will take place downtown at St. Andrews Presbyterian Church and the Charlotte Street Arts Centre. 
"We are extremely grateful that we can go ahead with offering summer camps again this year," said TNB Theatre School Director Sharisse LeBrun. "We have to continue to work with reduced class sizes, social distancing, masks, no live audiences and the likes, but after a full year of navigating this, we know that quality of education and fun will remain the same!
"We're grateful for St. Andrew's Presbyterian Church for allowing us to use their hall for our Playtime and Junior level camps, and the Charlotte Street Arts Center for use of their auditorium for our Intermediate/Senior programs," she said.

The programs offered this summer include Playtime Theatre (half-day sessions for children ages 5-7), Junior Acting (grades 3-5), Junior Musical Theatre (grades 3-5), Intermediate Senior Acting (grades 6-8) and Intermediate Musical Theatre (grades 6-8). In addition to these summer mainstays, we are also hosting a Musical Theatre Advanced Audition Technique Workshop led by Broadway Actor Tony LePage and NYC Casting Director Courtney Hammond. This amazing opportunity is geared towards pre-professionals ages 15 and up and will take place Monday evenings at the TNB Theatre School beginning June 21.
"We are thrilled to announce a very special summer training opportunity this year," said LeBrun. "Fredericton-born Broadway performer Tony Lepage and NYC Casting Director Courtney Hammond will be offering a pre-professional master class on Musical Theatre Audition Technique. Over the course of four weeks, participants will meet weekly to work directly with Tony and Courtney using prepared material in solo and ensemble formats. The team will coach, give direction, offer honest, constructive feedback on material, and help participants craft their musical theatre technique at a professional level.
"I'm so excited for students to get to learn from Tony and Courtney's expertise – from both in front of and behind the audition table – this summer," said LeBrun.
A full list of programs and all health and registration information can be found by visiting www.tnb.nb.ca