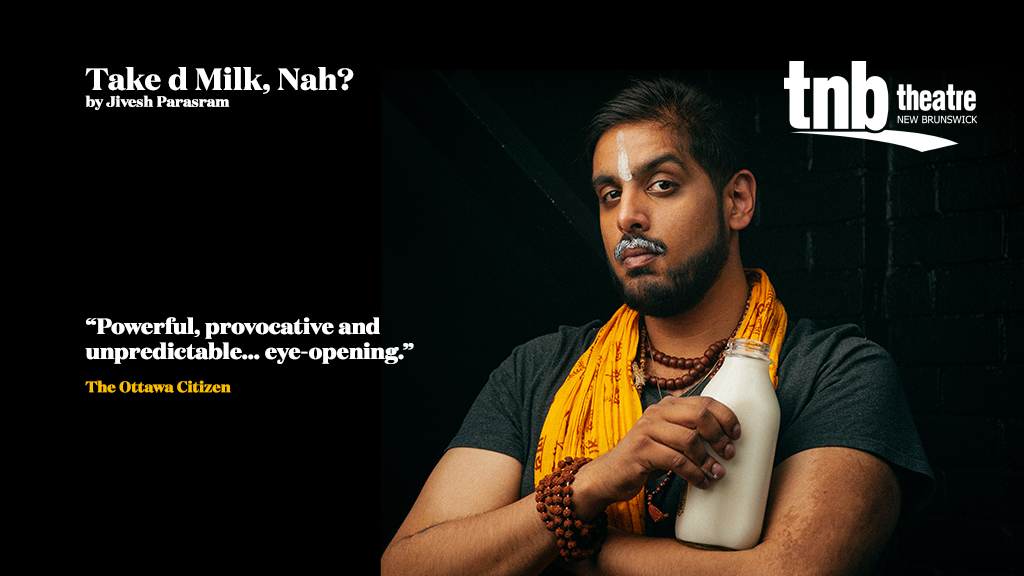 Four Maritime theatre companies partner to present performances of Jivesh Parasram's one-person play Take d Milk, Nah? (Rumble Productions) play during March and April 2023.
Jivesh Parasram's play, Take d Milk, Nah? will be touring the Maritimes next year. Through a first-time partnership between Theatre New Brunswick, Festival Antigonish Summer Theatre, Highland Arts Theatre and Eastern Front Theatre, this Governor General's Award nominated play will be performed for audiences in Fredericton, Antigonish, Sydney, and Halifax in early 2023.
Take d Milk, Nah? is a funny, fresh, and skeptical take on the identity play, where performer-playwright Jivesh Parasram blends personal storytelling and ritual to offer the Hin-dos and Hin-don'ts within the intersections of all of his highly hyphenated cultures. Jiv is "Canadian." And "Indian." And "Hindu." And "West Indian." "Trinidadian," too. Or maybe he's just colonized.
"I'm really excited to be adding this production to our season calendar," said TNB Artistic and Executive Director Natasha MacLellan. "This is a show that has been on all our radars over the past few years and it's one I'm looking forward to sharing with our audience. It's funny, smart, and culturally important. It's a play that speaks of and to the diverse world we share. I think it's the type of play everyone should experience."
Parasram grew up in Dartmouth, Nova Scotia and is Artistic Director of Rumble Productions in Vancouver, BC. Take d Milk, Nah? Debuted in 2020 and has been performed at the National Arts Centre, Theatre Passe Muraille, and several other theatres throughout Central and Western Canada. The play was published by Playwrights Canada Press in 2021.
Upcoming Performances:
Theatre New Brunswick | Fredericton, NB | April 13-15 | BUY TICKETS