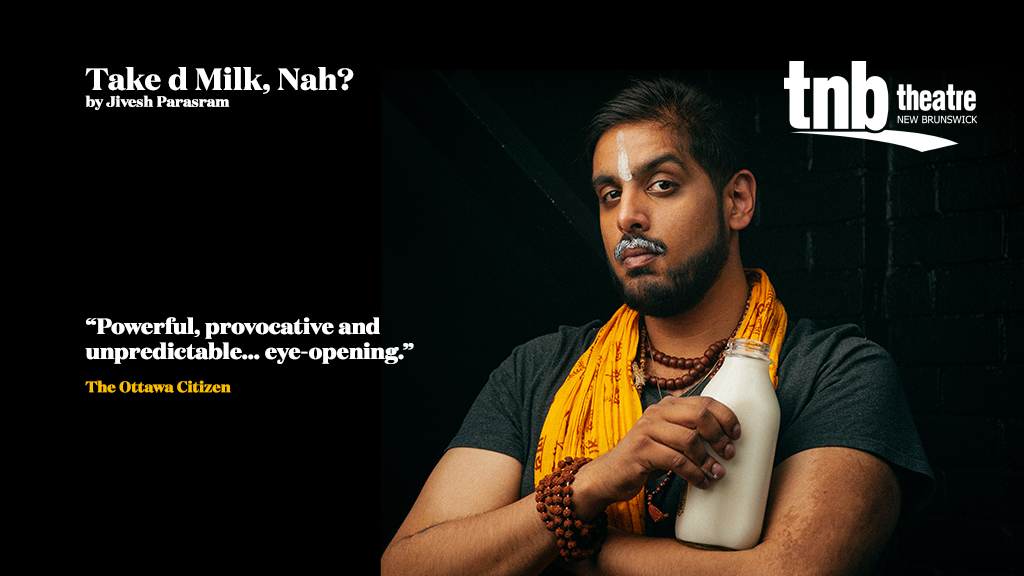 Take d Milk, Nah?
By Jivesh Parasram
Jiv is "Canadian. " And "Indian. " And "Hindu. " And "West Indian. " "Trinidadian," too. Or maybe he's just colonized. He's not the "white boy" he was teased as within his immigrant household. Especially since his Nova Scotian neighbours seemed to think he was Black. Except for the Black people—they were pretty sure he wasn't. He's not an Arab, and allegedly not a Muslim—at least that's what he started claiming after 9/11. Whatever he is, the public education system was able to offer him the chance to learn about his culture from a coffee table book on "Eastern Mythology. " And then he had a religious epiphany while delivering a calf in Trinidad. By now, Jiv's collected a lot of observations about trying to find your place in your world.
In this funny, fresh, and skeptical take on the identity play, Jivesh Parasram blends personal storytelling and ritual to offer the Hin-dos and Hin-don'ts within the intersections of all of his highly hyphenated cultures. This story asks the gut-punching questions: What divides us? Who is served by the constructs of cultural identity? And what are we willing to accept in the desire to belong? Then again—it doesn't really matter, because we are all Jiv.
ACCESS NOTES
Running Time: 90 minutes, no intermission.
​
Audience Warning: Use of incense, heavy haze, and strobing lights. Some audience interaction, engages topics of racialization, includes (non graphic) descriptions of racial violence, narrative use of racial slurs, as well as descriptions of bovine birthing processes, British Colonialism, consumption of dairy, and liberal use of disputed quotes from Winston Churchill. And a lot of swears.
Jivesh Parasram
Playwright
Jivesh Parasram is an award-winning multidisciplinary artist of Indo Caribbean descent (Cairi/Trinidad & Tobago). Jivesh grew up in Mi'Kma'Ki (Nova Scotia) before moving to Tkaronto (Toronto). In 2009 he co-founded Pandemic Theatre, through which much of his work has been created, often in close collaboration with co-founder Tom Arthur Davis. He is a recipient of two Harold Awards for his service to the independent theatre community in Tkaronto, including the Ken McDougall Award. Jivesh won the 2018 Toronto Arts Foundation Emerging Artist Award, and was a member of the second cohort of the Cultural Leaders Lab with the Toronto Arts Council and the Banff Centre. In 2018, Jivesh took on the position of artistic director for Rumble Theatre. He lives primarily in the unceded Coast Salish territories (Vancouver, BC).
Fredericton
April 13
Open Space Theatre | 7:30 p.m. | BUY TICKETS
April 14
Open Space Theatre | 7:30 p.m. | BUY TICKETS
April 15
Open Space Theatre | 2:00 p.m. | BUY TICKETS
The Open Space Theatre is located at 55 Whiting Road in Fredericton.
---