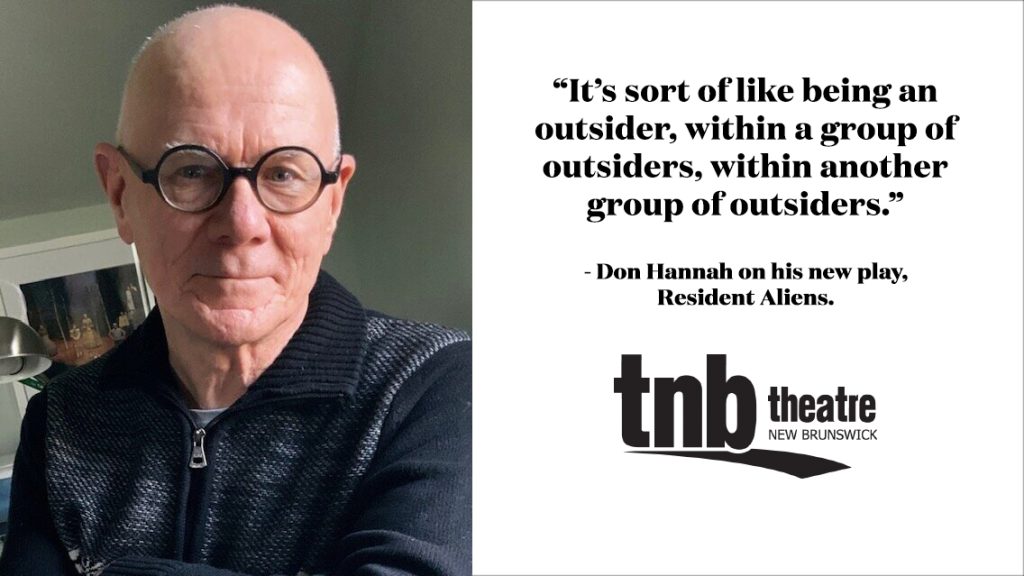 It's been a long time coming. A Don Hannah play on the TNB stage. After seeing his work produced on stages across the country for almost 40 years, we're honoured to include Don and his play Resident Aliensas part of our current season. And if we're being honest, we're also a little embarrassed it took this long to happen.
Hannah was born in Shediac, New Brunswick, his hometown and the setting of his new play. Known as the home of the world famous Parlee Beach as well as being the "Lobster Capitol of New Brunswick," Shediac is predominantly a French speaking community. This distinction features heavily in the play's theme. Resident Aliens is a story that explores what it's like to be an outsider in your family, your community, and your home province. This idea is explored through a variety of layers that serve the story while bringing to light a reality that continues to divide and segregate our province's population.
"There's only four people in this play," said Hannah, during a recent interview with CBC's Vanessa Vander Valk. "There's a family and they're just called Mom, Dad, and Boy. The actor who plays Boy is an actor in his late sixties and the actors who play Mom and Dad are in their thirties. It's a memory play and he's remembering his parents as they were when he was small. It's about that period in his life when he's becoming an adolescent and starting to realize he's not like other boys around him. He's gay, and so he very much feels like an outsider in his own family. He's also realizing he's part of this Anglo community that's sort of outside the rest of the town and then realizing the Acadians in town themselves feel like outsiders in the larger world of New Brunswick. It's sort of like being an outsider, within a group of outsiders, within another group of outsiders. That was a dynamic I have always wanted to write about.
"The fourth character in the play is Vivian Larsen, a historical character who has just fascinated me for a very long time. Through telling her story I felt I could look at all these issues I wanted to deal with, with people who are outsiders. Resident aliens, as the title says."
TNB Artistic and Executive Director Natasha MacLellan met Hannah when she appeared in a 2008 production of his play There is a Land of Pure Delight at Live Bait Theatre in Sackville, NB. They have been friends ever since. 
"When I started here [at TNB], we had chats about New Brunswick and TNB," said MacLellan, "and he told me he had never been produced by TNB which I couldn't believe. I knew that I wanted to rectify that. At some point while I was here, I wanted to do a Don Hannah play. When I reached out, he pitched me two scripts and when he started telling me the story of Vivian Larsen I said, 'let's work on that one!'"
The play was commissioned by Theatre New Brunswick in 2020 and received its first public reading in October 2021 as part of the Fall Festival of New Plays, a new script development initiative launched in 2020. Two of the actors from that reading – Christopher Hunt (Boy) and Ryan Rogerson (Dad) have since been cast for the upcoming production and will both make their TNB debuts when the play's world premiere opens in March.
"Theatre giants across the country, when they saw we were doing [Resident Aliens], were remarking on our social media about what a great playwright Don is," said MacLellan. "I think it's about time his own province heralds him and celebrates him."
Find the full CBC interview HERE. And be sure to reserve your seats today. 
Resident Aliens (world premiere):

March 22-26 | Fredericton, NB | Open Space Theatre | TICKETS
March 28 | Campbellton, NB | Theatre Restigouche | TICKETS
March 29 | Moncton, NB | Empress Theatre | TICKETS
March 31 | St. Andrews, NB | W. C. O'Neill Arena Theatre | TICKETS
April 1 | Florenceville-Bristol, NB | Carleton North High School | TICKETS
April 2 | Sackville, NB | Motyer-Fancy Theatre (MTA) | TICKETS