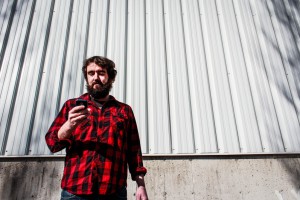 Theatre New Brunswick's 2015-2016 season continues with Returning Fire, a world premiere production by New Brunswick playwright Ryan Griffith.  The play tells the story of a soldier who recently returned from the war in Afghanistan and is trying to reconnect with a close friend from his youth.  Distance, age and life experience form the basis of this story, compounded by one character's struggles with the ghosts of war and post-traumatic stress.
"This play is so important to us at Theatre New Brunswick for three reasons," said Artistic Director Thomas Morgan Jones.  "We are able to see a commissioned play through to production by local playwright Ryan Griffith, and to give his incredible and unique voice a home; we are able to boldly challenge notions of what live theatre is and can be by exploring the use of technology in theatre; and finally, we are able to tell a story that touches on a character in the Canadian Armed Forces."
Returning Fire presents one example of a life complicated by PTSD, but it also provides a commentary on how both texting and social media have distanced us all from real, meaningful human interaction with the ones we love.
"To say that this play is about PTSD solely would be to diminish the exceptional writing and relationship depicted in the play," said Jones, "but we are proud that it is a story within which this affliction hugely informs the actions and outcomes of the play.  It is a local story, by a local playwright, set in Fredericton, which can speak to any Canadian living in Canada today.  We can't wait to premiere it."
The play will begin to unfold through text messages delivered to patron's mobile devices.  Starting at 4 p.m. (10:30 a.m. for matinée audiences), a series of short text conversations will span nearly four hours, during which time the downtown location of their meeting will be revealed.  Audiences can then make their way to the location and witness the final act and the reunion of the two characters.
Returning Fire | Feb. 4-7, 2016 | Downtown Fredericton | Location to be revealed | Tickets available at the Fredericton Playhouse box office or online at tnb.nb.ca                                                   
NOTE: A MOBILE DEVICE IS REQUIRED FOR THIS PLAY.          
Returning Fire
Written by Ryan Griffith | Directed by Thomas Morgan Jones | Featuring Ian Goff and Jalianne Li | Stage Manager: Tammy Faulkner
Performance Dates
Thursday February 4, 2016 | Texts begin at 4:00pm – character reunion at 7:30pm
Friday February 5, 2016 | Texts begin at 4:00pm – character reunion at 7:30pm
Saturday February 6, 2016 | Texts begin at 11:30am – character reunion at 2:00pm
Saturday February 6, 2016 |Texts begin at 4:00pm – character reunion at 7:30pm
Sunday February 7, 2016 | Texts begin at 11:30am – character reunion at 2:00pm
Media Links
Website: www.tnb.nb.ca/returning-fire/
Video Trailer: https://www.youtube.com/watch?v=o_ejtw_Mo1w
Interviews with Ryan Griffith and Thomas Morgan Jones can be arranged by contacting:
Media Contact: Matt Carter, Development and Communications, 506-460-1381 Ex113 communications@tnb.nb.ca