Jena McLean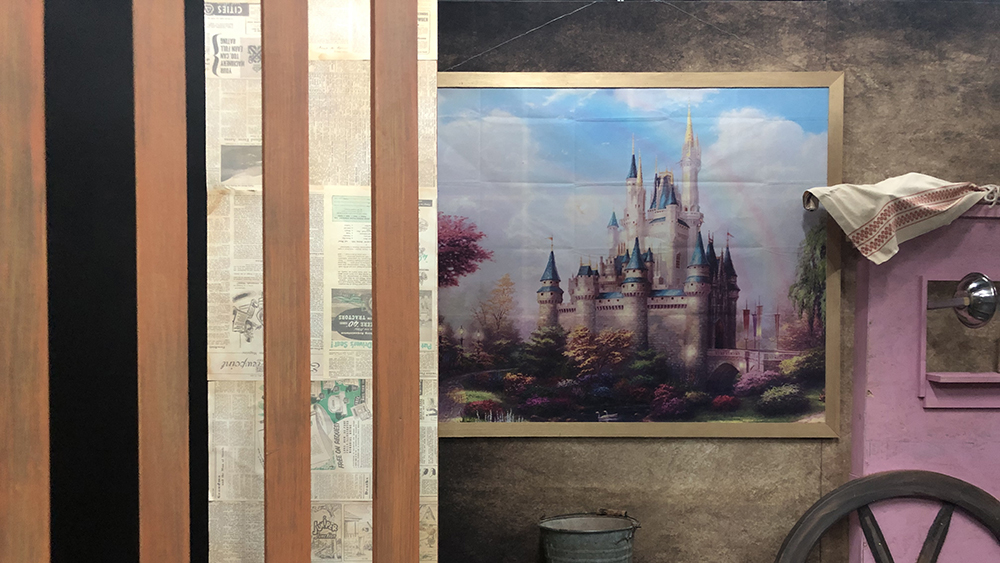 "It's just a matter of what's telling the best story." 
There it is. It's taken Natasha MacLellan, Theatre New Brunswick's Artistic Director, ten whole words to sum up the entire process of crafting a play. She's not even trying to be philosophical or ruminate on practice. She's trying to figure out a transition between scenes in Don Hannah's Resident Aliens, which will have its world premiere at Theatre New Brunswick this month.
This captivating new play follows two deeply New Brunswick stories. We join Vivian Larsen as she journeys by horse and wagon from Moncton to Hollywood in the name of telling Walt Disney a secret. We also spend time with a young gay boy in Shediac, who's beginning to understand himself and the divides that threaten to tear his community, province, and family apart. Resident Aliens is a story of and for the other, about what it means to not belong in the only place you've ever known.
We join the team a week into their rehearsal period. They're past the big, buzzy first day full of excited nerves and a reading of the play. They're past design presentations where we get a glimpse at the world these characters inhabit. They're past the table work where actors mine the text for gems that deepen their work.
They've finished the initial blocking, where the team decides on entrances and exits, chooses lines to move on, unpacks spatial relationships between characters, and so much more. In fact, the entire play has a rough shape to it. Now it's a matter of honing the work and letting the best idea win. That's what today's stop-and-start run is about.
The goal isn't to get to the end, the goal is to make sure the foundation of blocking is strong and the story stays clear even as scenes change. Scenes are often rehearsed independently, sometimes out of order, so this afternoon is an opportunity to see how previously discrete moments work when placed back into their theatrical context.
A run like this is also valuable for the actors, who can use multiple passes through a scene to not just memorize their lines, but to try new things. Rehearsal is about discovery and investing in a character's journey. Every reset to the top of a scene is a chance for Christopher Hunt, Deidre Gillard-Rowlings, Bridget Bezanson and Ryan Rogerson to dig deeper and make new offers. While they're stopped, they can also offer further insight into how new approaches may change certain scenes and moments for them.
"We might as well play with it," Natasha remarks early in the day, adding to the collaborative vibe that is present in the room. There is an excitement to create and engage with new opportunities that are still emerging. When addressing entrances and exits at the beginning of the act, Natasha provides some detail about the design and technical elements that are being built.
"With the parts of the wall that are newspaper, we can be backlit and see things from behind," she notes.
Introducing future production elements is an important step because a rehearsal room and opening night stage look vastly different. The aforementioned wall may not be built yet — Jamie Atkinson and Andrea Evans are in TNB's shop bringing Andrea's design to life — but there is tape on the floor so actors can practice navigating around it. It's vital to visualize what the play will become when it is in front of an audience.
This process is also somewhat unique because so much of the design will evolve in the space. On the first day, it became clear that Stewart Legere, Leigh Ann Vardy and Christian Ludwig Hansen would be creating their sound, lighting and projection designs in tandem with one another, so they complement each other in a truly special way. As those designers arrive and create, elements will be introduced wherever possible.
Actors may be rehearsing in everyday clothes, but thanks to fittings, they have some sense of what Andrea Ritchie's costume design has in store for them. As Andrea and Sherry Kinnear, TNB's head of wardrobe, are hard at work sewing, pinning and draping, the cast can consider how their styling can and will impact the way they move onstage. Some pieces — such as props — usually show up much sooner in the process. If not the actual prop, a stand-in or rehearsal version will be made, so the actor can familiarize themselves with the key objects that will eventually root them in the world of the play.
This is why it's not surprising to see newspapers in the rehearsal room. They're one of the few props we see and aren't just integral to the story, they were also foundational in the writing of Resident Aliens. While researching the long-form essay on Vivian Larsen that led to this play, Don Hannah amassed a collection of, "dozens and dozens and dozens of newspaper stories about her."
"She didn't go to big places, of course, 'cause she was going by horse and wagon, so all those small towns she went through, and villages, a lot of those places had local newspapers," Don said in a recent episode of our Behind the Play podcast, "She'd come to town, people would interview her, and there'd be a picture. So I was able to follow the whole journey through newspapers."
These papers also provide rich material to heighten tensions between the characters. In the first scene of act two, we join the Boy's Mom and Dad as they discuss various public opinion letters that have been published about Vivian in the Moncton paper. Throughout the play, we hear multiple perspectives of the journey, even within the same family. While the Boy is fascinated by Vivian and her mission to meet with Disney, his parents are utterly embarrassed.
We're halfway through this scene when a new entrance stops Natasha — and the run — in its tracks. As soon as the room is paused, she's on her feet, talking to the actors, engaging in a dialogue about what she's noticed. This first stop is to tackle that tricky transition, the one that has to tell the best story.
Apparently, blocking at the end of the first act has changed, meaning this first scene has to be adjusted to pick up that new continuity. Stephanie MacDonald refers to her prompt book to compare old and new choices, specifically pertaining to the placement of a crate. The room ponders potential options — should the crate be preset at intermission? Brought on in the dark? Does it need its own moment? Eventually one of the actors highlights that an active transition onstage could tie this moment to an earlier transition in the first act, and the room kicks into gear.
"What if we gave you a new entrance?" Natasha offers as the discussion unfolds. This potentially addresses multiple issues at once. Because the play is split between two words, Vivian's and the Boy's, space has been something the team is very aware of. What does it mean for someone to live in a certain area of the stage, to gravitate to a certain hemisphere?
Eventually, a new entrance is decided, Stephanie makes a note of it, and they go back to try things in context. The movement here will be intentionally linked to a sound cue. Because Resident Aliens will tour the province following its Fredericton run, it's important that the play is flexible, and that key moments are linked to consistent elements such as sound. Details in lighting may change across venues but the sound cues will remain the same.
When Natasha pauses the room again, the conversation turns to what Vivian can hear of the scene unfolding onstage. She may be in Hollywood, but the Boy is bickering with his parents about her great journey, back in Moncton. The two physical worlds that support Resident Aliens mostly run parallel to one another. The Boy and Vivian are always linked narratively, but exist in different times and worlds, in different countries, and maybe even different states of being. Logically, in the real world, Vivian shouldn't be able to hear them, but theatrically? This is an invitation to blur the edges of the distinct worlds and draw the play's aliens a little closer to one another.
"How do you save yourself from that kind of talk? How do you prevent it? It's almost like you're working against it," Natasha offers to Deidre Gillard-Rowlings, the actor bringing Vivian Larsen to life. There's a sense that Vivian is trying to write her own narrative, so this moment of a press conference becomes so much more. It's now an opportunity for her to say her side of things in the face of the hometown gossip she knows is happening.
As the work progresses — going back when needed to solidify new blocking or tactics — the benefit of this kind of run becomes even more apparent. At this point in the rehearsal process, the story and characters feel clear. Now is the time to use that clarity to make new offers and expand the work to be more encompassing. This is where things become a bit granular. How does one character relate to the people around them? How do they engage with the physical world around them?
Many a discovery is made about this first section of text that includes the debate over public opinion letters. This scene is meant to highlight familial divides in opinion, and it always has, but as the room discovers who has maybe had a few too many glasses of wine that night, it becomes something more nuanced. We get to see new sides to Ryan Rogerson's Dad and Bridget Bezanson's Mom. We get a helping of humour and levity, as well as an excitement that uplifts the next scene in an exciting way.
"Don't hold back!" Natasha encourages, "We'll laugh!"
(We do.)
When the room pauses again, it's to pay attention to another transition. This particular one includes moving every set piece that's currently onstage while dialogue is happening. There are a few rockier passes before Stephanie reads her recorded blocking, and the actors slow things down to walk things through step by step.
Once the blocking and timing are right, this transition becomes not just about moving set pieces, but it allows the audience to understand these characters even more clearly.
"Every time you move something, I move it again," Bridget notes after a successful run. It's true. The attentive and warm Mom is almost keeping track of the home and its contents while the brash Dad keeps putting chairs in the wrong place. Every moment can add meaning.
As the cast continues their stumble through, I'm struck by how Christopher Hunt's character of Boy slips in and out of scenes, between states of being. This character is our way into everything with Resident Aliens. Yes, we meet his parents through him, but even more, we engage with Vivian through his remembrance of her. He exists in a kind of theatrical space outside of time, where he can let the audience in on a specific period in both his personal history and New Brunswick's collective history.
This is especially present in one scene which features a fight between Boy and his Dad at the dinner table. Boy switches back and forth between the audience and a particularly tense fight about politics in New Brunswick and beyond. After a run, Chris and Ryan check in about the levels of teasing throughout, deciding to reserve any physicality like poking or prodding for when Boy is actually present in the scene, not sharing with the audience.
While they're paused, the colours of the conversation are explored.
"How much of it is teaching his son a lesson?"
"You're almost begging your father to fight with you."
"Part of it must be the art of sparring. They clearly must enjoy something in going after each other like that."
"How different is it when Mom's not there?"
They finally settle on: "There's a certain amount of it that you enjoy, but you don't want it to get too heated. You don't really want to fight fight with your father."
When Chris and Ryan run the scene again, there's something new underneath the animosity and the political divide. There's a sense of respect, of seeing a bit of themselves in their conversational rival, and almost a bit of fatherly pride in the tactics employed. It complicates the scene in a way that is both grounded and expansive, bringing things a bit more into focus by embracing the mess of humanity.
It's a bit closer to the best story it could be. 
Resident Aliens runs at Theatre New Brunswick's Open Space Theatre from March 22-26 before making tour stops in Campbellton (March 28), Moncton (March 29-30), Saint Andrews (March 31) Florenceville-Bristol (April 1), Sackville (April 2). Tickets are on sale now at tnb.nb.ca