Jena McLean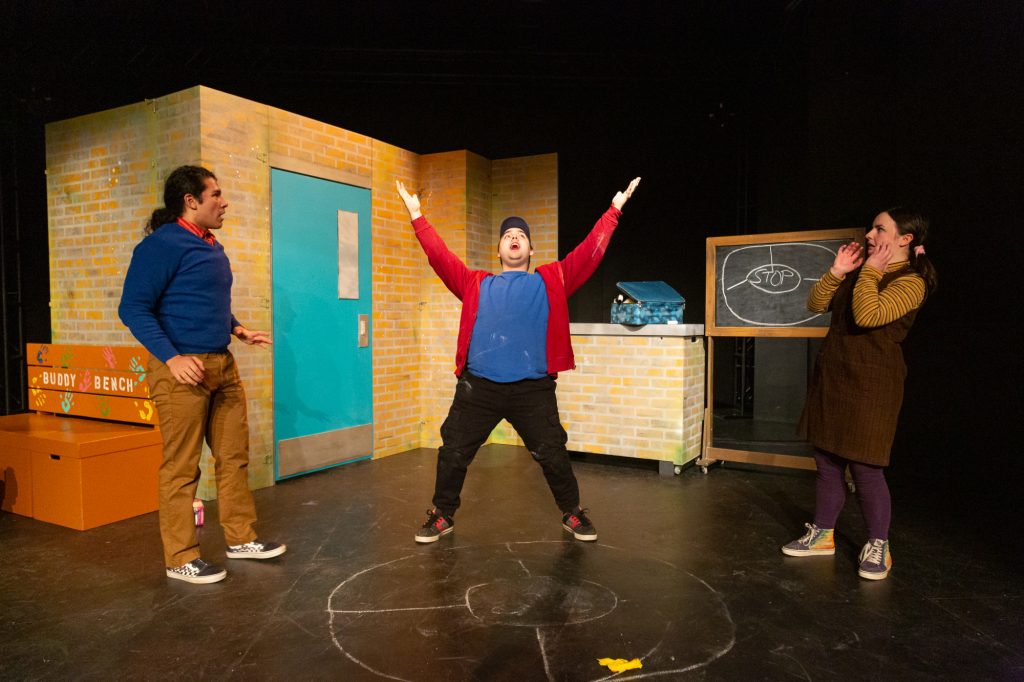 It's been a very busy few weeks for Theatre New Brunswick's Young Company.
When we last spent time with them, on their digital first day of rehearsal, there was a sense of anticipation for the work to come, as well as an eagerness to be creating together in the same room.
For the three weeks that followed, the Open Space Theatre became a hub of collaboration during rehearsals. Young Company director Sharisse LeBrun led actors Santiago Guzmán, Lucas Gutiérrez-Robert and Jilly Hanson through blocking and memorizing the two plays that comprise this year's tour. Stage manager Teagan Keith dutifully noted each actor's movements and kept the room moving forward. Designers Sherry Kinnear, Zach Faye and Vitta Morales wove in and out of rehearsal, introducing new sound elements, props to play with, or costume pieces that brought characters to life.
The whole way through, the team maintained a clear focus on not just blocking these plays but on making sure they'd resonate with the intended audience: students. Altar and S.T.OP., both penned by Santiago Guzmán, are plays about kids and for kids. Even when complex issues are brought up and challenging topics are held in the space, it's important that somewhere there is still joy, a dash of hope, a beam of light. In each step of the rehearsal process, the actors, director, and design team have embraced the over-the-top and huge physicality to make the storytelling even clearer for young audiences.
And yet, as Sharisse remarked one day in rehearsal, "we don't want to toe into chaos." These shows are fun — and deeply funny — but it's focused fun. With this Young Company tour, the aim has been high-energy yet heartwarming, not 'how do you do, fellow kids?' It's one of the hardest elements in theatre for young audiences: speaking to them, not down to them. Luckily, these plays were in skilled hands and crafted in a room that centred care and sought to understand the complexity of these children's lives.
Following this rehearsal period and a public preview in Fredericton, the Young Company hit the road in the first week of February. Over the course of the month — with only a handful of snow days! — stage manager Teagan and the company of actors have crisscrossed their way all over the province.
Before March Break, Theatre New Brunswick's Young Company completed 29 shows in total, in the following communities: Fredericton, Dieppe, Bathurst, Springfield, Nackawic, Moncton, Grand Bay-Westfield, Saint John, Miramichi, Apohaqui, Centreville, Florenceville-Bristol, Fredericton Junction and Oromocto.
March brings another hectic few weeks of driving, two-show days and workshops, so while the Young Company has some time to rest, I caught up with them to hear about what life has been like on tour and how audiences are responding to these plays.
At their core, Altar and S.TO.P. are both stories about sharing and celebrating culture. Altar, for middle and high school audiences, finds an exchange student relying on touchstones such as Día de los Muertos (Day of the Dead) to reconnect with his home and face the familial, platonic, and romantic ghosts of his past. S.TO.P., the play that's filling elementary school gyms with laughter, takes place at the end of Bruno's first day at a Canadian school and includes an imaginative game, themes of cultural exchange and friendship, and a healthy serving of magical candy.
Both plays feature Spanish, but a key element of S.T.O.P. is the way its characters learn to overcome the barrier of not speaking the same language. According to playwright and performer Santiago Guzmán, some audience members are eager to help.
"I was pleasantly surprised to see students swiftly overcome the language barrier in S.T.O.P. and let us know, the actors, what was going on," he said.
Across performances, in so many different towns, students are eager to engage directly with the work in front of them, even if they don't fully understand every word or line. Jilly Hanson said she, "died when a little girl at one of the schools asked if Bruno could teach her Spanish. It was beyond adorable."
For some students, S.T.O.P. has an extra level of meaning. Santiago recalled one encounter in particular, where a student originally from Mexico approached him. The two spoke Spanish, connected over their shared home, and the student even invited him to their classroom to hang out. A teacher who watched this interaction unfold remarked, "this is what the show is about."
"I asked a group of Latine students if they got both parts of S.T.O.P. in English and Spanish," Santiago added, of a show earlier in the run, "They all agreed except one, who said they only got half, because they didn't speak in English, so they got the Spanish part."
"I saw myself in Bruno," the student told Santiago, who mentioned feeling humbly reminded of the power of representation. Lucas Gutiérrez-Robert, an Argentinian-Canadian actor, echoed this sentiment. Many students who speak other languages at home — Polish, Arabic, or Ukrainian — have had similar responses, have left with a renewed energy to embrace and share their heritage.
"S.T.O.P. is opening the floor to kids of all backgrounds being like, 'there is a place for me,'" they said. This is especially important to Lucas, who grew up attending school in New Brunswick.
"It's beautiful to have seen the official numbers of newcomer students in the schools. The amount of students coming to New Brunswick from other countries per year has broken 3000 and I could not be happier," they said, "I think back to when I was one of the only students of colour in any school I went to as a child and how much it would have helped me to have had more of my peers around me."
But the messages at the core of S.T.O.P. resonate with students regardless of their cultural heritage or home. At several performances, audience members have called out the moments of racism that are referenced by characters. Jilly recalls one of these instances very clearly.
"At Evergreen Park School, when I said my line of 'What does a Canadian even look like?' in S.T.O.P, regarding Charlie's concern about not looking 'Canadian,' a little girl somewhere in the crowd of K-2s shouted out 'ANYTHING!'" Jilly said, "That was really sweet and amazing that this young student knows that, and felt obliged to share that with us in the moment."
Not only is it rewarding to see the themes of the play resonate with young audiences, but Lucas Gutíerrez-Robert also feels "really encouraged by the inclusion of kids on the autism spectrum in the audience and the resources being made available to them now."
"I remember when I was in school a lot of kids with differing needs were shuffled off from the general population of students," they said, "Seeing the kids simply given headphones and a bit of supervision, but being included with the other students and sitting among them is really heartwarming."
This tour has been heartwarming in other ways, too. During a talkback, a time where audience members can pose questions to the performers, a student asked why they loved acting. For Jilly, this was an opportunity to remind herself why she loves her work, in a supportive and joyous environment. Santiago expressed a similar sentiment about how it feels to hear students react in real-time to the plays he wrote.
"Hearing them comment on the play as we're performing it is very charming," he said, "When I write these plays, I'm thinking about the audience, but I'm not thinking about what the audience is going to say in the moment. People are responding to the work on the spot."
But as Jilly pointed out, these responses don't just belong to the students.
"I was surprised at how receptive the adults in the room have been," she said, "They're having just as much fun watching as the kids, and that's not always the case, but it's been really great to see the teachers engaged as well as the students."
As the tour continues, audiences have also shown an interest in how the shows have been put together. Students ask more and more questions about the inspiration behind the story, the puppetry that brings a plaid shirt to life in Altar, who made the set, or the sounds that fill out the world of S.T.O.P.
This really pleases Jilly, who said, "all the kids in the audience who might not feel like being on stage is for them can now explore set design or stage management or sound design." This sense of inspiring young artists is something that Santiago echoed.
"In Moncton, a student from Colombia came by to say hello after the show. He was rather shy, but he was happy to say hello in Spanish and say that he was eight years old," Santiago said, "His teacher said, 'He wouldn't tell you but he's very theatrical.' And I said to him, 'well, I began acting when I was your age. In Mexico! You can do it too! You just gotta work hard.' His face lit up and he ran away."
"I hope I get to see him onstage one of these days," Santiago added. Not only is it empowering for students to learn that they too, could become an actor someday, but Santiago's presence is also likely to inspire future playwrights. Jilly recalls the moment when she realized this.
"I was leaving the gym to go get changed at one of the schools, and I heard a teacher talking to their students down the hall, and they said, 'You can even write a play!'" She remembered, "Not only is there the importance of showing representation for those students who aren't white/from New Brunswick/speak English, but the fact that the students are told he wrote the plays is so important because these students who might like to write for fun can see that it's something they can pursue as a career instead of just a hobby."
Like so many Young Companies before them, this year's team is not only bringing these beautiful, bright and bold stories directly to the students who need them most, but they're inspiring the next generation of creatives and theatre-makers in this province. As they do so, they're also getting better acquainted with New Brunswick.
Teagan Keith, the stage manager behind the wheel of the tour, referenced this as a personal highlight. Some early-morning performances necessitate overnight stays in various communities, which Teagan sees as an opportunity to explore new places and find hidden gems she hasn't encountered before. Additionally, between shows, the team will visit local landmarks whenever possible, something Jilly particularly enjoys.
"It's super cheesy, I know, but I love being an ambassador for New Brunswick, and whenever there's someone around that hasn't been to the province (Santiago) I jump at the chance to make sure that they get to see all the interesting and fun things we have here," she said, "And I love being a tourist in my own home, so I'm excited to explore right along with anyone who hasn't really been here before."
Landmarks the team has crossed off of their New Brunswick bucket list include Nackawic's giant axe, the covered bridge in Hartland, and of course, Shediac's iconic giant lobster. There have also been plenty of stops to try the treats the province has on offer, such as Moncton's Halo Donuts or the samples available at the Covered Bridge Chip Factory.
"I was so happy to share a part of my neck of the woods, and also have fun myself. Plus, eating fresh chips is something I would never pass up," Jilly said. Lucas, on the other hand, has a bit of a sweeter tooth.
"Wright's Bakery in Salisbury has got it going on," they said, "I have been munching away on their cookies nonstop. I only regret that we were not able to go on a Friday or Saturday when they have their famous flakies. Next time for sure!"
"So many adventures," Santiago reflected, "We are definitely doing a snack taste tour. I bought so many treats at Mrs. Dunster's. I ate them for an entire week!"
But the sweetest part of the entire tour? Even sweeter than the offerings at New Brunswick's various bakeries? The reactions the team has gotten from the students immediately following the performances.
After the talkbacks and applause, it's common to see Jilly, Lucas and Santiago swarmed by children brimming with compliments or questions. Of this excitement, Teagan said: "the kids are so drawn to the actors that they have to hug them — they're so in awe, they're so awestruck by the show."
Between these moments and the talkbacks, the Young Company has had the chance to hear reviews and reflections directly from students across New Brunswick. Not only does this reaffirm the necessity for this kind of tour — these students are activated and ready to engage with the arts — but as we all know, kids can say the darnedest things.
So, to conclude this Report from the Road, as the team takes the stage again in March for dozens of shows, we'd like to leave you with some of our favourite student feedback from February:
"I'll give this…four stars."
"What is this all about, anyway?"
"This is the realest play I have ever seen!!"
"Your guys's singing was AMAZING!"
"I know how to count to free in Spanish: uno, one; dos, two; free, free."
"THIS IS THE BEST MOVIE EVER."
"I thought it was funny when you fell over."
"You should've played Roblox instead of Minecraft."
"I like your dress."
"I've never seen anything like that!"
"Is there good food in Mexico?"