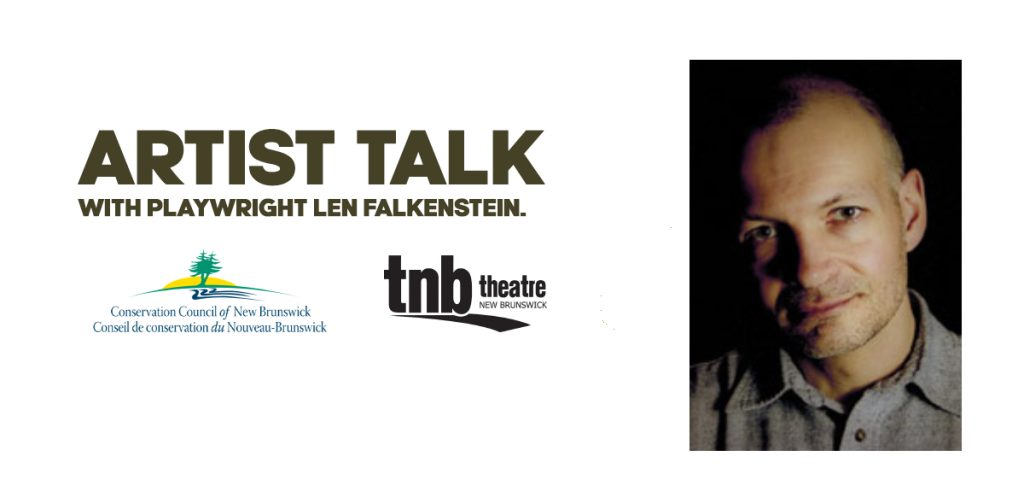 Join us for an artist talk with Fredericton playwright Len Falkenstein on Thursday October 19 at 7:30 p.m. This event is free to attend. Space is limited. Please book a free ticket to reserve your seat.
This fall, Theatre New Brunswick will produce the world premiere of Falkenstein's new play Wood Buffalo. Described as a sweeping Canadian epic that tells the story of the Wood Buffalo region of Northern Alberta, from colonization to the year 2070, through the intertwined narratives of a set of characters from across the country who are drawn to Canada's oil sands to seek a better life, the play blends compassion, humour, and more than a touch of magic to examine the price we, our land, and our environment collectively pay to keep our homes comfortable and our economy humming. Though centred on a bustling Alberta community, the story of Wood Buffalo is a universal one, as communities all across Canada struggle to find balance between environmental management and industry needs.
Wood Buffalo makes its world premiere Nov. 8-12 at the TNB's Open Space Theatre, 55 Whiting Road in Fredericton. Tickets on sale now at tnb.nb.ca 
About the Artist:
Len Falkenstein is Director of Drama at the University of New Brunswick in Fredericton, where he teaches theatre and playwriting and directs productions for Theatre UNB. He is also Artistic Director of Bard in the Barracks, Fredericton's outdoor Shakespeare company, and NotaBle Acts, a developmental theatre company that stages an annual festival of new plays by New Brunswick dramatists. His plays, which have been staged with his company Theatre Free Radical at Toronto's SummerWorks Performance Festival and at Fringe festivals and other locations across Canada, include Lac/Athabasca (published by Playwrights Canada Press), Soft Target, Utopia, Doppelgänger, and Free/Fall.