Home
Physical Theatre and Devised Creation Workshop
August 10-22, 2015 | The Fredericton Playhouse | Application Deadline: July 10th, 2015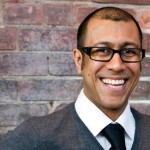 Theatre New Brunswick has partnered with The Fredericton Playhouse to present an exciting, two-week training opportunity for emerging and experienced theatre artists, exploring aspects of physical theatre and devised creation.
Under the direction of TNB's Artistic Director Thomas Morgan Jones and Ravi Jain, artistic director of Why Not Theatre, participants will train from August 10-22, 2015 finishing with a public performance on The Playhouse stage.
"In Fredericton alone there are over half a dozen independent companies creating invigorating, exciting, and impassioned new theatre," said Jones.  "Across Canada, too, emerging and established artists are creating their own work in physical or devised processes.  This training is an answer to what is already happening.  It is a laboratory where we can question why and how these processes work, how they can work, and to challenge ourselves to create with expertise, with abandon, and as an expression of our unique voice.  We look forward to welcoming artists from across the country to enter into this conversation in workshop, in process, and to creating a stunning new interpretation of Shakespeare's masterpiece, Macbeth."
The first week of training will focus on approaches to physical theatre as well as the use of text in physical theatre.  In week two, the training will move toward devising and presenting a physical ensemble creation using Shakespeare's Macbeth as source material.
Guest instructor Ravi Jain will join Jones in facilitating this new joint training initiative.
"It is TNB's great honour to welcome internationally acclaimed and award winning artist Ravi Jain as an instructor," said Jones.  "His work as an independent artist and educator and his creations and collaborations with his groundbreaking company Why Not Theatre have had an incredible impact on the Canadian and international theatre scene.  He is one of the finest teachers I have ever met, bringing a combination of rigour and play, and always a spirit of questioning in service of the actor."
Participants will gain experience creating and communicating with their bodies as tools to tell stories.  They will learn how to create quickly, efficiently, expertly, and freely with other artists.  They will be given the tools to then repeat and re-create with confidence.
This call is open to all actors, directors, and theatre artists in Canada.  Applicants are asked to submit a cover letter, resume, and headshot.  Applications will be accepted upon receipt of a $150 non-refundable deposit. Deadline for applications – July 10, 2015.  The full fee for the two week workshop is $450+HST.
Theatre New Brunswick Announces New Training Opportunity for Theatre Artists
Suzuki Method of Actor Training and Viewpoints
June 1 – 6, 2015 | Fredericton, New Brunswick | TNB Studio | Application Deadline:  May 1st, 2015
Theatre New Brunswick's artistic director, Thomas Morgan Jones, invites theatre artists from the Maritimes and across Canada to participate in a workshop where he will share the training he received from SITI Company (New York City) and the Suzuki Company of Toga (Japan).
The Suzuki Method of Actor Training, created by celebrated Japanese director Tadashi Suzuki, is a rigorous physical practice of actor training that places focus on the body in relationship to and in support of speaking in performance.  It demands complete commitment to each moment on stage, and offers a company of actors an opportunity to work individually and as a group with incredible discipline and focus.
"A SITI company member said to my group in training that Suzuki is about finding freedom in form, while Viewpoints is about finding freedom in freedom," said Jones.  "Both are challenging, and both help us as artists to grow through that challenge."
The Viewpoints, originated by Mary Overly, is an improvisational training discipline that explores the use of Time and Space in performance.  Actors learn to listen to their impulses, to their surroundings and to each other.  Viewpoints is about noticing, both what is happening and what is constantly changing…and then acting.
"Training with SITI Company and SCOT has been the greatest gift to me as an artist, and has completely and forever changed how I work.  The world class instructors at both of these companies are models of excellence, and are so giving in the sharing of this training with artists from around the world.  At TNB, I would like to give back to our community by sharing this training, and in the future will be dedicated to finding ways to bring those who have trained me to Fredericton and the Maritimes.  In my experience, the profound effect that these two different and complimentary systems of training have on artists who train in them is undeniable.  I look forward to welcoming artists interested in training to Fredericton, and to entering the training room together."
This call is open to all actors, directors, and theatre artists in Canada.  Applicants are asked to submit a cover letter, resume, and headshot.  Applications will be accepted upon receipt of a $100 non-refundable deposit.  
The full cost of the program is $250+HST.