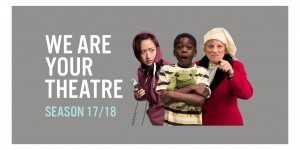 (Fredericton) – Individual tickets for all productions in our 2017-2018 season are now on sale at the Fredericton Playhouse box office.
Our coming season has a little something for everyone. Whether you prefer a traditional, time-tested tale, enjoy experiencing new voices and world premieres, or have always wanted to experience a large scale musical complete with live orchestra and a cast of 40+ actors and dancers. Whatever your tastes maybe, we've got you covered.
This year we will again be producing theatre at the Fredericton Playhouse and at our own Open Space Theatre, offering audiences two very different theatre experiences with both large scale and intimate black box productions.
In addition to our Fredericton performances, tickets are also on sale for Miramichi, St. Andrews and Woodstock performances of both Fortune of Wolves and Finding Wolatoq Voice.
We'll launching online ticket sales for performances in Bathurst, Moncton, Sackville, and Saint John shortly.  Full performance details below.
#WeAreYourTheatre #TNB1718
Fortune of Wolves
The dark imagery of Stephen King meets the catastrophic world of The Walking Dead.
October 12- 22, 2017 (Open Space Theatre  – Fredericton)
October 24-30, 2017 On Tour
Buy Tickets
A Christmas Carol
A fresh adaptation of a timeless holiday classic.
December 14-16, 2017 (Fredericton Playhouse)
December 17, 2017 (Imperial Theatre – Saint John)
Buy Tickets
Finding Wolastoq Voice
The debut work from New Brunswick aboriginal artist-turned-playwright Samaqani Cocahq (Natalie Sappier) of Tobique First Nation.
March 8-18, 2018 (Open Space Theatre – Fredericton)
March 20-30, 2018 On Tour
Buy Tickets
Beauty and the Beast
A tale as old as time.
April 26-28, 2018 (Fredericton Playhouse)
Buy Tickets
Subscribers Only:
Subscribers are invited to join us for a private performance of both TNB Young Company productions.
A Herman Tale
A world premiere adaptation of this new New Brunswick children's classic.
Date: TBA
Goodbye Marianne
A special production marking the 8oth anniversary of the Night of Broken Glass.
Date: TBA