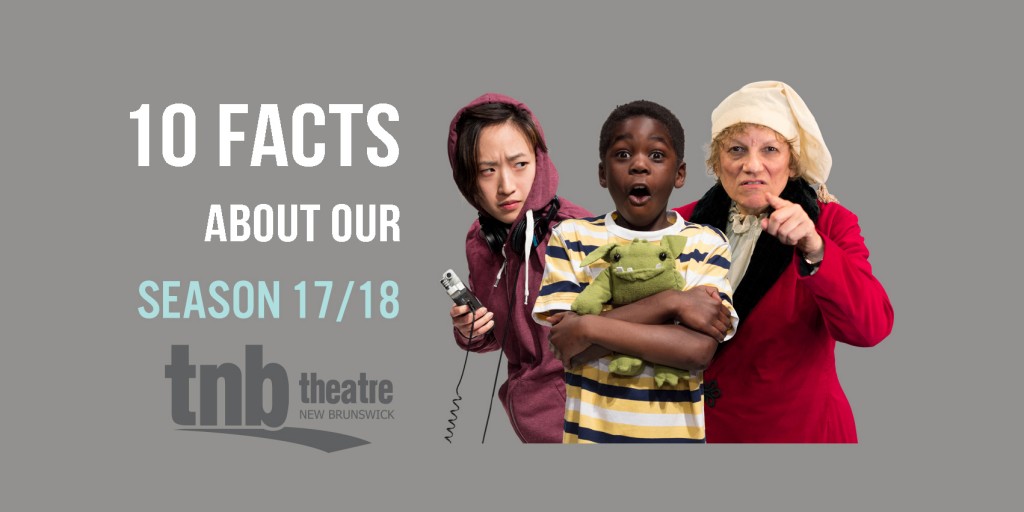 From world premiere productions by New Brunswick playwrights to first class training opportunities for professional artists, our 17/18 season has a little something for everyone.
#1. This season marks the third consecutive season to feature a world premiere by New Brunswick playwright Ryan Griffith.
We're honoured to include Ryan's voice as part of our coming season. As an established New Brunswick playwright, Ryan's vision holds unique ground among his peers. His play Returning Fire introduced our audience to the world of immersive theatre by incorporating text messaging into a site-specific experience and his adaptation of Alistair MacLeod's The Boat was a highlight for many last season.
This year we're beyond excited to feature Ryan's love for the supernatural, a trait that has helped define much of his work with Next Folding Theatre Company over the past several years. Fortune of Wolves will surely leave audiences inspired, exhausted and completely in awe of this talented New Brunswick playwright.
#2. New Brunswick aboriginal playwright Natalie Sappier makes her playwriting debut this season with her work, Finding Wolastoq Voice, a mesmerizing dance/theatre hybrid.
Natalie is an established visual artist and musician who first became interested in theatre during the development of our 2014 TNB Young Company production, The Eighth Fire, a project she helped shape as a member of the New Brunswick Aboriginal Artists Collective. As assistant director for Marioan Bridge and later as an artist in residence with Theatre New Brunswick, she was able to hone her vision and interest by developing her first script.
Finding Wolastoq Voice will be a production unlike any other we've staged. Needless to say, we're very excited to bring this story to life.
#3. There are 4 world premiere works by New Brunswick artists included as part of our 17/18 season.
In addition to new plays by Ryan Griffith and Natalie Sappier, our 17/18 season also includes a new take on a timeless holiday favourite with Thomas Morgan Jones' adaptation of A Christmas Carol.
TNB Young Company will be touring two productions this season. Elementary school audiences will be treated to A Herman Tale, based on the popular children's book by New Brunswick author Paul McAllister, adapted by Tania Breen.
#4. TNB Young Company will present two plays (one for elementary students and one for middle and high school students) as part of our 2018 New Brunswick school tour.
After three seasons touring a single production, TNB Young Company will be returning to a two-show model offering work created specifically for elementary and middle/high school audiences.
To honour the upcoming 80th anniversary of The Night of Broken Glass, we're honoured to share Irene Watts' play, Goodbye Marianne, with middle and high school students across the province.
#5. Our 17/18 season subscription package could very well be our most affordable six-show subscription ever!
We can't remember the last time we've been able to offer a complete season subscription package that includes six performances for just $100. That's nearly the price of a single theatre performance in some large centres. By embracing our namesake as The Theatre of New Brunswick, we aim to make professional theatre as affordable and accessible as possible. This leads us directly to fact #6.
#6. We've expanded our touring this season to include seven locations, adding performances in Sackville, Moncton and Saint John to our existing network that includes Bathurst, Miramichi, St. Andrews and Woodstock.
Following on the success of the past two seasons that saw the company reintroduce regional touring into our annual programming, we've decided to take things one step further by adding more performances in both Moncton and Saint John as well as adding new performances in Sackville.
Both Fortune of Wolves and Finding Wolastow Voice will tour the province this season in addition to our long-standing tradition of bringing our holiday show to Saint John's Imperial Theatre.
#7. Award-winning, Halifax-based director Ann-Marie Kerr will join us to direct a new adaptation of A Christmas Carol this holiday season.
We're really excited to welcome Ann-Marie Kerr to Theatre New Brunswick this season as our guest director.
Ann-Marie is an award-winning theatre director, actor and teacher. Her work has been presented nationally and internationally including the Globe Theatre (Regina), Neptune Theatre (Halifax), Alberta Theatre Projects (Calgary), Festival TransAmériques (Montreal), Under the Radar (NYC), Magnetic North Theatre Festival (Canada), Soulpepper Theatre Company (Toronto), Luminato Festival (Toronto), Cork Midsummer Festival (Ireland), Edinburgh Fringe Festival, Sydney Festival (Australia), Carrefour international de theatre (Quebec City), Groundswell Festival (Toronto) and UNO Festival (Victoria, BC).
Ann-Marie will direct our new production of A Christmas Carol this December.
#8. Sound designer Deanna Choi (Laurier, The Boat) will join us again this season to create the audio world of Fortune of Wolves.
Deanna Choi captivated our audience last season with her moving compositions and sound design created for our production of The Boat and we can't wait to welcome her back.
Deanna co-founded the Badass Brahms Chamber Collective, and completed residencies with the National Youth Orchestra, the Banff Centre, the NAC, and Stanford. Previously with TNB, she designed and composed music for The Boat (2017) and Laurier (2016). Other theatre design credits include: Alien Creature (Theatre Passe-Muraille), The Death of Mrs. Gandhi (Next Stage), This Is How We Got Here (Summerworks). She is a nominee of the Pauline McGibbon award and her life goal is to have as much Zen as a three-toed Bradypus sloth.
(That's also Deanna you see on the poster for Fortune Of Wolves!)
Learn more about Deanna by visiting her website: www.deannahchoi.com
#9. Fight Master Daniel Levinson, one of Canada's leading fight choreographers, will join us for a two-day workshop in stage combat.
We're excited to welcome Daniel for this weekend workshop set to take place September 9-10, 2017 at the Open Space Theatre.
Daniel is the artistic director of Rapier Wit, Canada's oldest stage combat school and production company and he is one of Nine certified fight masters with Fight Directors Canada, Canada's only nationwide internationally-recognized stage combat association.
Learn more about his work by visiting:  www.rapierwit.com
#10. Kameron Steele returns to lead our 2018 Suzuki Method of Actor Training workshop.
Last but certainly not least, we're happy to announce the return of instructor Kameron Steele, who will lead our 4th week-long workshop in the Suzuki Method of Actor Training.
Born in Duluth, Minnesota and raised in Baltimore, Maryland; in 1991, Steele joined Tadashi Suzuki's SCOT company in Toga, Japan where he has since worked as an actor, assistant director, teacher and translator, appearing in King Lear, Waiting for Romeo, Ivanov, Greetings from the Edge of the Earth and Dionysus.
That workshop's a year away but will no doubt fill up quickly. Check our social media often for updated registration information when it becomes available.