Over the coming months, McLean will lead a series of workshops and classes in playwriting through the TNB Young Company and the TNB Theatre School in addition to working on her next script.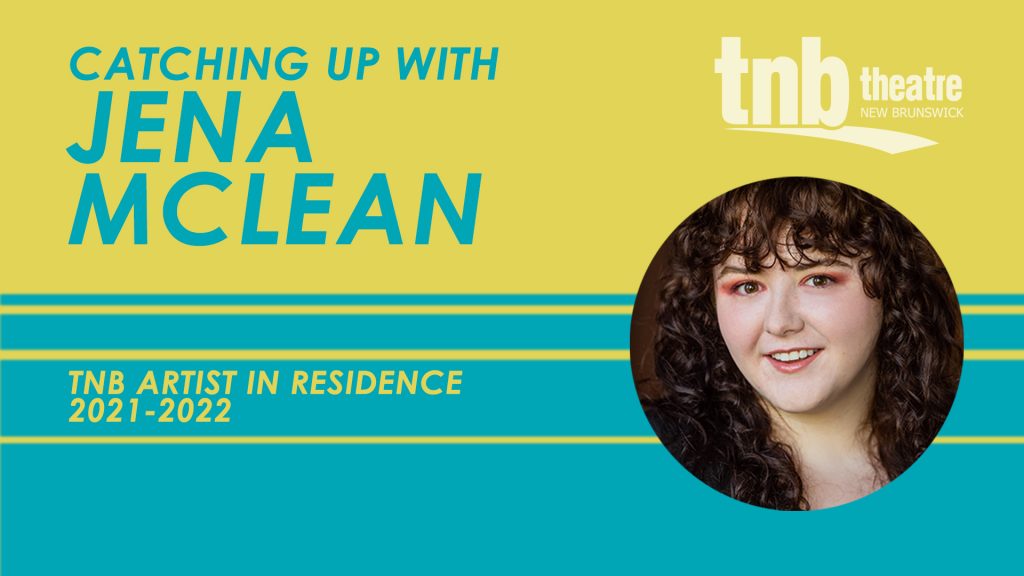 Last fall we welcomed Jena McLean, a recent graduate of the National Theatre School of Canada's playwriting program, as our 2021-2022 Artist-in-Residence. Since that time, Jena has participated in several projects with TNB while also making time to explore her own work as an emerging playwright and theatre educator. As we cross the midpoint of this residency and enter another new year, we thought this would be the perfect time to check in with Jena and share some of the work she's been involved with over the past few months while also looking towards new projects for 2022.
"I feel like I'm constantly describing this residency as a dream come true, but that's because it is," said McLean. "In the past few months, I've gotten the chance to be a part of a few amazing projects like the Disability Atlantic Arts Symposium and the Fall Festival of New Plays. I'm an industry baby in the way where so much of this is new to me, so getting to observe and be a part of decision-making processes is hugeand incredibly informative.
"While providing support for the Symposium, I learned so much about not only coordinating live events but also about increasing accessibility in our practices. Then, with the Fall Festival, picking plays, understanding how a budget works, and reading stage directions were all great ways to learn about balancing and organizing a festival, the financial side of theatre-making, and how different dramaturges work with different playwrights."
Jena told us her experience working on these various projects with TNB has not only helped provide a broader understanding of how theatre is made, and events are organized, but has also informed her own practice as a playwright.
"I can notice the stuff I'm learning informing my thinking about my own writing, which is exciting, especially because so much of my residency has been focused on my new play MFG."
Jena describes her new play as a meta theatrical play that follows a university student navigating a chaotic dating life and overbearing friends while grappling with what it means to be the main character for the first time in her life.
"Being at Theatre New Brunswick has been great because I have the space to research, interview people about their lived experiences, and take my time assembling a draft," she said. "But when a draft is done, there is an incredible excitement about the next step, about development, about hearing the words read aloud, about how to take it one step further. I feel supported and encouraged and creatively fed, which makes the mountain of the play a little easier to climb. MFG has come a long way so far, but I'm excited to see how much more it will grow."
In the coming weeks Jena will lead a series of student workshops presented through the TNB Young Company. Since our regular school tour is unable to happen, we thought this would be a great opportunity to work with interested teachers/students and help them develop their own stories.
"The more I think about the Young Company workshops, the more I'm excited to help students understand that theatre can be something that's for them, both to enjoy and to make," she said. "In my experience, sitting down to write your first play can feel kind of impossible, so it's my hope that these workshops will give students starting points and potential pathways to creative expression. By discussing different modes of playwriting and creation, I'm excited to help students understand that there is no one way to make theatre and to empower them to discover what their theatre looks like."
Jena will also be leading a new adult playwriting class offered through the TNB Theatre School. Beginning January 13 at the Open Space Theatre, this eight-week, socially distanced program will explore the ins and outs of creating a play. Students are not required to have a play of their own ready to build upon. A few ideas and an interest in learning are the only course requirements.
"The primary goal for the workshop is for artists to understand what they need to make a play, but less in a checklist way, more in a choose your own adventure way," said McLean. "It's my hope that as we discuss things like development, structure, character and world creation, we will come to understand what we need from each phase of a creative process. We'll read some contemporary plays to figure out how they work, we'll dig into some theory, and every week we'll do some prompt-based writing to keep our creative muscles active. I want to give people as many tools as possible so they can figure out what ones feel best in their hands."
For further updates from Jena, follow her on Instagram @jena_mclean. Details on this year's TNB Young Company playwriting workshops can be found HERE. There are also still a few spots open in our adult playwriting program. Learn more about the course and how to register HERE.  
TNB gratefully acknowledges the support received from artsnb to help make this artists residency possible.