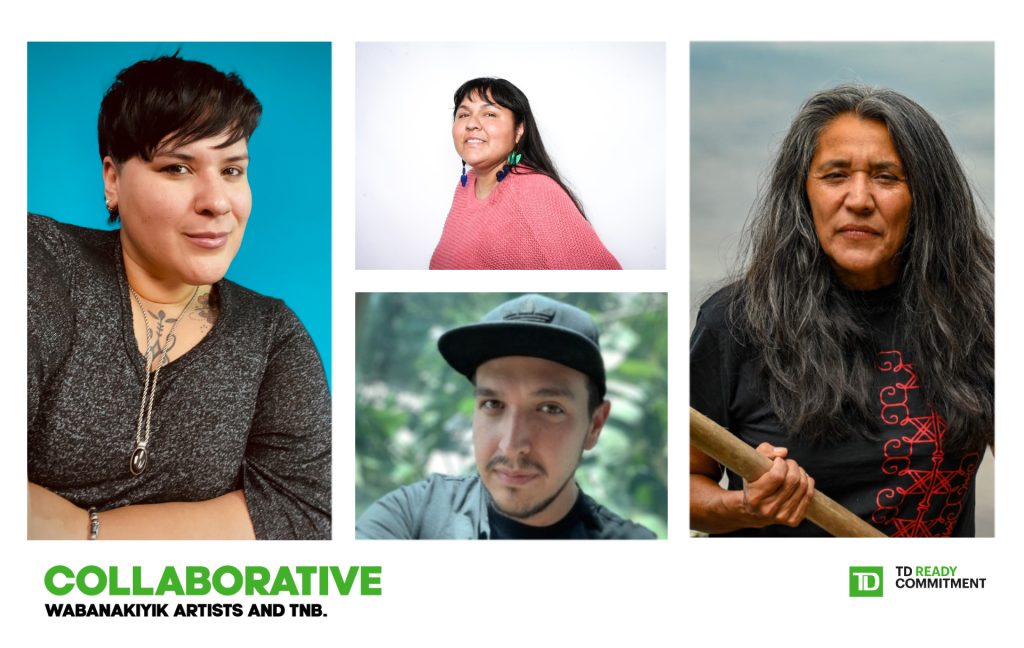 TNB is proud to announce the artists chosen to participate in the inaugural artist-led development initiative, Collaborative: Wabanakiyik Artists and TNB.
Theatre New Brunswick is pleased to introduce the artists chosen to participate in the inaugural artist led development initiative, Collaborative: Wabanakiyik Artists and TNB. Following a call for submissions, the company is honoured to announce artists Possesom Paul, Natasha Barlow, and Gina Brooks as the first to participate in this new program. This program will provide each of these artists with funding to aid in the creation of their next projects as well as creative mentorship from Fredericton-based visual artist, performer, and musician Natalie Sappier.
"I'm really excited about this group of artists," said Natasha MacLellan, TNB's artistic and executive director. "We have been working with Natalie on various projects over the past few years and continue to be inspired by her ability and creative vision. Thanks to the support of TD's Ready Commitment program, we are able to welcome Natasha, Gina, and Possesom into our creative space and support them as they explore and develop their diverse mix of projects. I'm looking forward to watching all of these projects take shape."
Collaborative: Wabanakiyik Artists and TNB is a multi-year initiative designed to provide project and career development resources and public performance opportunities to New Brunswick-based Indigenous artists. Using theatre as a tool to share stories, explore ideas, to create and to play, a major goal of this project is to reinterpret theatre's role as a forum for sharing stories by supporting the development of new and emerging Indigenous artists from across New Brunswick and from the 15 First Nations that exist within our provincial borders. 
Meet the artists:
Gina Brooks
Gina Brooks is Wəlastəkwew from Sitansisk. She resides in the traditional homeland of her people and is informed by Wabanaki traditional knowledge in a variety of traditional artistic practices, including but not limited to brown ash basketry, porcupine quill and birch bark basketry, carving, painting, and print making. Her original prints include acrylic and ink, lithographs, monotypes, and copper etched plating. Her life is inspired by her people. "I see art as an opportunity to learn about myself thought ancient stories, symbols, motifs and language." Wabanaki belief systems are woven and etched within the portals and layers of our sacred mother — skitkǝmikw.
Natasha Barlow
Natasha is a mikmaw multidisciplinary artist born into a family of fisherman and basket makers. Natasha is from L'nu minigoo and grew up on the ocean. Being a storyteller has always come naturally, as her family's favourite pass time is telling ghost stories.
Nipahtuwet Naka Wespahtuwet (Possesom Paul)
Possesom' [Ba-zaz-um] is a Wolastoqiyik multi-disciplinary artist, curator, director and cultural educator. Possesom is a major contributor and resource to the indigenous artistic community leading a new generation into a significant period of growth, development and opportunity across the entire Atlantic region. He is a member of the Wabanaki Grass Dance Society, and a keeper of traditional knowledge. As a champion dancer, accomplished director and actor, educator & choreographer — he has toured throughout turtle island, sharing knowledge, engaging audiences and community in critical thought towards understanding of their own origins, and the first peoples of the world.
Possesom is co-director/creator of the Atlantic Ballet production PISUWIN – A Wolastoqiyik Story touring Atlantic Canada this spring.
Samaqani Cocahq-(Natalie Sappier)
Samaqani Cocahq-(Natalie Sappier) is a Wolastoqiyik Indigenous multidisciplinary storyteller from Tobique First Nation, New Brunswick. She began her arts practice as a painter. Painting is what awakened her healing journey and reconnection to the land. She realized early in her painting career that she was not only painting for herself, but she was also painting for her people, her ancestors and for healing.
She has written and composed her first play Finding Wolastoq Voice in residence at Theatre New Brunswick which has toured around the province and was presented on National Stages. She is currently developing her second play and a series of work through character she created who she calls MAW.
Who is MAW?
Maw is magical being that can be anyone at any time. Maw can be a woman. Maw can be a man. Maw can be two-spirited. Young or Old. Maw has an animalistic spirit. Maws roots are made of blood, earth and stars. Maw travels through time.
Stories of Maw are guided by Ancestral Knowledge carrier and created in collaboration with her Wabanaki Artists and Friends. Aside from her own artistic practice, Samaqani Cocahq dedicates much of her time in the advocacy of the arts, culture and wellness as well as provide mentorship for Indigenous artists and participates in numerous collaborations of diverse circles that focus on community initiatives and projects.
(Photo: L-R: Samaqani Cocahq-(Natalie Sappier), Natasha Barlow (top), Nipahtuwet Naka Wespahtuwet (Possesom Paul) (bottom), Gina Brooks.)