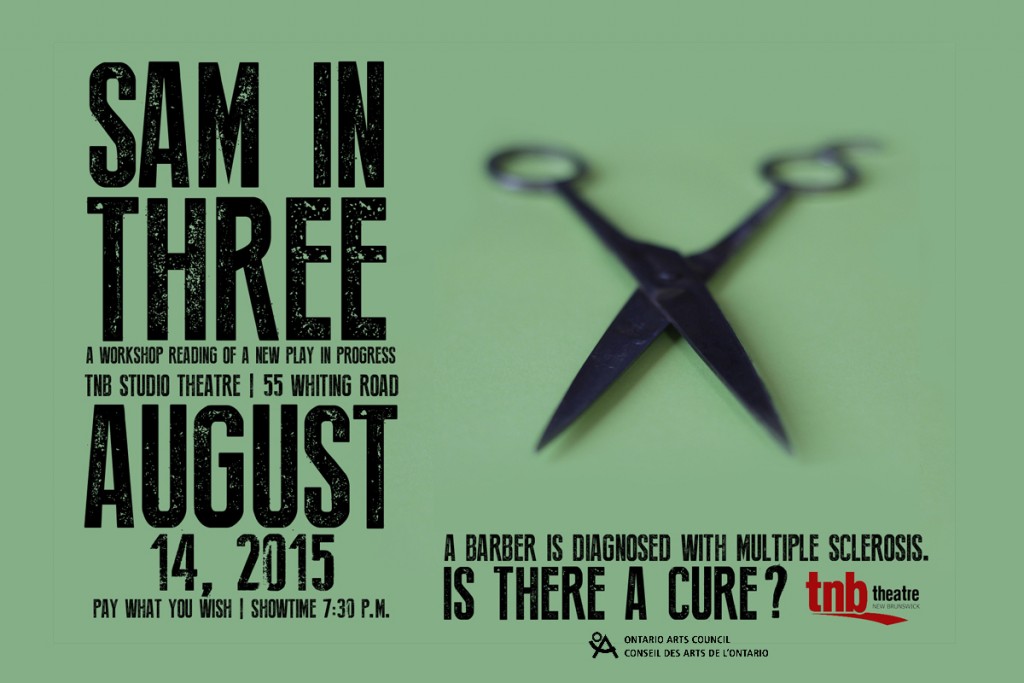 Sam in Three
By Thomas Morgan Jones
A barber is diagnosed with Multiple Sclerosis. Is there a cure?
A Workshop Reading of a New Play in Progress | August 14, 2015 | TNB Studio Theatre | 55 Whiting Road, Fredericton | 7:30pm | Pay what you wish
(Fredericton) Sam in Three was originally written and developed by TNB's artistic director Thomas Morgan Jones while he was serving as Ontario Arts Council playwright in residence with Cahoots Theatre Company in Toronto. After a diagnosis of MS in 2008, Jones wanted to find a way to tell the story of a family in similar circumstances for the stage.
Shortly after he began writing the initial drafts of the play, the media was abuzz with the news of Dr. Paolo Zamboni's new Liberation Treatment which was being heralded as the cure to MS. The subsequent news was that while the treatment worked for some, it did little or nothing for others. The medical community is still debating.
The story follows a barber named Sam. When the play begins, his wife Emma, a school teacher, discovers that she is pregnant. Shortly after this, Sam has his first attack of MS. The play follows this couple over the nine months of the pregnancy. As the baby grows, Sam's health deteriorates.
Sam in Three is a play about looking for hope where there may be no reason to find it, about the strength of our relationships, and about the effect of disease on our lives and relationships.
This special evening reading will be held at Theatre New Brunswick's studio theatre at 55 Whiting Road in Fredericton. Three actors will read the script at music stands for the audience, and following the reading the audience and the community will be engaged in conversation where they can ask questions and share their thoughts, feelings, and observations about the play.
For more information or to arrange an interview with Thomas Morgan Jones, please contact Matt Carter, director of development and communications communications@tnb.nb.ca or call 506-460-1381 Ex113.