Boca del Lupo's new Plays2Perform@Home series features four plays by Atlantic Canadian playwrights.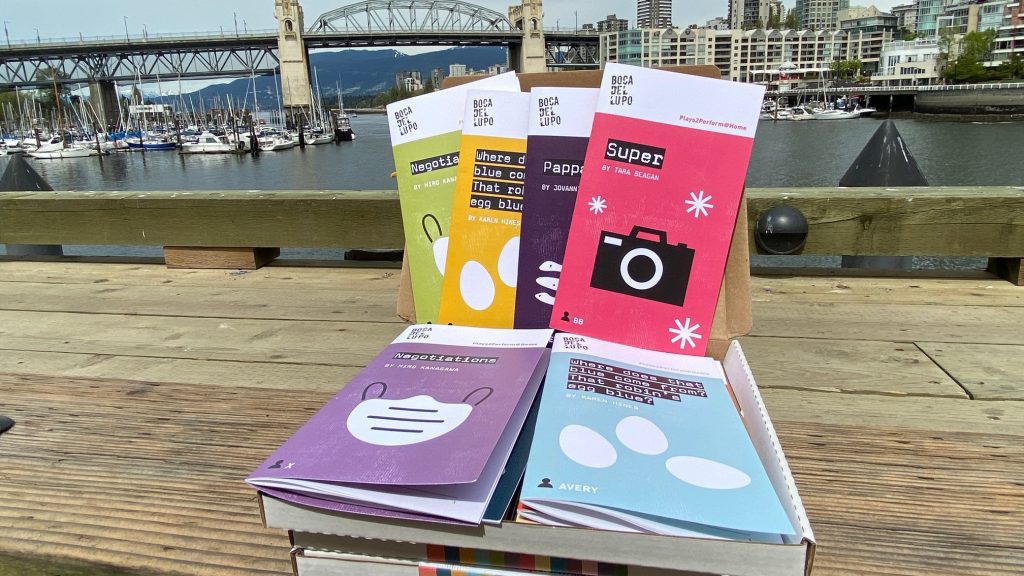 Boca del Lupo have a unique take on theatre. Based in Vancouver, the company's mission is to create extraordinary performances in unconventional spaces. Something they do very well. TNB audiences will be familiar with our 2020 presentation of their traveling production, Red Phone, the one-of-a-kind theatre experience that involved a pair of full-sized telephone booths through which audience members could engage directly with a number of short plays by Canadian playwrights. We had a lot of fun presenting that show at the Picaroons Roundhouse back in October so when the opportunity arose to partner with Boca del Lupo on a new project, we of course said, "yes".
This month, Boca del Lupo launched Plays2Perform@Home, the second in a series of DIY plays created with the specific intention of bringing live theatre directly to your home in the form of simple, no-scale productions where you, the audience, can direct, act and design your own show. Yes, you read that correctly.
Back when venues started to close around the world due to COVID-19, Boca Del Lupo's Artistic Director Sherry J Yoon and Artistic Producer Jay Dodge started asking themselves how they could help keep live theatre going in a world without stages.
As more and more productions started popping up online, Sherry and Jay kept coming back to the idea that theatre is live, theatre is communion, theatre is something to be experienced together in the flesh.

This led them to create Plays2Perform@Home, a project that asks audiences to take a leading role in creating a piece of theatre with the close friends and family they have chosen to be part of their bubble. These short plays are intended to be performed around the dinner table, picnic blanket, or campfire with or without an audience.
Following the success of the initial Plays2Perform@Home series released in 2020 featuring work by Western Canadian playwrights, the Boca del Lupo team have now taken their idea nationally and have just announced five upcoming box sets with representation from writers all across Canada. Each box set contains four different plays with up to four characters, with an individual copy for each character for everyone to play their part.
Everyone here at Theatre New Brunswick is excited to be involved in the Eastern Canadian box set featuring plays by Marc-André Charron, Mary-Colin Chisholm, Jena Elizabeth McLean and Santiago Guzmán.  For our part in this project, we commissioned both Jena and Marc-André (who runs Moncton's Satellite Theatre) to each write a new play for the series. Jena's play, It's Like A Highlight Reel is a verbatim play with dialogue sourced from interviews and voice memos with contributors sharing thoughts on the best day of their lives. For his contribution, Marc-André's bilingual, Your Friendly Neighbourhood Nuclear Reactor – a New Brunswick-based political sci-fi satire play, imagines a world where English and French families are tasked with managing tiny nuclear reactors in exchange for Costco vouchers. 
While both plays sound as if they have nothing in common, the relationship between both Jena and Marc-André's plays, as with all the plays in this series, can be found in their short, to the point structure and the fun and unique engagement opportunity they present to theatre lovers of all ages and backgrounds.
"It's fun to keep reaching out to people no matter what shape it takes," said Marc-Andre. "For me, this was a blast and a great way to meet with Sherry at Boca Del Lupo and have a chat with Natasha [MacLellan] about theatre in the pandemic. Getting people together around stories is still the best thing, and a change from web shows was welcome."
For Jena, writing a play for Plays2Perform@Home helped broaden their perspective on writing and the notion of ownership when it comes to sharing work.
"I'm a big believer that the best theatre acknowledges how consequential the audience is," said Jena. "And normally, I feel like a play belongs to me while I write, to the collaborators when it's in rehearsals, and then finally to the audience when it opens. But the entire time I was writing It's Like a Highlight Reel, it felt like it was already for them. This project is so explicitly for the audience, for the folks at home performing with their friends and families. It was a great reminder of why I do theatre in the first place, for the audience, to engage in that dialogue. This play is a little different because it's reaching across time and space to have that chat, and I'll likely never hear the other side of it, but I hope the audience-performers get something from it. I know I have."
Plays2Perform@Home is now available for pre-order through Boca del Lupo's website, where you can find details on all five of the box sets, the playwrights involved and a whole lot more.