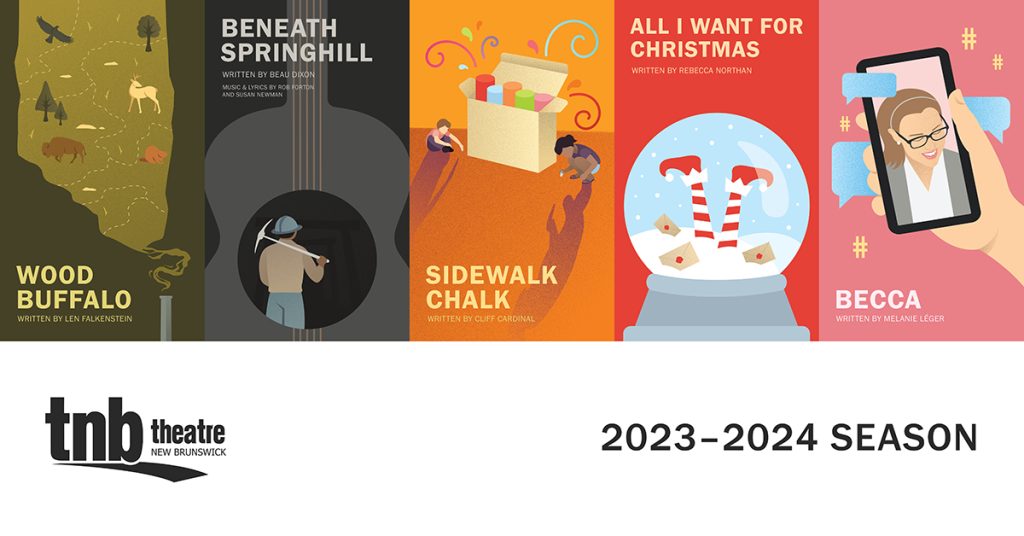 Theatre New Brunswick's upcoming season includes a world premiere eco-thriller, a Christmas comedy, a bilingual play produced in association with New Brunswick's leading francophone theatre company, and the TNB Young Company's 50th anniversary school tour.
(Fredericton) Theatre New Brunswick's 55th professional theatre season begins with the world premiere of a new play by Fredericton playwright Len Falkenstein. Commissioned during the pandemic, Wood Buffalo is a time traveling eco-thriller featuring more than 20 characters from bison and beavers to fur traders, immigrants, and the countless east coasters who left home in search of a better life in Alberta. Etched through with compassion, humour, and more than a touch of magic, Wood Buffalo examines through the lens of individual lives the price we, our land, and our environment collectively pay to keep our homes comfortable and our economy humming.
"I'm really excited about this play for many reasons," said Natasha MacLellan, TNB's Artistic and Executive Director. "First for all, Len is a theatre icon here in Fredericton. Through his position as Director of Drama at UNB and the many theatre events he organises each year, Len has made an enormous impact on our community. He's also a fantastic playwright and an environmental activist. Wood Buffalo ties together two of his many talents and passions. It's an ideal pairing, really. We're all pretty excited to start our season with Len and this epic story."
After two years of Jane Austin inspired Christmas productions, TNB will take audiences in a different direction, this time to the North Pole with the holiday comedy, All I Want for Christmas. Written by Canadian playwright and comedian Rebecca Northan, this year's show is packed full of humour and silliness as sister elves Nog and Ginger do their best to manage Santa's mail room.
"Humour is the medicine most of us need during the holiday season," said MacLellan. "With all the commitments and to-dos that dot our calendars in the lead up to Christmas, it can be easy to forget what joy the season can bring. Rebecca is a very funny writer and I'm sure her play All I Want for Christmas will be a perfect fit for all of us this season."
In the new year, TNB will partner with Caraquet's Théâtre Populaire d'Acadie to share the world premiere production of Becca. Written by Moncton playwright Melanie Léger, this bilingual production will share the story of Riverview, New Brunswick teen Rebecca Schofield and the kindness movement she launched after being diagnosed with a terminal brain tumour. With an extensive provincial tour set to begin on the sixth anniversary of her passing at the age of 18, Becca will be a celebration of life and a reminder of how a little kindness can have a lasting effect.
"This is a big one," said MacLellan. "A hugely inspiring story about one of our own, written by one of our own. Rebecca started the #BeccaToldMeTo movement to share kindness with the world during her final years of life. For me, and I think I can speak for all of us involved in this production, producing this play and touring it all over New Brunswick is a beautiful way to extend Rebecca's message and ensure her lasting legacy as an inspiration to us all. I expect we'll all share a lot of tears in the rehearsal room. Our hope is that audiences leave the theatre inspired to be better people, to love one another, and carry on Rebecca's message of kindness."
Last year, TNB's annual Young Company tour made a welcomed returned to schools across the province after a few years of adapted programming. 2024 will mark the 50th anniversary of the TNB Young Company with a new pair of productions written specifically for young audiences.
Sidewalk Chalk by award-winning Indigenous playwright Cliff Cardinal will take elementary students on an adventure through an imaginary world to learn the importance of friendship. The TNB Young Company will blend history and entertainment for middle and high school audiences this season with a production of Beneath Springhill by Beau Dixon with music and lyrics by Rob Forton and Susan Newman. Beneath Springhill tells the incredible story of "the singing miner" Maurice Ruddick, the African-Canadian who survived nine days underground during the historic Springhill mining disaster of 1958.
"For this year's Young Company season, we are heading below ground to explore themes of friendship, hope, and resilience through story and song," said TNB Young Company Director Sharisse LeBrun. "Both of these plays show us that whether it's through song or imaginative play, storytelling is a powerful tool that we can all access and use in our everyday lives to understand and get through challenges. I hope our audiences walk away feeling like they too can harness this power."
TNB Theatre School senior productions for the 2023-2024 season will be announced in August.
Season Productions
Wood Buffalo | by Len Falkenstein
November 8-12, 2023 at the Open Space Theatre (Fredericton) 
Touring New Brunswick November 14-19, 2023.
All I Want for Christmas | by Rebecca Northan
December 8-9, 2023 at the Fredericton Playhouse
Becca | by Melanie Léger
February 7-11, 2023 at the Open Space Theatre (Fredericton)
Touring New Brunswick February 13 – March 2, 2024
Sidewalk Chalk | by Cliff Cardinal
Touring New Brunswick elementary schools February – March 2024
Beneath Springhill | by Beau Dixon. Music and lyrics by Rob Forton and Susan Newman
Touring New Brunswick middle and high schools February – March 2024
Tickets
Tickets for all Fredericton performances are on sale now. Tickets for all tour performances go on sale in August. 
About Theatre New Brunswick
Theatre New Brunswick is one of Canada's oldest and longest running regional theatre companies. Our mission is to create extraordinary theatre that inspires and entertains our audience while celebrating New Brunswick's best theatre content and artists; and to provide outstanding theatre training and performance that educates and awakens the imaginations of our youth and emerging artists.
TNB has three components: A professional season of live theatre which seeks to celebrate New Brunswick and Maritime playwrights, actors, designers, and other theatre artists; the Theatre School which trains close to 300 K-12 students each year in acting, musical theatre, and playwriting; and the Young Company which brings plays to thousands of elementary, middle, and high school students across the province each winter, many of whom have never experienced live theatre before.