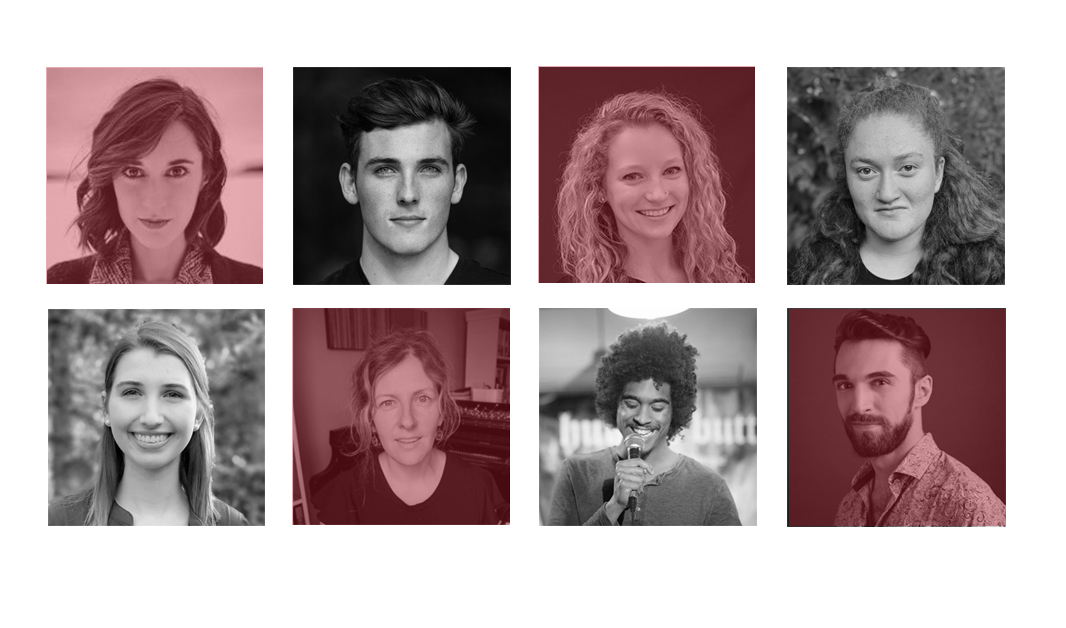 We're only a couple of weeks away from launching our 20th anniversary season at the TNB Theatre School. In the lead up to the first day of classes, we thought it would be nice to introduce you all to this year's instructors.
Theatre School Director – Sharisse LeBrun
Instructor: Junior & Intermediate Musical Theatre, Intermediate Acting | Senior Musical Theatre Production Director
Sharisse LeBrun is an educator, director, and performer who has long been involved with the local theatre community with companies including Theatre St. Thomas, Theatre UNB, Bard in the Barracks, TNB Next Stage, Notable Acts, Hot Garbage Players and Solo Chicken. After years of attending the theatre school as a student she developed a passion for theatre education and began teaching for many of the junior programs as well as the summer theatre school. Having recently completed her MA in drama, theatre, and performance studies, she is thrilled to find herself back home at the theatre school teaching and creating with the rest of the theatre school team and students.
Courtney Arsenault
Dance Instructor | Intermediate and Senior Musical Theatre Choreographer
Courtney is a Fredericton based dancer, dance instructor, and choreographer. Originally from Saint John she moved to Toronto, Ontario after high school to complete training in the Commercial Dance Program at George Brown College. She has been heavily involved with competitive dance and community theatre for over ten years and continues to seek opportunities to grow as a creative thinker. Courtney is currently a member of the coop CORPS, a training platform for artists to develop and perform original works of physical theatre. While off stage she is also a dance instructor for Theatre New Brunswick, Artemis Dance Studio and choreographer for the St Thomas Musical Theatre Program and KV Players. Her work has been featured in productions including Newsies (KVP), Beauty and the Beast (TNB), Urinetown (STU), and Chicago (STU). Courtney has appeared as a guest instructor/performer for notable events including: Saint John Contemporary Dance Festival, PERSPECTIVE, and the New Brunswick Drama Festival.
Anthony Bryan
Young Playwrights Instructor
Louis Anthony Bryan is a scriptwriter and stand-up comedian from Trinidad and Tobago. A St Thomas University alumnus, with a major in English with a Concentration in Creative Writing and a graduate of the Bachelor of Education program.
Joining STEEDS in 2016, his acting credits include The Tragical History of Doctor Faustus, and Hamlet. He adapted and directed their 2017 production of A Midsummer Night's Dream.
His first original piece I Love This City, a winner of the Theatre St Thomas What's Next Theatre Festival.
His recent acting credits include Together We Move a short film directed by Kaitlyn Adair and Sophie Tremblay Pite's With Love Josephine , a winner of the 2019 Notable Acts Theatre Festival.
He has also performed with the local improv group: The Hot Garbage Players.
Jean-Michel Cliche
Senior Acting Instructor
Jean-Michel Cliche is a theatre artist, educator, fight director, and improviser. He has acted with companies such as TNB's Young Company, Solo Chicken Productions, and Bard in the Barrack, and has been fortunate enough to tour across the country with Theatre Free Radical's production of Lac/Athabasca. He has studied stage combat in Toronto and Saskatoon and is a certified member of Fight Directors Canada. He now teaches drama at the University of New Brunswick and is the lead instructor and owner of Hot Garbage Comedy, Fredericton's premier improv company.
He first discovered drama at TNB's Theatre School and is honoured to now be teaching and supporting the young artists of the Senior Acting class!
Allie Jeffery
Junior Musical Theatre Instructor | Apprentice Music Director
Allie is a Fredericton born and raised performer and instructor, who has had a strong passion of the arts for as long as she can remember. She will be completing her final year at St. Thomas University, where she is specializing in Fine Arts (with a concentration in music and theatre) and has been involved in the STU Musical Theatre program for the past three years, in shows such as Chicago, Urinetown, and Newsies, in which she portrayed the lead role of Katherine Plumber. Allie also made her Theatre St. Thomas debut this past year as Miss Prism in the Importance of Being Earnest, and most recently played Miss Honey in an Impulse Production's Matilda this past summer at the Fredericton Playhouse.
Allie has been pursuing the music side of her Interdisciplinary Fine Arts degree with the St. Thomas curriculum, as well as following the Royal Conservatory of Music voice curriculum, and has been training privately in classical voice for the past five years.
Being a proud alumni of Theatre New Brunswick, she is beyond trilled to be returning to the Theatre School as Apprentice Music Director for the Junior Musical Theatre students, under the tutelage of Musical Director Anne Marie Murphy. After graduating from St. Thomas, Allie is hoping to either pursue a masters in Music Education and/or Music Therapy. She is looking forward to being a part of Theatre New Brunswick in this new and exciting way, to learn from some of Fredericton's greatest educators and performers to help foster her growth as a musician, actress, and educator, and especially to have the privilege of working with such wonderful, budding young performers.
Anne Marie Murphy
Voice Instructor | Music Director
Anne Marie is a classically trained pianist, music director and music teacher from Riverhead, NF.
She is the owner of the Lialan School of Music Study, where she specializes in teaching piano and voice to young people.
Anne Marie loves Starbucks, musicals, scary movies, tacos and her big crazy family.
She is thrilled to be making musical magic again at TNB Theatre School.
Julianne Richard
Playtime Theatre Instructor | Junior Musical Theatre Choreographer
Julianne Richard is an actor, educator, and choreographer currently completing a BA in Drama and English at UNB. Born and raised in Fredericton, Julianne grew up in the ranks of TNB's theatre school and Dance Fredericton's competitive company, both onstage and backstage. She became actively involved in the local theatre community during her last few years of high school, and has since worked with companies such as Theatre UNB, NotaBle Acts, and The Next Folding Theatre Company (as well as teaching a couple of classes for Dance Fredericton and dipping her toes into a little bit of film)!
Julianne is thrilled to be bringing her deep love and enthusiasm for exploring the world of the stage to the TNB theatre school this year.
Ben Smith
Junior Acting Instructor | Senior Musical Theatre Assistant Director
Ben Smith is a local director, performer and student studying Fine Arts and Psychology at St. Thomas University. After growing up through the theatre school Ben has worked with the junior programs and is excited to be back for his second year as the Assistant Director for the Senior Musical Theatre Program. Outside of TNB Ben was recently elected the position of President for the Theatre St. Thomas Executive, where he will spend his last year working with students, faculty and the greater community to further celebrate and support the talent brewing in Fredericton. Ben is extremely grateful for all those who support him as he continues to expand his pedagogy and is immensely excited for you to witness the brilliant work of our theatre school students.