Set and Lighting Designer – A Sunday Affair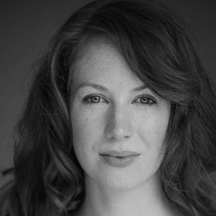 We're very excited to have New Brunswick born designer and multi-talented theatre artist Kaitlin Hickey joining us again this coming season. Kaitlin was a major part of our 2015-2016 season designing sets for our production of Vigil and TNB Young Company's touring production, The Space Between. This season, Kaitlin will lend her talents to help shape the look of A Sunday Affair, our groundbreaking bilingual co-production with Caraquet's Théâtre populaire d'Acadie.
"From the time I'm writing this there are something like 97 days until I return to Theatre New Brunswick to design the set and lighting for A Sunday Affair," said Hickey. "Needless to say, I am overjoyed to be coming back to a place I love to work with people who inspire me. Added to this, I am excited, buzzing even, to be working on a world premiere of a truly collaborative piece both in how it's been developed and presented with Le Théâtre popular d'Acadie. See you soon Fredericton!"
Kaitlin is a graduate of the National Theatre School of Canada (Montreal) and has worked as Production Manager, Set Designer, Lighting Designer, Head of Video and Projection, Stage Manager and practically every other imaginable role involved in delivering a professional theatre production. We're very excited to have onboard with us again this season and look forward to seeing how her artistic vision and talent will help shape the first production of our 2016-2017 season.