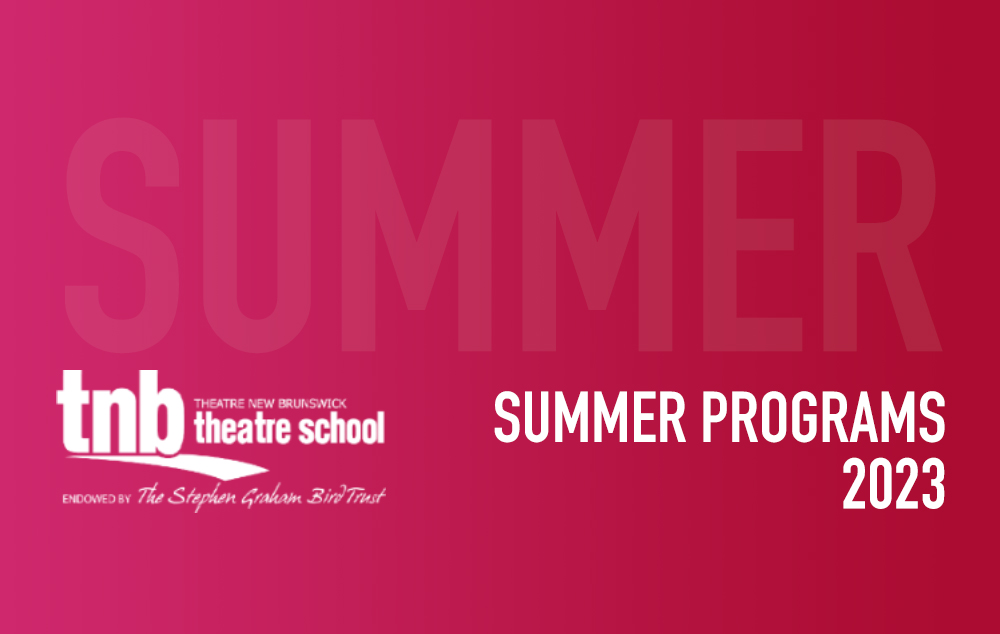 TNB Theatre School Summer Programs
July - August 2023
Every Monday in July and August there's an air of anticipation at the TNB Studio on Whiting Road as a new class of students gathers for a week of extraordinary theatre and extraordinary fun. By Friday new friendships will be formed, new skills learned and a production performed for family and friends.
Since it was founded in 1999, TNB Theatre School endowed by the Stephen Graham Bird Trust has offered outstanding training in acting, voice and movement, singing and dance in a fun and supportive environment.
Since founded in 1999, TNB Theatre School, endowed by the Stephen Graham Bird Trust has offered outstanding training in acting, voice and movement, singing and dance in a fun, safe and supportive environment. 
Sign up today! Registration is now OPEN.
Space is very limited. Registration is based on a first-come-first-served basis. There will be a waitlist.
How to register:
1. Download & Email the completed
TNB Theatre School Summer Programs Registration Form 2023
theatreschool@tnb.nb.ca

● Download and save the PDF form
● Fill out the fillable PDF form
● Save As – Program Name_ Student Name
● Email it to theatreschool@tnb.nb.ca
● Please include all information on the form. Each form is confidential.
Please note due to varying browser requirements, if you wish to submit the registration forms via email, we recommend downloading and saving the form to your computer first before entering any information.
If you do not have the latest version of Adobe Reader installed, you can download it for free here. An email confirmation will be sent after the registration is received. This email is not automatic, please note – it may take a few days before emails are processed. Full payment is required at the time of registration. A $50 non-refundable deposit is included in the price.
Payments
All tuition includes a non-refundable fee. Full payment is due at the time of registration. Registrations are only confirmed once the required payment has been received. HST is applicable for all students aged 14 and up and is not included in the fees. Preferred payment method is VISA or MasterCard. Payment information must be given at time of registration.
TNB accepts VISA or MasterCard, cash or cheque. WE DO NOT ACCEPT DEBIT OR DEBIT VISA. All information provided is confidential.
Cancellations and Refunds
Theatre New Brunswick reserves the right to cancel classes with insufficient registration numbers. In this event, all fees for said cancelled class will be refunded.
Students who withdraw from the program before the start date will receive a refund less the $50 non- refundable deposit.
No refunds will be issued once the program has started.
Class Sizes and Wait Lists
To ensure the highest quality teaching, each class has a strictly enforced class size. We believe these sizes ensure optimal focus and productivity, equal learning and performance opportunities, as well as allow for students to receive personalized programming and guidance from their instructions. Due to demand for program spots, wait lists typically exist for all program levels. Students will be advised if they have been placed on wait lists. Wait-listed students could be called for enrolment until the third class of the program.
TNB Theatre School Policies
We encourage all potential and current TNB Theatre School families to familiarize themselves with our TNB Theatre School Policies and FAQs.

---