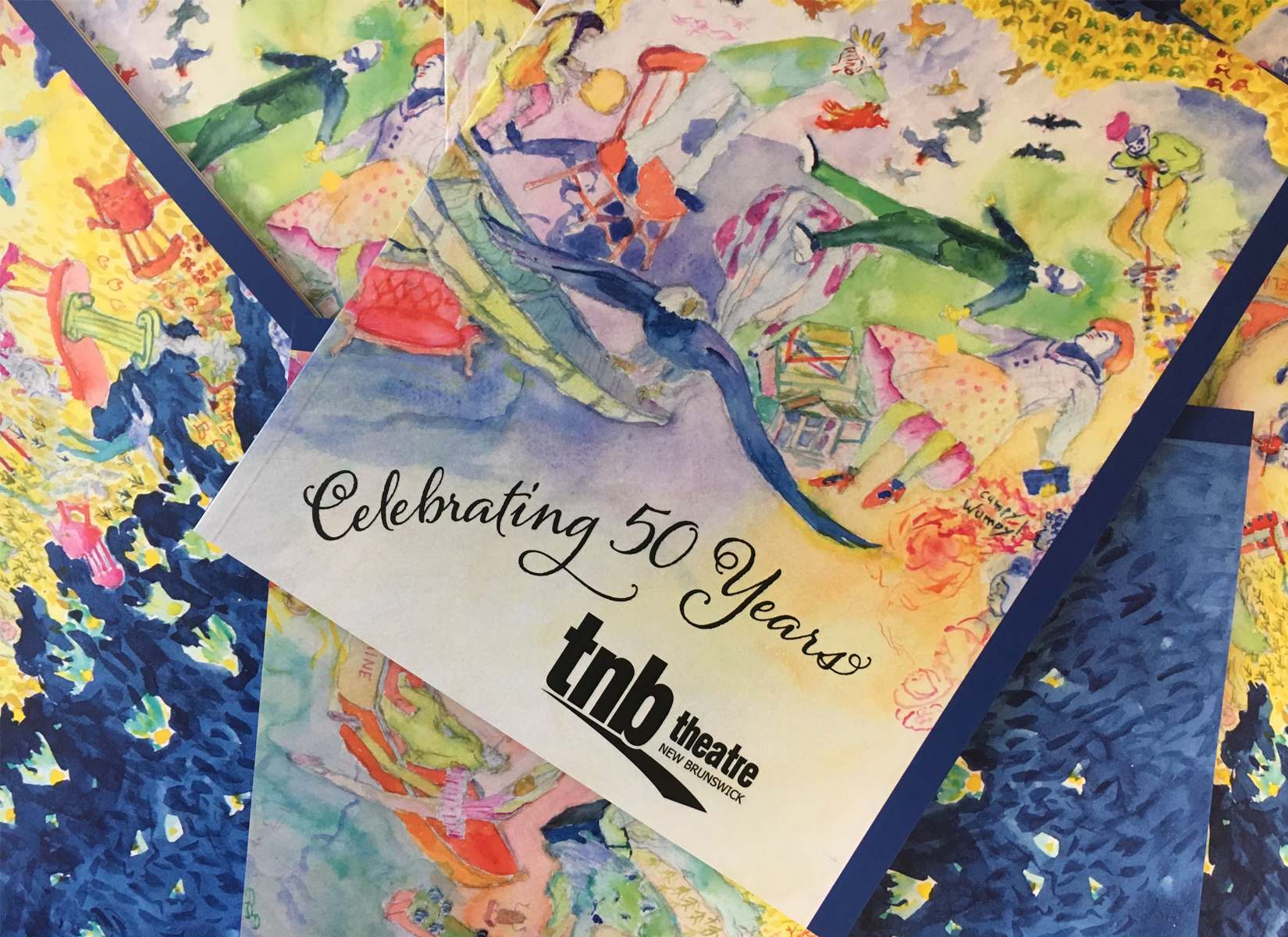 TNB 50th Anniversary Book
Theatre New Brunswick is celebrating its 50th Anniversary. To mark this golden milestone, the TNB Foundation has put together an oral history of the company full of stories and photos going back over the past five decades.
Purchase a Copy:
To purchase a copy of Celebrating 50 Years, please email info@tnb.nb.ca or stop by our office at 55 Whiting Road, Unit 31, Fredericton, NB E3B 5Y5.
Copies are also available at Westminster Books and at the Beaverbrook Art Gallery gift shop.
"Theatre New Brunswick is now a company that stands on four philosophical pillars that make us relevant provincially and nationally. They are: artistic excellence, regional representation, diversity, and equity."
Thomas Morgan Jones | Artistic Director | 2015-2018
"I grew up in Bathurst, NB. There were two events that changed the trajectory of my life. The first was my grade 7 English teacher, Veronica Stever. She introduced our class to theatre through play readings, story writing, skits and improve. This lit a spark in me. The second was in 1975. I went to see my first professional theatre show. It was Theatre New Brunswick's Death of a Salesman. As I watched in awe the amazing performances on the TNB stage, I whispered, 'This is what I will do for the rest of my life'."
Wally MacKinnon | Actor
"I was lucky. I inherited an incredible touring circuit (originally developed by Walter Learning), a very well administered theatre organized by Malcolm Black (who had kept it in the black), and excellent General Manager in Nancy Coy, and a school touring company managed by Brenda Robison."
Janet Amos | Artistic Director | 1984-1988
"Coming from a generation that was raised on TNB, I was not only inspired by the stories that TNB brought to life, but actively encouraged as a young person to be involved. I bought into the promise that TNB made. It wasn't just about theatre; it said something great and positive to me about New Brunswick."
Caleb Marshall | Artistic Director | 2009-2014

---