TNB will bring It's A Wonderful Life: A Live Radio Play to audiences in Bathurst, Florenceville-Bristol, Fredericton, Miramichi, Moncton, St. Andrews, Sackville.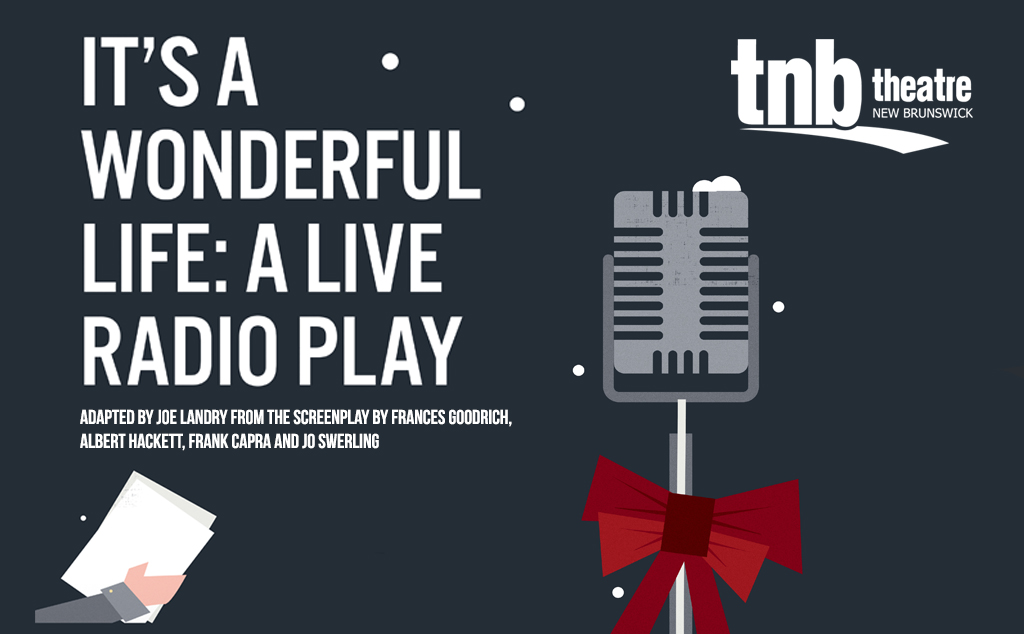 (Fredericton) Theatre New Brunswick are gearing up to bring some holiday cheer to audiences across the province with this year's production of It's A Wonderful Life: A Live Radio Play.
It's A Wonderful Life: A Live Radio Play takes the familiar story of George Bailey and presents it as a 1940's radio play broadcast before a live studio audience.
"This five person adaptation of It's A Wonderful Life is beautifully written, and gives all of the performers a chance to really have fun," said TNB Artistic Director Natasha MacLellan, who will be directing the show. "They each play multiple characters, so they get to really show us how much range they have. And since it's set in a Manhattan radio station in the 40s, they'll all look amazing. And the set itself will be a beautiful thing as well – a vintage, art-deco inspired beauty."
This year's production will mark TNB's first extensive holiday tour in nearly twenty years with performances planned for Fredericton, Bathurst, Miramichi, Moncton, Sackville, Florenceville-Bristol and St. Andrews.
This show will be MacLellan's first holiday show as Artistic Director and with performances planned across the province, she believes it to be the perfect way to reintroduce New Brunswick audiences to this TNB tradition.
"I love the familiarity of It's A Wonderful Life," said MacLellan. "I think people long for the rituals of the holiday season– the traditional food, decorations and visits. Part of all the traditions are the songs we listen to and the stories we tell. The repetition of the rituals is part of the holiday joy. I personally look forward to shortbread, fondue on Christmas Eve, the round of visits we make and the visitors we receive. And they are the same every year. That's the best part. It's a yearly ritual that resets me, reminds me where I belong and what I value. It's A Wonderful Life falls into those traditions."
The production will feature the return of New Brunswick actors Wally MacKinnon (Any Given Moment), Jenny Munday (The Americans Are Coming) and Kirsten Alter (Come Down From Up River), and introduce two popular Toronto stage actors – Beau Dixon and Ryan Hinds.
"I didn't grow up in New Brunswick, I'm a Cape Bretoner, but from what I understand, the TNB Christmas production is a part of many family's traditions," said MacLellan. "I am honored to be a part of that tradition now, and to make this production part of my new Holiday tradition."
Performances and Tickets:
Thursday December 12 | 7:30 p.m. | BUY TICKETS
Friday December 13 | 7:30 p.m. | BUY TICKETS
Saturday December 14 | 2:00 p.m. | BUY TICKETS – 7:30 p.m. | BUY TICKETS
Sunday December 15| Carleton North High School | Florenceville-Bristol, NB | BUY TICKETS
Tuesday December 17 | Bathurst High School | Bathurst, NB | 7:30 p.m. BUY TICKETS
Wednesday December 18 | Vogue Theatre | Miramichi, NB | 7:30 p.m. BUY TICKETS
Thursday December 19 | Motyer-Fancy Theatre | Sackville, NB | 7:30 p.m.BUY TICKETS
Friday December 20 | Théâtre l'Escaouette | Moncton, NB | 7:30 p.m. BUY TICKETS
Saturday December 21 | WC O'Neill Arena Theatre | St. Andrews, NB | 7:30 p.m. BUY TICKETS
Cast and Creative Team:
Directed by Natasha MacLellan
Featuring Kirsten Alter, Beau Dixon, Ryan Hinds, Wally MacKinnon and Jenny Munday.
Costume Design: Andrea Ritchie
Light Design: Andy Moro
Set Design: Katherine Jenkins-Ryan
Sound Design: Emily Shute
Stage Manager: Tammy Faulkner
Assistant Stage Manager: Alex Rioux
Assistant Director: Robbie Lynn