Meet the cast of TNB's upcoming holiday production, It's A Wonderful Life: A Live Radio Play.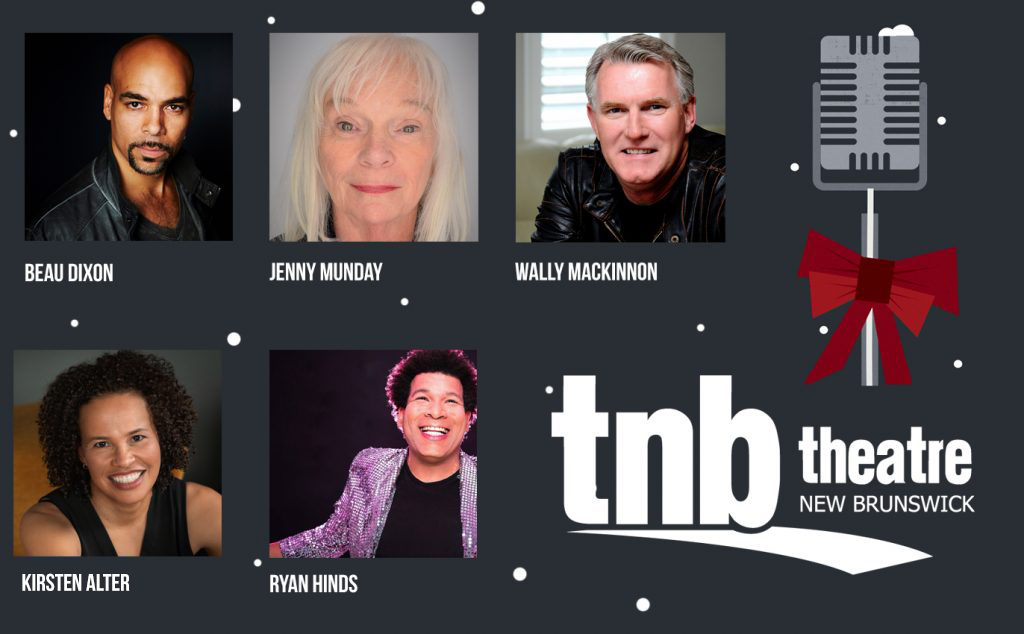 This year's holiday production will be brought to life by an award winning cast of performers, including three with close ties to New Brunswick. Under the direction of TNB Artistic Director Natasha MacLellan, this diverse group will bring a little holiday cheer to audiences across the province beginning at the Fredericton Playhouse on December 12.
Allow us to introduce you to:
Kirsten Alter
Kirsten is excited to be returning to the TNB stage!  With over 20 years in the business, she has worked from coast to coast. Select Theaters include: Foster Festival (St. Catherines), Vancouver Playhouse, Electric Theatre Company (Vancouver), ACT (Seattle), ETC (Calgary), Lunchbox Theatre (Calgary), Workshop West (Edmonton), and Canadian Stage (Toronto). Select tv credits include: Orphan Black, Designated Survivor, Girlfriend's Guide to Divorce, The Arrangement and Hudson & Rex. As always, much love and gratitude to Amy, Cooper and Kilo. Kirsten is a graduate of Studio 58.
Beau Dixon
Beau is an actor, a musician and a playwright based in Peterborough, Ontario. He has appeared on many of Canada's most respected theatre stages including Soulpepper, Tarragon, Neptune and the Stratford Festival. His one man musical drama entitled 'Beneath Springhill: The Maurice Ruddick Story' won him two Dora awards ( Best New Play and Best Performance/ TYA Division), Calgary Critics Award (Best Individual Performance), Calgary Critics nomination (Best Touring Play), and a Betty Mitchell nomination (Best Male Performance). Beau has composed music for television, radio and theatre, and has toured extensively throughout Canada, the U.S. and Europe as a musician and performer. He has also has three solo albums (find him on iTunes)!
Ryan Hinds
Ryan is heading to the east coast for the very first time! Let's give a warm welcome.
Ryan is a former artist in residence at Toronto's Buddies In Bad Times (the world's largest and oldest LGBTQ theatre complex) and a multiple award winning actor and performer. His theatre work includes assisting director Brendan Healy on Little Pretty & the Exceptional at Factory Theatre; the original company, remount, and subsequent tour of lemonTree Creations' dance-theatre hybrid "MSM [ men seeking men]"; the musical "Ragtime" opposite Mark Cassius; and creating and performing "MacArthur Park Suite: A Disco Ballet" with Nicole Rose Bond. His solo show "#KanderAndEbb" has toured internationally to critical acclaim, and in 2015 his show "Starry Notions" was recognized with several 'Best of Fringe' and 'Outstanding Performance' citations at the Toronto Fringe Festival. Notably, Ryan is one of only a few people to have been in both the movie version (as a hed-head) and a stage production (as Hedwig, becoming the first black actor to play the role) of HEDWIG & THE ANGRY INCH.  His long association with Pride Toronto has included hosting the opening ceremonies, performing an hour-long concert for an audience of 4000 at World Pride 2014, and several years as emcee of Blockorama. Ryan's 2008 Nuit Blanche installation in collaboration with Will Munro and Ina unt Ina set an Attendance Record at the AGO.
Wally MacKinnon
Wally is back for the second season in a row! Born in Bathurst, NB, Wally is an award-winning actor, director and teacher. In his 30+ year career, he has performed in theatre productions across Canada. TNB is where his love of acting began. Most recent credits include: Ben Hur, Goodnight Bird (Festival Antigonish), Merritt Award winning play KAMP, Flying on Her Own (EFT/Neptune), Jacob's Wake, Miles From Home, The Diligent River Daughter (Ships Company Theatre), Birds & the Bees, The Drawer Boy (Victoria Playhouse).
Wally has numerous film and television credits that range from small independent films to large Hollywood productions. This includes the International Emmy Award winning film, The Phantoms.
Jenny Munday
Jenny Munday is a pillar of Atlantic Canadian theatre and we're completely over the moon to have her back with us this season!
Jenny has been Co-AD of The Comedy Asylum, AD of Mulgrave Road (Co-op) Theatre, Artistic Associate at Live Bait Theatre, Crake Drama Fellow at Mount Allison and AD of Playwrights Atlantic Resource Centre. Plays she's written/co-written have also been produced by Mulgrave Road, Live Bait Theatre, Ship's Company, The Comedy Asylum and Upper Canada Playhouse. She portrayed Dianne in Don Hannah's The Cave Painter at NotaBle Acts in 2012 and was dramaturge in residence there in 2010. In recent years, she's acted with Mulgrave Road, Kazan Co-op, Neptune, Eastern Front, The National Arts Centre, Ship's Company and TNL's Gros Morne Theatre Festival.
Tickets for all performances are now on sale at tnb.nb.ca
Upcoming Performances:
December 12-14 | Fredericton Playhouse
December 15 | Florenceville-Bristol
December 17 | Bathurst
December 18 | Miramichi
December 19 | Sackville
December 20 | Moncton
December 21 | St. Andrews