Theatre New Brunswick will be holding general auditions for the upcoming season in Halifax, NS on January 8, 2020.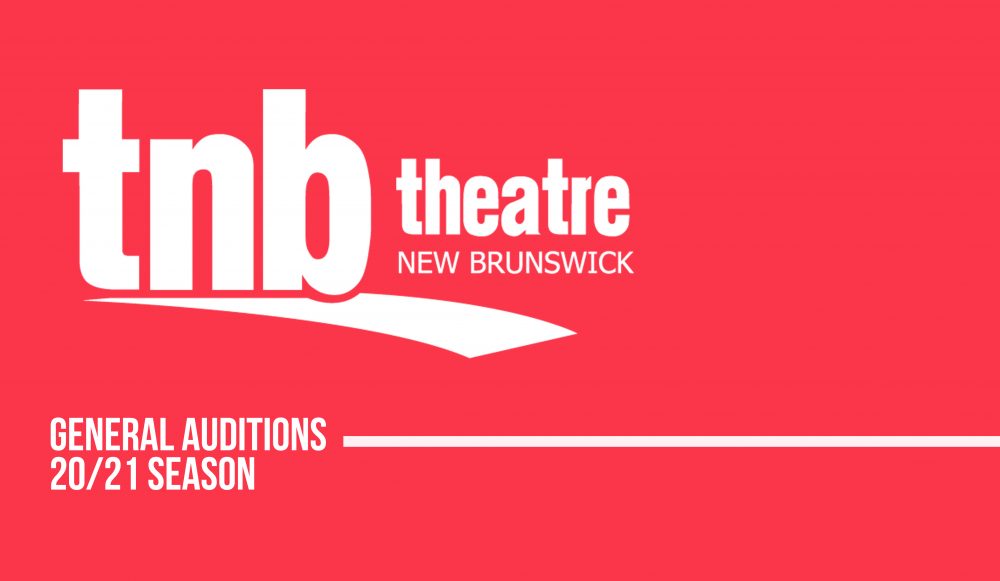 The 2020-21 season will mark the company's 52nd season and will include productions at The Fredericton Playhouse, The Open Space Theatre, and two touring TYA  productions.
To arrange an audition with Artistic Director Natasha MacLellan, please submit a letter of interest, headshot and resume to Joanna Bryson at submissions@tnb.nb.ca. Please indicate in the subject heading if you are Equity or non-Equity.
Priority will be given to Equity artists, and they will be seen first at all auditions. Theatre New Brunswick believes in inclusion and encourages submissions from all artists regardless of gender, age, race, orientation, physical and mental ability.
Audition Requirement: 2 contrasting monologues (max 2mins each) or one monologue and one song (a capella – max 2 mins each).
Only those chosen for an audition will be contacted. Thank you in advance for your submissions.
General Auditions: Halifax, NS
Theatre New Brunswick, Two Planks and a Passion Theatre & 2b theatre company. In Attendance: Natasha MacLellan, Artistic Director, TNB
Also In Attendance: Ken Schwartz, Artistic Director, Two Planks and a Passion Theatre & Anthony Black, Co-Artistic Director, 2b theatre company.
Date: Wednesday, January 8, 2020
Time: 10:00am-6:00pm
Location: Neptune Theatre, Pratt & Whitney Rehearsal Hall, 1593 Argyle St, Halifax, NS B3J 2B2
Deadline to submit: December 15, 2019
Email applications to: submissions@tnb.nb.ca
Contact name: Joanna Bryson
Contact email: submissions@tnb.nb.ca
Contact phone: 506-460-1381
Engager website: www.tnb.nb.ca
About Theatre New Brunswick
Theatre New Brunswick is one of Canada's oldest and longest running regional theatre companies. Our mission
is to create extraordinary theatre that inspires and entertains our audience while celebrating New Brunswick's
best theatre content and artists; and to provide outstanding theatre training and performance that educates
and awakens the imaginations of our youth and emerging artists.