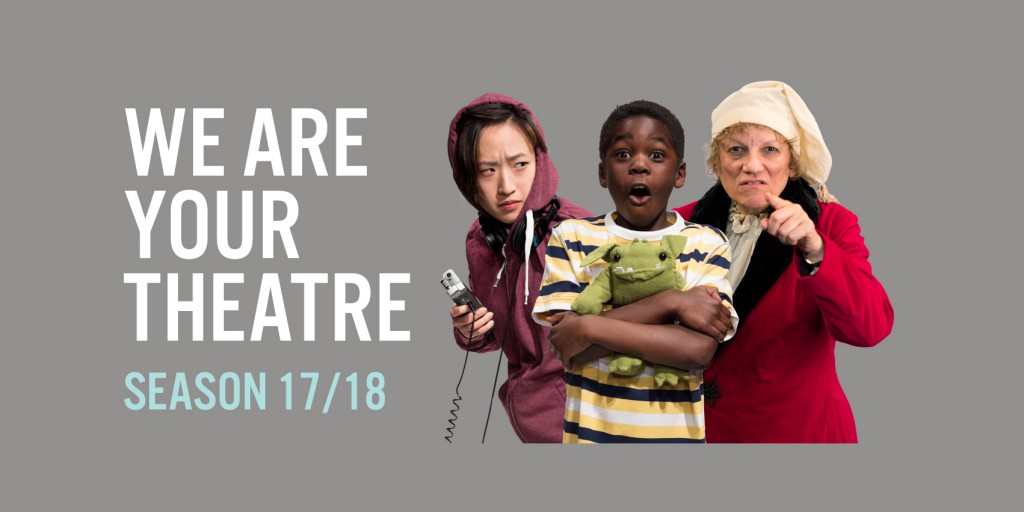 (Fredericton) Theatre New Brunswick has announced its 2017-2018 season. The company's 49th season of theatre will include four world premiere productions by New Brunswick playwrights, a further increase in provincial touring, more professional training workshops with renowned instructors and a beloved Disney musical.
"Our 49th season at Theatre New Brunswick is shaped around the question, 'Who is Responsible?'," said Theatre New Brunswick Artistic Director Thomas Morgan Jones.  "In a world that is constantly changing in brilliant, beautiful, shocking and terrifying ways, all of our plays this season are in and of themselves an answer to this question.  Collectively, the season asks us as artists and our audiences to contemplate the world we live in."
The season begins with a new play by New Brunswick playwright Ryan Griffith. In Fortune of Wolves, one person's cross-Canada adventure takes a shadowy turn in the midst of a mysterious apocalyptic event. The dark imagery of Stephen King meets the catastrophic world of The Walking Dead in this epic world premiere production. Drawing from an enormous script, the cast of this unique play will roll dice prior to each performance as a way to determine which characters will tell the story. This means the cast and the audience will never experience the same play twice!
Dicken's classic, A Christmas Carol, will return to the Fredericton Playhouse stage just in time for the holidays with an exciting new world premiere adaptation by TNB Artistic Director Thomas Morgan Jones. This show will mark the company's seventh time bringing Scrooge and Marley to the stage. For this production, Theatre New Brunswick will welcome guest director Ann-Marie Kerr of Halifax.
In March, New Brunswick indigenous artist-turned-playwright Samaqani Cocahq (Natalie Sappier) of Tobique First Nation will make her playwriting debut with Finding Wolastoq Voice. This beautiful theatre-dance-multimedia hybrid production tells the story of a young Wolasoqiyik woman who is awakened by the sounds and voices of her ancestors.
Fortune of Wolves and Finding Wolastoq Voice will receive two-week runs at the company's Open Space Theatre (55 Whiting Rd, Fredericton) before touring the province with performances planned for Bathurst, Miramichi, Moncton, Sackville, Saint John, St. Andrews, and Woodstock.
"Our new touring network has quickly become one of the most important activities at Theatre New Brunswick," said Jones.  "From three communities two years ago, to five communities last year, this season we are so proud to be bringing our Open Space Theatre productions to seven locations in New Brunswick.  The response in each of our new tour locations has been incredible, with audiences celebrating live professional theatre in their communities.  With homegrown playwrights at the heart of both of our touring productions, we are overjoyed to be bringing New Brunswick voices to audiences throughout our province."
TNB Young Company will return to a two-production tour this season with one show specifically for elementary school audiences and a second for middle and high school students. A Herman Tale, the debut book by New Brunswick children's author Paul McAllister will receive its world premiere production adapted by Tania Breen for elementary school audiences. The company's second production, Goodbye Marianne, a historical drama presented to commemorate the 80th anniversary of the Night of Broken Glass, will tour to middle and high schools.
And as is traditional at Theatre New Brunswick, the company will conclude its 2017-2018 season with a big-stage musical featuring TNB Theatre School's Senior Musical Theatre students. This season, students will work alongside a team of theatre professionals to bring Disney's Beauty and the Beast to the Fredericton Playhouse in April.
"'Who is Responsible' is a very large question," said Jones.  "The conversation we are inviting is one that must, by necessity, span an entire season.  Sometimes joyful, sometimes challenging, our season is meant to inspire all of us to think of the plays long after we have left the theatre:  to use them as a springboard to ask questions about the ways in which we navigate our own lives."
The company also continues to bring professional actor training to New Brunswick artists with two workshops planned for the coming season. Beginning in the fall, Theatre New Brunswick will offer a workshop in stage combat with instructor Daniel Levinson, and will host its fourth full week long workshop in the Suzuki method of Actor Training with returning instructor, Kameron Steele.
"All of us here at the theatre are invigorated and inspired by the season ahead and we simply cannot wait to share it with you beginning in the fall of 2017," said Jones. "See you at the theatre!"
Productions:
Fortune of Wolves | by Ryan Griffith (Oct. 2017) – world premiere
A Christmas Carol | by Charles Dickens | Adapted by Thomas Morgan Jones (Dec. 2017) – world premiere
Finding Wolastoq Voice | by Natalie Sappier (March 2018) – world premiere
Disney's Beauty and the Beast | Music by Alan Menken, Lyrics by Howard Ashman & Tim Rice, Book by Linda Woolverton (April 2018)
TNB Young Company Tour:
A Herman Tale | based on the book by Paul McAllister | Adapted by Tania Breen (Feb. – Apr. 2018) – world premiere (Elementary Schools)
Goodbye Marianne by Irene Kirstein Watts (Feb. – Apr. 2018) (Middle & High School)
Artist Training:
Stage Combat | Instructor Daniel Levinson | – Fall 2017
Suzuki Method Of Actor Training And Viewpoints | Instructor Kameron Steele | – June 2018