Composer and Sound Designer Deanna Choi talks about her creative process and the importance of collaboration.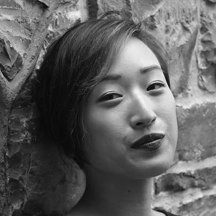 Theatre creation is a highly collaborative process. Each step in a production's development relies on the creative input from several artists, each contributing their own vision and voice to everything from the individual characters, to the set, the lighting, the costumes and the sounds on stage.
This fall, Toronto based composer and sound designer Deanna Choi will return to Theatre New Brunswick as a member of the creative team helping to shape the world premiere production of Ryan Griffith's, Fortune of Wolves. 
Theatre New Brunswick audiences will remember Deanna's work as composer and sound designer for last season's production of The Boat, as well as her work on Laurier, a co-production between Theatre New Brunswick and the Confederation Centre of the Arts.
To help understand how sound is developed to fit a play, we asked Deanna to share a few thoughts on her own creative process. 
How did your interest in music gravitate towards composing and designing sound for theatre? Was that always your goal?
I had no idea sound design was even a career option until my last year of undergrad. A few friends asked me to play in their pit band, then write a song or two for a show, then finally score an entire production. By then I was hooked. It took me two years to admit to myself that this was what I wanted to pursue rather than what I was studying for my major (behavioural neuroscience). I can say for certain now, however, that making that leap of faith into the arts world was the best decision I ever made.
How do you approach a new project?  Can you get inspiration from the script or does most of your work take place in the rehearsal hall?
A lot of inspiration comes from the script, such as any musical or sonic references the playwright makes, and general setting and time period. That groundwork is a starting place. Then once I meet with the director I can get a better sense of how far we are diverging from the text; for instance, are we having a more abstract approach to sound? Is there a live component performed by the actors? I also get inspired by the visual and tactile design elements, the colours and textures present in the costumes and the sets. I enjoy being an active and collaborative part of rehearsals, because it allows me to compose music and sound that fits every other element of the show – the actors, the space, the lighting, etc.
Is there on specific part of the process that you enjoy over others?
Thomas Morgan Jones often does a warm-up exercise called "Viewpoints" developed by Anne Bogart and Tina Landau. It involves physical improvisation by the actors, and usually I play violin with and in response to their movements. It's one of my favourite exercises early in the process because it allows you to get to know your collaborators very quickly; their style, their pacing, their impulses. It also generates a very warm atmosphere in the rehearsal room where we can learn how to riff off of each other.
This will be your third time working at the Open Space Theatre in Fredericton. Does the venue itself have an effect on your creative process and the work you eventually produce? 
Absolutely. Rehearsing in the same space as the performance allows for a very smooth transition process from rehearsal to tech to show mode. The show is developed from the beginning for the space, so there are few surprises. By the technical rehearsals, we've worked out the bugs so we can focus on the aesthetic details rather than grappling with technical issues. It streamlines the process and takes a lot of the stress out of the final week, which in turn allows the piece to breathe and inhabit a life of its own.
Deanna H. Choi is a performer, sound designer, and composer with a degree in behavioural neuroscience. She hails from Kingston, ON, but now calls Toronto home. She co-founded the Badass Brahms Chamber Collective, and completed residencies with the National Youth Orchestra, the Banff Centre, the NAC, and Stanford. Previously with TNB, she designed and composed music for The Boat (2017) and Laurier (2016). Other theatre design credits include: Alien Creature (Theatre Passe-Muraille), The Death of Mrs. Gandhi (Next Stage), This Is How We Got Here (Summerworks). She is a nominee of the Pauline McGibbon award. Her life goal is to have as much Zen as a three-toed Bradypus sloth. Many thanks to the TNB family for the opportunity to come back to "Narnia". www.deannahchoi.com