Audition Notice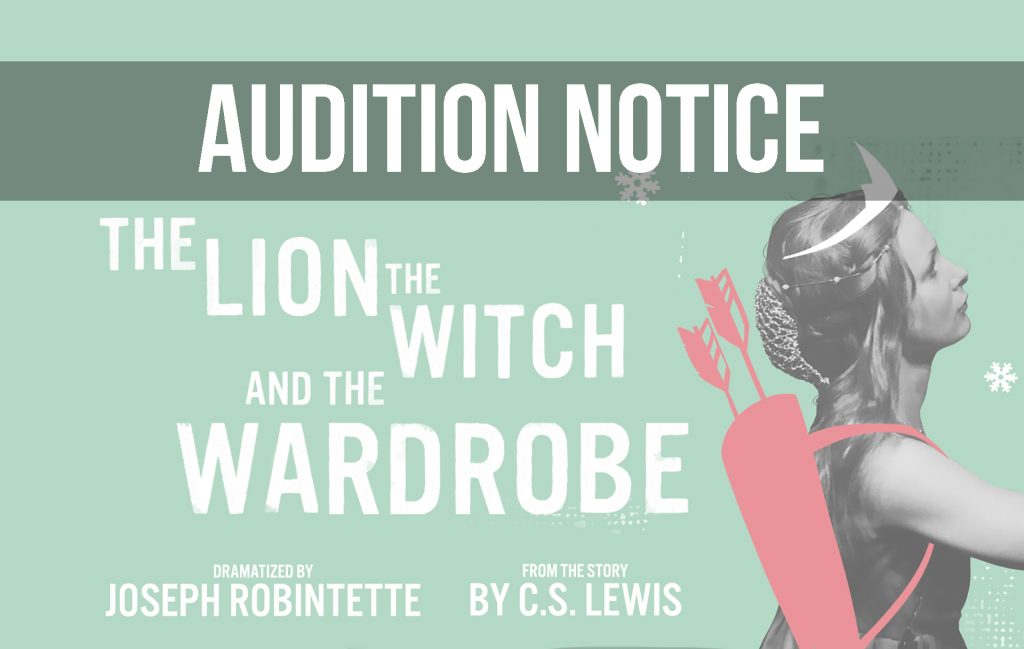 Theatre New Brunswick will be casting four young New Brunswick actors to take part in our upcoming 2018-19 season holiday production: The Lion, The Witch and The Wardrobe.  Because this is a professional production, youth actors will rehearse in Fredericton for approximately four weeks before performances begin.
About the show and character breakdown:
The Lion, The Witch and The Wardrobe
produced with special arrangement with Dramatic Publishing, Woodstock, IL
Written by C.S. Lewis Dramatized by Joseph Robinette
This classic story by C. S. Lewis comes to life on the Theatre New Brunswick stage just in time for the holiday season. When an old wardrobe reveals a passage to another world, magic awaits! Join Lucy, Edmund, Susan and Peter on an epic adventure through the land of Narnia where it's always winter but never Christmas.
Audition call for roles of:
Susan: 14-16 years old
Peter: 14-16 years old
Lucy: 8-10 years old
Edmund: 11-12 year old
While these are the ages of the character, we encourage young actors ages 8-18 to submit audition requests.
IMPORTANT INFORMATION
Rehearsal and Production Dates:
The Lion, The Witch and The Wardrobe
November 19 – December 20, 2018
Rehearsals:
November 19 to December 12 at Theatre New Brunswick and The Fredericton Playhouse.
Performance run & tour:
Fredericton Playhouse | 686 Queen Street, Fredericton
December 13 – 10:00am (TBD – Student Matinee)
December 13 – 7:30pm – opening night
December 14 – 10:00am (TBD – Student Matinee)
December 14 – 7:30pm
December 15 – 2:00pm
December 15 – 7:30pm – closing night in Fredericton
Imperial Theatre | Saint John, NB
December 16 – 7:30pm
December 17 – 10:00am – Student Matinee
Théâtre l'Escaouette | Moncton, NB
December 19 – 7:30pm
December 20 – 7:30pm – Final Show
Important Notes:
This is a professional production, and our young actors will receive a fee for their work.
Because this is a professional production, rehearsals take place up to 6 days a week, Monday to Saturday between the hours of 9am-5pm (subject to change). Young actors will have to miss up to 5 weeks of school in November and December.
Rehearsals during production week will take place at the Fredericton Playhouse between the hours of 12:30pm – 11:00pm.
Two guest tickets will be provided for the Fredericton performances.
Young actors may/may not be called for full-day rehearsals, depending on the casting & the day.
Rehearsal schedules will be communicated by November 15. Daily schedules will be sent to parents once the rehearsal process has started.
Because our young actors are not of legal age, they will be assigned a "Child-minder" to ensure their safety and comfort during both the rehearsal and performance period. The "Child-minder" will also help ensure homework is being completed. We want this to be a positive experience, and stress-free!
Theatre New Brunswick has a great deal of experience working with young actors; we teach theatre to approximately 300 students every year. We have confidence that the young actors cast in these productions will have a very rewarding experience.
Important Audition Dates:
Deadline for submission: May 30, 2018
Those chosen for an audition must be available: June 2 & 3, 2018
Please Note: Only those who are selected for an audition will be contacted. The selection process is based on availability, requirements for the specific part, and the decision of the Director, Lynda Hill, and Artistic Director, Thomas Morgan Jones.
Diversity and Equity Statement:  We encourage submissions from artists of all genders, ethnicities and abilities.
 To request an audition, please submit:
Headshot
Name & Age
Contact information
Short biography including theatre experience and anything you would like us to know about you
Role you would like to audition for
Actors chosen to audition will be asked to prepare a scene from the play and one acappella song.
Joanna Bryson, Operations Manager | Email: submissions@tnb.nb.ca
Theatre New Brunswick, 55 Whiting Road, Unit 31, Fredericton, NB, E3B 5Y5
Deadline for submission: May 30, 2018.