TNB Young Company bring lovable monster to life for 2018 school tour.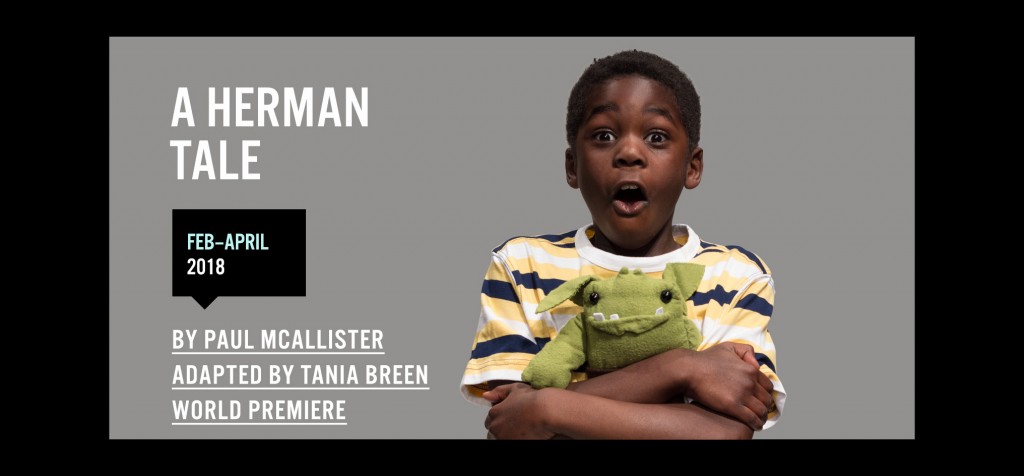 A Herman Tale is one of two productions set to tour New Brunswick schools as part of TNB Young Company's 2018 tour. Based on the character from the popular children's book, There and Back Again, A Herman Tale, written by New Brunswick author Paul McAllister with artwork by Emily Brown, A Herman Tale will see this lovable monster brought to life for elementary school audiences.
As we gear up to begin booking this season's tour, we thought it would be fun to connect with McAllister and have a quick chat about what it's like having his story adapted for the stage.
Your book has really been a hit, and now it's getting a stage adaptation for young audiences. Can you tell us your thoughts on the life that this story and character has taken on? Did you ever think Herman would become such a local celebrity? 
It really is amazing to see kids eyes light up when I read them the Herman Story. I had always hoped that he would catch on, but this has been beyond all expectations. During the question/answer periods that often follow readings, I often find myself learning more about Herman! Every time I leave a reading, Herman's world has grown so much richer. These kids ask me questions that I never would have thought of, like how old is Herman, and did he ever have parents.  These little details are so important to the creation of a character.
As an author, what does it mean to have your work adapted for the stage?
Having Herman come to stage is a huge dream of mine. I'm a huge fan of all forms of the arts, and spent my formative years on stage and to some extent in front of a camera, acting is one of my very earliest passions. So having this opportunity to see characters Emily and I've created come to life is certainly a bucket list check.
You're obviously connected with the character. What are some of the themes you hope will resonate with elementary school children as this play makes its rounds across the province in early 2018?
The story of Herman is pretty much an autobiography. It's very much a life lesson tale about trying new things, not letting failure get you down, and trying again while at the same time focusing on not letting one's fears take control of your life. These are issues that each and every one of us deal with as we grow up.