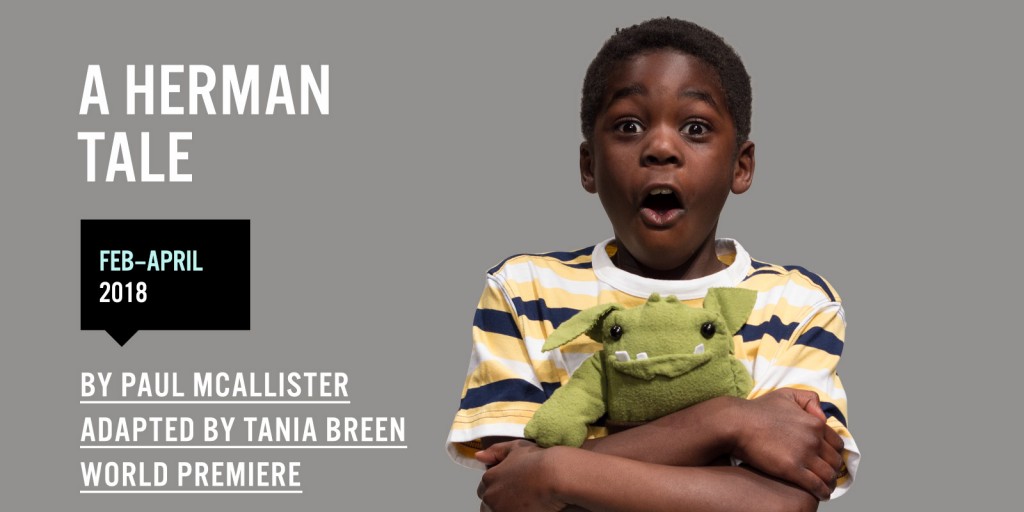 A Herman Tale
A world premiere adaptation of this new New Brunswick children's classic.
A Herman Tale is the story of an under the bed monster who longs to play with the street monsters outside. It was written by Fredericton author Paul McAllister, and will be adapted for the stage by Young Company director Tania Breen.
Written by Paul McAllister
Herman Doll by co-creator Emily Brown
Adapting Playwright Tania Breen
Directed by Lisa Anne Ross
Costume Design: Sherry Kinnear
Composition and Sound Design: Michael Doherty
Production photo by: Matt Carter

On Tour
February - April 2018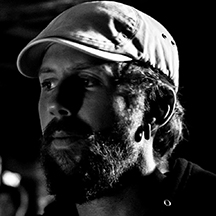 Paul McAllister
Author
Having a long history of theatre and the arts, Paul's early 20's were spent pursuing an Acting Career in Toronto where he met with general success landing commercial roles and a job as a Knight at Medieval Times Dinner Theatre. After deciding that wasn't the right job in the long run, he returned home to NB and began to develop a Not For Profit Art's Community called Feels Good Community Inc. Here Paul worked on becoming an established visual artist while coordinating events focusing on community development through art and music.
Throughout all these endeavours he was always writing, and it wasn't until two years ago that he decided to finally put my focus into children's stories. For the past year Paul has been going around to Schools and Libraries, reading his first book There and Back Again, A Herman Tale to audiences of all ages.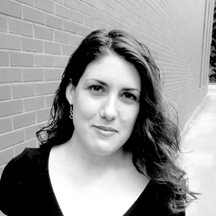 Tania Breen
Adapting Playwright and Director
Tania is an educator, director and performer who has worked on stages across Atlantic Canada and has directed every TNB Theatre School production for the past ten years. Outside of her work with TNB Theatre School, she teaches in the drama department at the University of New Brunswick. Tania also performs regularly on stage as a vocalist for local bands Dub Antenna and Pretty in Pink.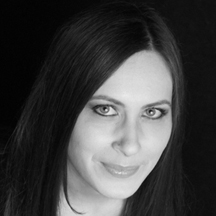 Sherry Kinnear
Costume Designer
Sherry is the costume designer for the TNB Young Company and TNB Theatre School as well as the Head of Wardrobe for all branches of the company. Sherry most recently designed costumes for Marion Bridge, Vigil, The Drowsy Chaperone, The Eighth Fire, and The Net, as well as Guys & Dolls, West Side Story, The Wizard of Oz, Les Miserables and has created costumes for A Christmas Carol, Frankenstein, Miracle on 34th Street, It's a Wonderful Life, Little Shop of Horrors, Gifts of the Magi, The Dollar Woman, Treasure Island, and many other TNB productions over the past nine years.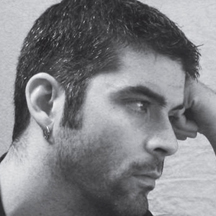 Michael Doherty
Composer and Sound Designer
Michael is an Atlantic Canadian-based composer, sound designer, producer and musical director. He is a multiple Merritt award nominee and 2007 recipient. He also received the ECMA Musician's Achievement Award and is the 2014 recipient of The Playhouse Honours. Michael is currently the resident composer & sound designer for Theatre New Brunswick. Recent credits include; Frankenstein-The Man Who Became God, A Christmas Carol, Beaverbrook; Theatre New Brunswick, 39 Steps; Harbourfront Theatre. Other selected credits include; The Lion in Winter, The Rainmaker; Watermark Theatre; Full Dark, Theatre Sheridan; As Ever, Mulgrave Rd; Homage, 2B Theatre; The Mystery of Maddy Heisler, Centaur.
A story of longing to leave our responsibilities behind...there's a lot to be learned from this wee under the bed monster! - TMJ
LISTEN:
Thomas Morgan Jones talks about his first impression of this new play based on the story by new Brunswick children's author Paul McAllister.