Theatre New Brunswick Announce Fall Training with Canadian Fight Master Daniel Levinson.
Workshop: Introduction to Stage Combat | September 9-10, 2017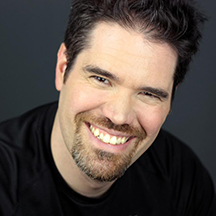 We're very excited to announce our fall workshop in stage combat with instructor Daniel Levinson, one of only nine certified fight masters with Fight Directors Canada, Canada's only nationwide internationally-recognized stage combat association.
Daniel is the artistic director of Rapier Wit, Canada's oldest stage combat school and production company and is the resident fight director and instructor for the University of Toronto Mississauga's Theatre and Drama Studies program and Sheridan University's Musical Theatre Performance, and Performing Arts Preparation Programs.
"Having had the great privilege of watching Daniel as both a master instructor and also a fight choreographer, I have been in awe of his ability to not only sharpen the skills of students toward safe and believable fights, but also his ability to keep storytelling at the forefront of the art of stage combat," said TNB Artistic Director Thomas Morgan Jones. "This is an extraordinary opportunity for actors and theatre makers of all ages in our community to train with one of the best in the industry."
Daniel has taught in theatre programs at St Clair College and Brock University, Waterloo University, George Brown College, and Seneca College. Daniel is a graduate of York University's Theatre Performance Program. He has produced, directed, performed and taught across Canada, and has been a guest artist and instructor in the U.S., the U.K., and Italy.  He has worked with, among other companies, The Stratford Festival, Volcano Theatre, Theatre Passe-Muraille, Tarragon Theatre, A.C.T. Productions, Canadian Stage, Shakespeare in the Rough, and Second City.
This two-day workshop is $90+HST and open to theatre artists of all levels. To register, contact Operations Manager Joanna Bryson at info@tnb.nb.ca
Details:
Instructor: Daniel Levinson (artistic director of Rapier Wit)
Saturday September 9th and Sunday September 10th, 2017
Saturday 10:00AM to 1:00PM
Sunday 10:00AM to 1:00PM