Theatre New Brunswick's 2018 annual school tour will include two productions for audiences K-12.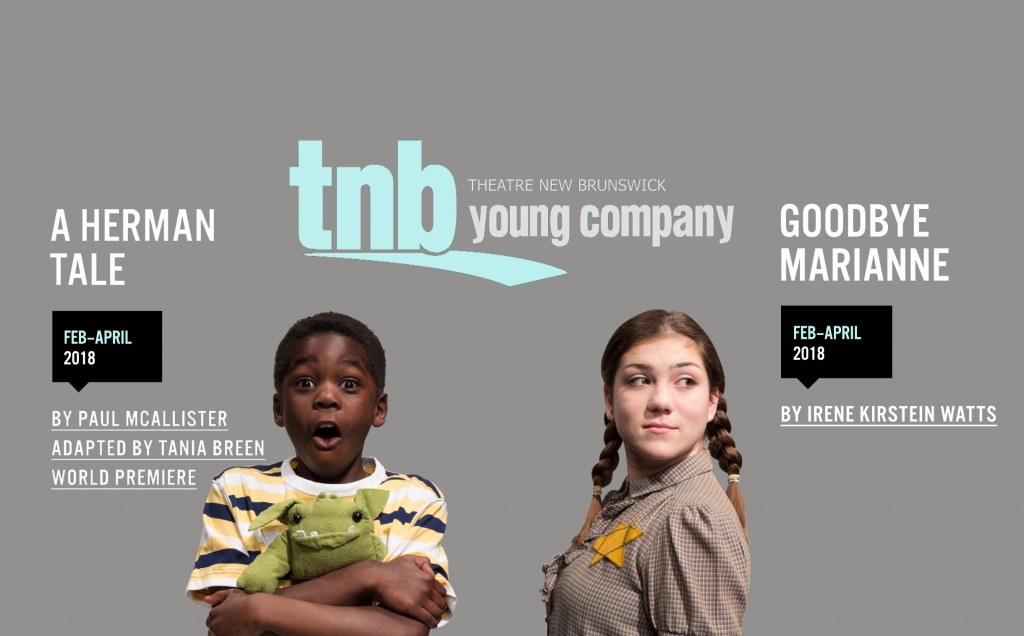 Our 2017-2018 season will see TNB Young Company touring two productions to New Brunswick schools between February and April 2018. Over the last three seasons beginning with 2014-2015's production of The Eighth Fire, the company has been performing one production for all age groups (K-12) but found this model was limiting our creative potential and challenging our ability to connect with older students.
In planning our upcoming season, it was decided that we should again take two shows on the road and we're very proud of the two plays we'll be presenting to students this season. Elementary school audiences will experience the world premiere production of A Herman Tale, based on the popular children's story by New Brunswick author Paul McAllister, and for middle and high school students we will be performing the play Goodbye Marianne, in honour of the 80th anniversary of The Night of Broken Glass.
We asked Theatre New Brunswick Artistic Director Thomas Morgan Jones to share his thoughts on both productions and the benefits these changes will bring.
How will the two show model benefit the value TNB Young Company presents to schools?
TMJ: Our return to a two show model will mean that the art and theatre we are offering to schools will be built specifically for the students' age and will inspire them as an audience with material that was made for them.  In the upcoming season it means that we can courageously explore the themes inside Goodbye Marianne and The Night of Broken Glass and give high school and some middle school students and educators a launching pad for discussion into how this period mirrors or reflects on the time that we are living in today.  Equally, with our production of A Herman Tale, we can fully revel in the age appropriate tone, humour, and shenanigans of Paul McAllister's thoughtful story.
Can you comment on the diversity on this year's Young Company programming?
TMJ: To discover the breadth of voice in these plays, we need only to look at the playwrights themselves.  Irene Kirstein Watts was among the children who traveled to Canada on the Kindertransport, fleeing Nazi Germany.  This play speaks to her experience and the experience of her family.  A Herman Tale is written by Fredericton-based Paul MacAllister and adapted by Fredericton playwright Tania Breen and is a celebration of our local arts scene and artists who are creating work for young children.  What an incredible difference between these plays! 
Why is TNB Young Company still important in this Age of Entertainment, with students having numerous ways to be entertained and occupied? 
TMJ: We are living in a time when almost every imaginable form of entertainment is available to young people on their phones.  One of the only arts experiences that they cannot access through digital media is live performance.  The experience of being in the room with the performer, breathing the same air, and gathering together as a community is one of the most electrifying, inspiring, and special opportunities any of us has to engage with and celebrate the arts.  When these performers take to the stage (or, to the gym/cafeteria as their stage in this case!) it is the only place in the world that they are performing that day.  Each audience is the only audience that will ever experience that unique performance.  Our Young Company tour to New Brunswick schools is essential for this reason:  giving New Brunswick students the gift of live theatre performance that travels directly to them.
A Herman Tale and Goodbye Marianne will both receive an invite-only performance open to all season subscribers to our 2017-2018 season. 
School bookings begin in September. For more information on booking a performance, please contact Operations Manager Joanna Bryson at info@tnb.nb.ca