TNB and Heist team up to celebrate Pride Week with a Zoom room dance party on July 12.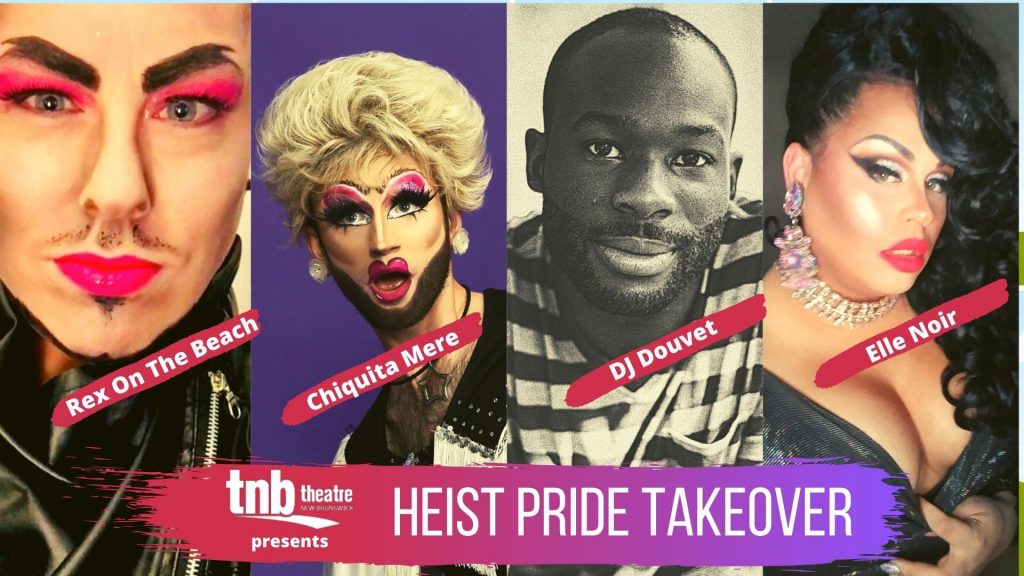 Theatre New Brunswick has once again teamed up with the Halifax live art company Heist to celebrate Pride Week in Fredericton. This year's event, A Heist Pride Takeover, will take the form of an online party with live DJ and drag performances, a game of lip sync roulette, prize giveaways and more.
"This will be an amazing online event," says Aaron Collier, Heist Technical Director and drag artist. "The drag artists and DJ we have lined up are second to none. It'll be a time to come together and celebrate Queer community and diversity in an online space where we hope everyone can let their inner light shine bright amidst the struggle for equality and justice in the new world."
The event will take place on Sunday July 12 beginning at 7 p.m. with a DJ set by DJ Douvet, followed by featured performances from Princess Edward, Abel T. Suckizone, Elle Noir, Chiquita Mére and Rex On The Beach, with lots more fun in store.
There are a number of ticket options available with support going directly to Theatre New Brunswick, Heist and the artists performing. If you cannot afford to purchase a ticket at this time there are 20 free tickets available. To purchase tickets or to learn more, visit https://www.liveheist.com/
Join us on July 12 for this one of a kind Pride celebration!
Theatre New Brunswick present A Heist Pride Takeover | July 12 | Online | 7 p.m. |

Facebook Event