Theatre New Brunswick welcome the return of instructor Kameron Steele for a week-long workshop in the Suzuki Method of Actor Training, June 4-9.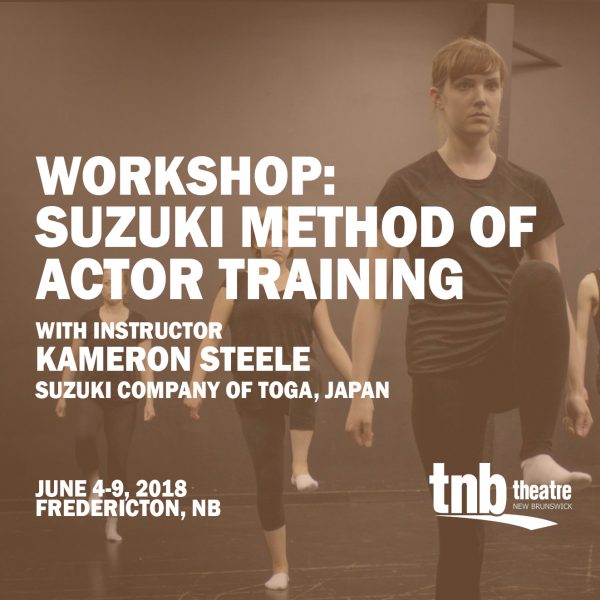 This spring marks Theatre New Brunswick's fourth year offering a week-long workshop in the Suzuki Method of Actor Training. These workshops aim to offer both emerging and professional actors from around the region an opportunity to receive world-class training in their own backyard.
The June workshop welcomes returning instructor Kameron Steele of the Suzuki Company of Toga, Japan. Steele last visited the Theatre New Brunswick for a workshop in 2016.
"We are thrilled that Kameron will be traveling from his home in Argentina to be with us here in Fredericton," said TNB Artistic Director Thomas Morgan Jones. "His 2016 workshop here was attended by artists from across Canada and the United States and the impact of the training itself coupled with that kind of cultural exchange was extraordinary."
Jones, who has traveled to Japan to study the Suzuki Method, started organizing these workshops in 2015 in an effort to provide professional training for actors who would otherwise have to leave the province to find opportunities to train at this level.
"The Suzuki Method of Actor Training has completely changed my process and practice as an artist," he said. "I first met Kameron when I traveled to Japan to train with him and the Suzuki Company of Toga.  Since that time, year after year, the profundity of the training continues to reveal itself as I mature in my craft.  I look forward to being in the hall as a student again, and to train with one of the world's great teachers."
The Suzuki Method of Actor Training is one of the most commonly taught acting methods in the United States. Steele has worked with the Suzuki Company of Toga since 1991.
Registration is now open and space is limited. Full registration details available here.