New Moon Theatre (St. Andrews, NB) touring Albertine in Five Times this fall.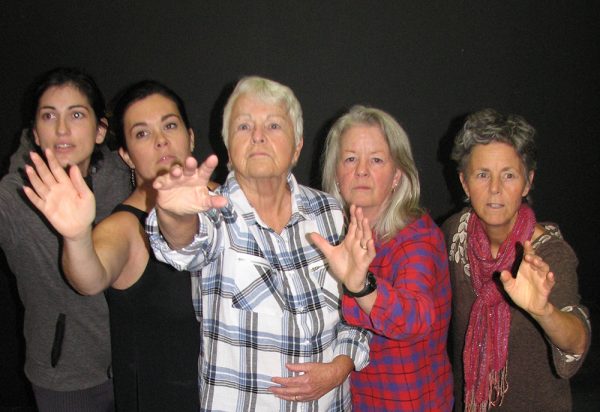 St. Andrews, New Brunswick — New Moon Theatre, under the auspices of the St. Andrews Arts Council, will present five performances of Michel Tremblay's brilliant play — Albertine in Five Times this fall. The six-woman show will play to audiences in St. Andrews at the W. C. O'Neill Theatre Arena at 7 p.m. on Thursday, Friday and Saturday, October 25, 26 and 27 followed by a performance in Fredericton at Theatre New Brunswick's Open Space Theatre on Saturday, November 3 at 7 p.m. Two performances at the Eastport Arts Center, Maine on Thursday, November 8 and Friday, November and 9 at 7 p.m. (Eastern)/8 PM (Atlantic) will take the production across the border and the Bay.
Suzanne Tisdale, director of the play, is thrilled about this new production and its exciting outreach. She says, "We have loved playing to audiences in St. Andrews for the past few years and look forward to a collaboration with TNB and with our neighbours in Maine. We have been working hard to build important links with Fredericton and Eastport and this initiative will be a great way to strengthen those bonds. The play is one that will resonate with audiences everywhere and we know that audience members in all three communities will relate to the issues raised."
Men and women everywhere are affected by aging, especially now with Baby Boomers being in the majority. Albertine in Five Times hits on this theme as Albertine advances through five decades of her life. It also reaffirms the sexual harassment issues that some women experience and have been highlighted in the Me Too Movement in recent years.
In Albertine in Five Times, a woman at 70 faces her past. Master Canadian playwright, Michel Tremblay, hits on a painful reality that an older woman has more years behind than in front of her. Memory has a way of disguising the truth, but Albertine comes to terms with the drama of her history through her younger selves. We meet not one Albertine, but five Albertines, each one representing a successive decade along the path that is her life. The play opens with Albertine at 70 entering a home for the elderly. Albertine at 30, 40, 50, and 60 appear, each with a story to tell.
Director Suzanne Tisdale and Co-director Peggy Fothergill were inspired to bring the play to audiences across the province because of Tremblay's beautiful language and because of this play's enduring themes. Fothergill says, "The social history of Quebec women from the 1940s to the 1980s may seem like a long time ago, but the topics are current. The impact of oppression and poverty on women's lives is still being felt in our own country now and around the world. It is in our daily headlines, as is the theme of aging. That is the brilliance of Tremblay. His themes are enduring."
Tickets are on sale at eventbrite.ca for $15.
For media inquiries or to request an interview with Suzanne Tisdale or Peggy Fothergill about the production, the casting process or the play itself, please contact: Peggy Fothergill at 465-8903, peggyfothergill1@gmail.com
Oct. 25 | W. C. O'Neill Theatre | St. Andrews, NB | View Event
Oct. 26 | W. C. O'Neill Theatre | St. Andrews, NB | View Event
Oct. 27 | W. C. O'Neill Theatre | St. Andrews, NB | View Event
Nov. 3  | Open Space Theatre | Fredericton, NB | Tickets
Nov. 8  | Eastport Arts Centre | Eastport, Maine | View Event
Nov. 9  | Eastport Arts Centre | Eastport, Maine | View Event