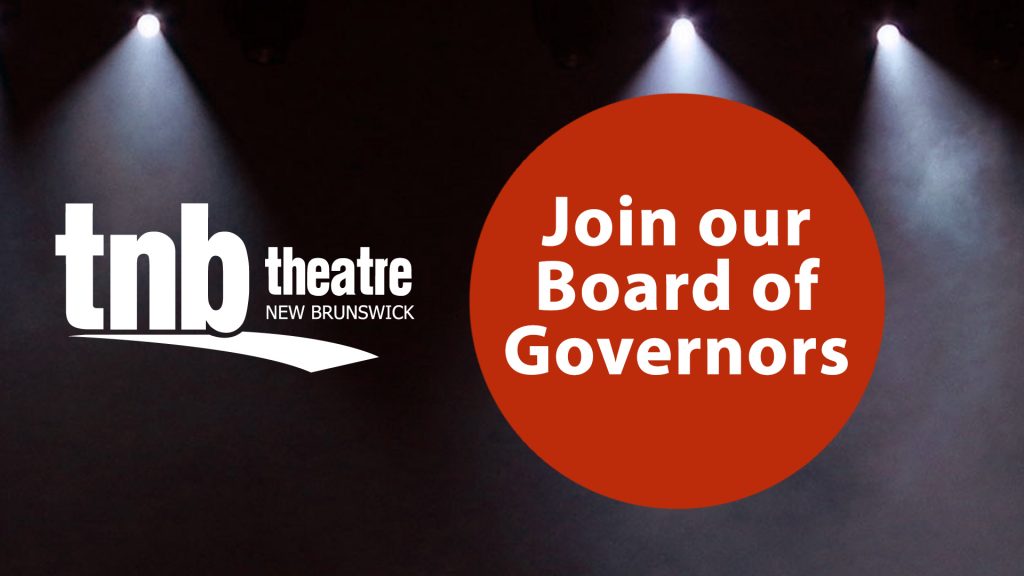 Theatre New Brunswick (TNB) is currently seeking new volunteer board members to begin their terms this spring.
Bring your skills and passion:
The TNB Board of Governors is a governance board that oversees the non-profit organization's finances, assists in big-picture strategy development, and ensures that the company is carrying out its mission, mandate, vision, and values.
TNB is committed to being an inclusive and anti-oppressive organization for people from all backgrounds. BIPOC and LGBTQ2+ people are encouraged to apply.
We are always open to meeting board members from different backgrounds, skillsets and from all regions of the province (major centres and rural areas), and are specifically seeking people with experience or expertise in the following areas:
Business/Entrepreneurship
Sponsorship/Fundraising
Anti-Racism and Decolonizing Work
Financial Management/Bookkeeping/Accounting
Strategic Planning
Community Development
In addition to these skillsets, interested applicants should also have a strong love for the performing arts, be passionate about their communities and firmly believe in the value the arts play in enriching the lives of everyone regardless of age, gender, culture or economics.
What's involved
Our Board of Governors meets approximately 6-7 times a year, with a break during the summer months, plus additional committee meetings as required. Terms are three years in length, with a maximum of two consecutive terms.
To be considered for a position, or inquire with further questions, please contact TNB Board of Governors Chair Deborah Burns at dlbcons@rogers.com with the following:
a brief statement of your interest
what roles or areas of expertise you can contribute
any accessibility accommodations you may require
a record of your professional experience and education (resume/CV, website)
Thank you for your interest!