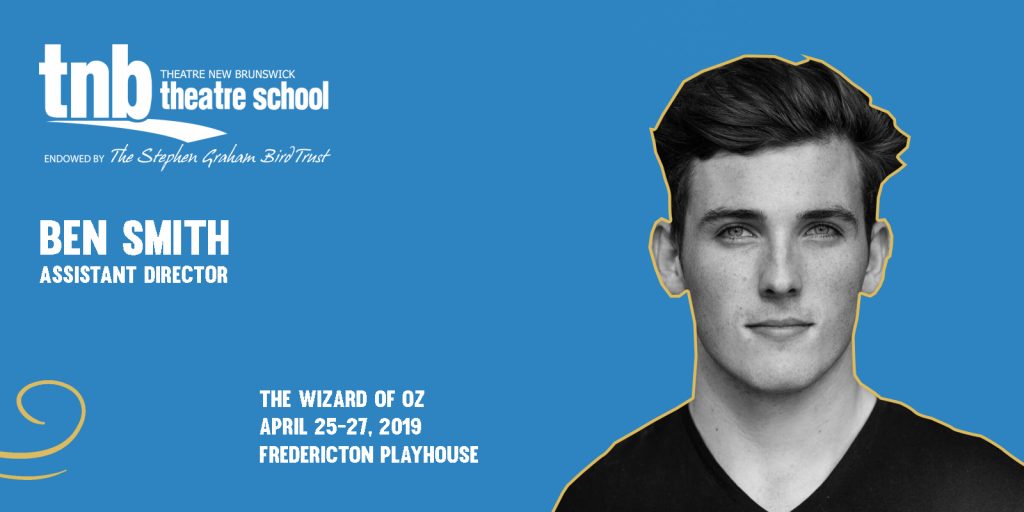 Ben Smith has been involved in the TNB Theatre School for over ten years now. Beginning as a student in 2008, he has participated in a number of productions with the Theatre School and is now involved in drama at St. Thomas University and with community theatre groups here in Fredericton.
As Assistant Director for this year's Senior Musical Theatre production of The Wizard of Oz, we spoke with Ben to learn more about his experience in the Theatre School and to hear what it's been like working behind the scenes on this production.
Can you tell us a bit about your background with TNB Theatre School? 
I have been with the TNB Theatre school ever since my first TNB summer camp in 2008 when I played Lago in a small production of Aladdin Jr. I met some of my closest friends through the theatre school and graduated from the program alongside them in the 2016 SMT production of Mary Poppins. Coincidentally, I was in a junior production of Mary Poppins seven years earlier, where my dear friend Olivia also played the title role. Some of my favourite productions included; Les Miserables (2010), West Side Story (2013), The Drowsy Chaperone (2015) and Mary Poppins (2016).
What's it like moving into the role of Assistant Director for a show you were a part of for years? 
Moving to an Assistant Director position has been an eye-opening and enjoyable experience. I have had the tremendous opportunity of working alongside Tania Breen, learning about the fundamental practices, principles, and techniques associated with directing a large-scale production. Moreover, I have had the chance to work with the talented theatre school students and have collaborated with an amazing team of top- notch professionals who work to bring the productions to the next level. I have always loved performing on stage with the theatre school but being an active member in the creation process has been exceedingly enjoyable and profoundly rewarding. The transition from being a student with TNB to an associate instructor/Assistant Director has been extremely easy and I believe that speaks to the overwhelming sense of community and collaboration.
How has your time with TNB Theatre School affected your life as an artist?
Needless to say, the theatre school is where I grew up and where I built my artistic foundation. It is where I fell in love with theatre and it continues to be a place that fosters rich and meaningful work. TNB is where I met some of my closest friends and exemplary mentors. The relationships I've built through the TNB have been imperative to the developmental stages of my directing career. TNB continues to support me and has provided me so many opportunities that have led to my early success as an emerging artist – and for that, I am beyond grateful.
What would you say to a potential future student interested in attending the TNB Theatre School? 
Theatre New Brunswick empowered me as a young artist and continues to be a place that illuminates their students. The theatre school engenders an environment like no other; it is a place for people to explore the world, make bold choices, learn new things, and is a place for people to come together and tell one beautiful story. Furthermore, you get to be a part of high-quality productions and have the unique opportunity to work with a team of industry professionals. I would encourage anyone and everyone to experience the magic of such a rewarding process whether you are looking for an engaging after-school program or want to pursue intense theatre training, the theatre school is designed for everyone.
The Wizard of Oz runs April 25-27 at the Fredericton Playhouse. Tickets available at the Playhouse box office or online at tnb.nb.ca