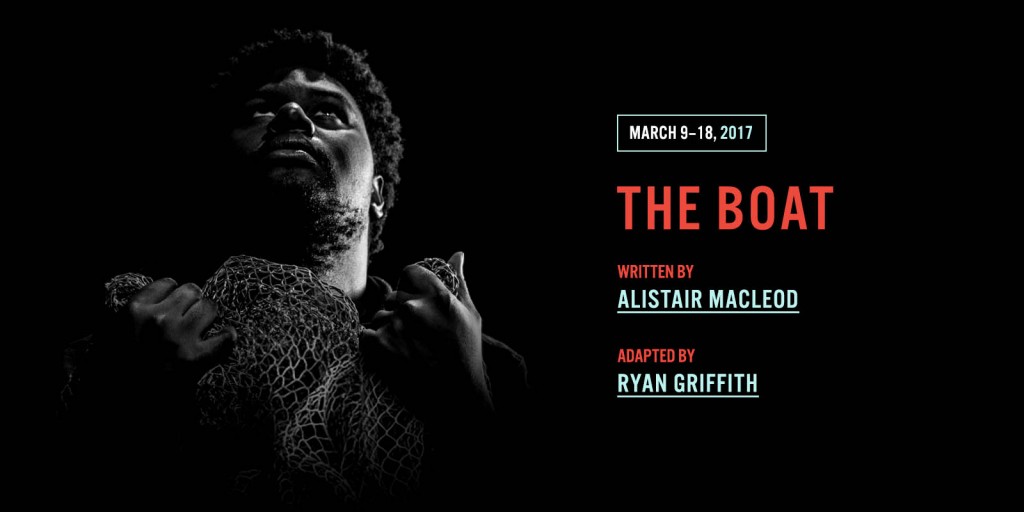 The Boat
Based on the short story by Alistair MacLeod. Adapted by Ryan Griffith. | March 9-18, 2017 | The Open Space Theatre | 55 Whiting Rd, Fredericton
(Fredericton) Theatre New Brunswick is thrilled to announce the world premiere production of The Boat, from the short story by Alistair MacLeod, adapted by New Brunswick playwright Ryan Griffith.
The Boat tells the story of a young man from a Cape Breton fishing family who faces the all too common decision to stay and build a life at home or leave the East Coast in search of new opportunities. "A Maritime story about leaving home", this beautifully touching play follows a Maritime family as they navigate their children growing up.
"We are so excited to be telling this celebrated and uniquely Maritime story at our Open Space Theatre," said TNB Artistic Director Thomas Morgan Jones.  "When I first asked Ryan why he wanted to adapt The Boat he answered, 'Because it's the best short story ever written'.  With this passion behind the adaptation, our production is equally brimming with love, inspiration, and a driving need to speak.  Add to that the exceptional talents of actors and designers from all over Canada, and this will be a production that is not to be missed!"
The Boat will receive a two week production run at Theatre New Brunswick's Open Space Theatre (March 9-18) before entering a three week run at Halifax's Neptune Theatre and a full week of touring to New Brunswick communities.
This play also marks the second in the company's commitment to the development and production of new work by New Brunswick playwright Ryan Griffith following last season's technology based, site specific work, Returning Fire, presented as part of Fredericton's 2016 FROSTival celebrations.
"This is our second year producing new work by New Brunswick playwright Ryan Griffith.  Ryan's voice is brilliantly, accessibly, human," said Jones.  "His ability to write so honestly from each character's perspective is astonishing, and the depth that he has brought to his own take on the MacLeod short story is profound.  We feel so fortunate to have Ryan in our community, to have the privilege of giving his voice a stage and to be able to share his voice with audiences in New Brunswick and beyond."
For this production, Theatre New Brunswick welcome an impressive group of professional actors and designers from across the country to bring Griffith's work to the stage, including Jon de Leon who has worked on some of the country's most celebrated stages and will be featured in the upcoming Matt Damon comedy Downsizing; Stephanie MacDonald, who appeared last season in Mulgrave Road's production of Watching Glory Die; and New Brunswick born actor Graham Percy who last joined TNB for the 2015 staged reading of David Adams Richards' Beaverbrook. Ron Kennel, who plays the son in the story, also boasts an impressive career on stage and screen, appearing alongside Game of Thrones' Kit Harington in the 2014 action/drama, Pompeii.
The Boat opens March 9, 2017 at Fredericton's Open Space Theatre, 55 Whiting Road.
The Boat | March 9-18, 2017 | The Open Space Theatre | 7:30 p.m. – Saturday matinee at 2 p.m. | Tickets available at the Fredericton Playhouse box office or online at tnb.nb.ca | $30 adult – $15 student | www.tnb.nb.ca/the-boat 
Cast & Creative
Written by Alistair MacLeod (adapted by Ryan Griffith)
Featuring: Ron Kennell, Jon De Leon, Stephanie MacDonald and Graham Percy.
Directed by Thomas Morgan Jones
Set Design: Mike Johnston
Lighting Design: David DeGrow
Costume Design: Sherry Kinnear
Composition and Sound Design: Deanna Choi
Stage Manager: Christine Oakey
Production photo by: Matt Carter
Fredericton Performance Dates
Thursday March 9, 2017 | 7:30pm | The Open Space Theatre
Friday March 10, 2017 | 7:30pm | The Open Space Theatre
Saturday March 11, 2017 | 2:00pm | The Open Space Theatre
Saturday March 11, 2017 | 7:30pm | The Open Space Theatre
Sunday March 12, 2017 | 2:00pm | The Open Space Theatre (Pay What You Wish)
Thursday March 16, 2017 | 7:30pm | The Open Space Theatre
Friday March 17, 2017 | 7:30pm | The Open Space Theatre
Saturday March 18, 2017 | 2:00pm | The Open Space Theatre
Saturday March 18, 2017 | 7:30pm | The Open Space Theatre
On Tour
March 21 – April 9| 7:30 pm | Neptune Theatre | 1593 Argyle Street, Halifax, NS
April 11, 2017 | 7:30 pm | Miramichi, NB | Info TBA
April 12, 2017 | 7:30 pm | Bathurst, NB |  Info TBA
April 13, 2017 | 7:30 pm | Woodstock High School | 144 Connell Park Rd, Woodstock, NB
April 14, 2017 | 7:30 pm | WC O'Neill Area Complex Theatre | 24 Reed Street, St. Andrews, NB
Tickets 
Tickets for all Fredericton performances of The Boat are available at the Fredericton Playhouse box office or online at tnb.nb.ca. Tickets for all tour performances are available at tnb.nb.ca.
Audio
Hear Artistic Director Thomas Morgan Jones discussing the play:
https://soundcloud.com/theatrenewbrunswick/the-boat
Artist Biographies:
Ryan Griffith (Playwright)
Ryan Griffith grew up along the banks of the Saint John River in Lower Woodstock, New Brunswick. A graduate of the National Theatre School of Canada, Ryan enjoys performing and writing for theatres in his home province. His play LUTZ was published by Playwrights Canada Press in 2011. His short play SHEPODY, RAGE AND WOLFE was recently featured as part of the National Elevator Project Plays produced by Theatre Yes in Edmonton and Halifax. Currently, he is working on a new two-act play called WHARF(developed with assistance from the 2015 Banff Playwrights Colony, Arts NB, PARC and the Canada Council for the Arts), a short book called FORTUNE OF WOLVES, a television show called FRED AND CARL ARE PARK RANGERS and he is once again serving as the Artistic Director for the Next Folding Theatre Company in Fredericton, NB.
Thomas Morgan Jones (Director) 
Thomas is an award winning director, playwright, movement coach, dramaturg, and teacher. For over 15 years he has created theatre nationally and internationally with companies and schools that include: The Stratford Festival, Theatre Direct, Theatre Passe Muraille, The Charlottetown Festival, Carousel Players, Cia Enviezada (Brazil), NTS, Sheridan, and The Randolph Academy. He holds a BA from Guelph, an MA from UofT, and has trained with SITI Company in NYC/Madrid/Paris and SCOT in Japan, Italy and Fredericton.
Ron Kennell (Son)
Having performed in shows from Toronto to Winnipeg and from the Arctic to Iran, Ron is grateful to be a part of the TNB company. He was last seen in Clique Claque in Toronto (NSTF), and in November will appear in Death of The King (Modern Times), in San Francisco. Ron's first short film Reveille and feature film Dr. Cabbie were both released in 2014. Upcoming films include the release of Leaving Turtleford (short: director), Blood Harvest (short: producer) and the feature film Lions of the Sea (feature: writer). For our fathers…. Campbell and Wayne.
Jon de Leon (Father)
Jon de Leon is a Toronto based actor/creative thrilled to be joining the talented team of The Boat in his first production with Theatre New Brunswick. Past theatre credits include featured roles in Shakespeare's Hamlet (Driftwood Theatre), Every Letter Counts by Nina Lee Aquino (Factory Theatre), Love's Labour's Lost, Julius Caesar, Twelfth Night, Coriolanus, and Ben Jonson's Bartholomew Fair (Stratford Festival). Recent film and television credits include featured roles in Ascension (SyFy), Rookie Blue (CTV), Lost Girl (Showcase), Flashpoint (CTV/CBS), Warehouse 13 (SyFy), and will next appear in the Alexander Payne film Downsizing (Mega Omaha Films Inc.) with Matt Damon. jon is a graduate of the theatre program at Concordia University in Montreal and was a member of the Birmingham Conservatory For Classical Training at the Stratford Festival. He would like to dedicate his performance to his late mother and his wife Zoe for her incredible patience and tender loving care.
Stephanie MacDonald (Mother)
Stephanie is an actor from Halifax Nova Scotia, and is thrilled to be back at wonderful TNB. Select theatre credits include: Watching Glory Die (Mulgrave Road Theatre); Marion Bridge (Valley Summer Theatre); Communion (KAZAN CO-OP/NAC); Leaves of the Virgin Mary (Forerunner Playwrites' Theatre); Talk Sexxxy, Short Skirt Butch (LAP PRO); Top Girls (LunaSea). Stephanie is the recipient of two Robert Merritt Awards for Outstanding Performance by an Actress in a Supporting Role, and one for Outstanding Performance by an Actress in a Lead Role. She is currently in the development stage of a new play called Family Drama: A Comedy with reWork productions, co-founded by Daniel MacIvor and Marcie Januska.
Graham Percy (Uncle)
Graham currently makes his home in Calgary with his wife, actor Jamie Konchak, and their awesome pup Pepper. A New Brunswick native, he has worked across the country with Neptune, Two Planks, Mermaid, Canstage, Theatre Calgary, ATP, Vertigo, The Citadel, and The Arts Club, among many others.
Recent projects include the world premiere of The Big Sleep with Vertigo, The Audience with Theatre Calgary, Liberation Days with Two Planks, and a remount of the award winning Slowly I Turn with Zuppa Theatre. He is very grateful to TNB for giving him the chance to come home to work on this beautiful play.
Deanna Choi (Composer & Sound Designer)
Deanna studied neuroscience at Queen's University before making a leap of faith into theatre. She is an award-winning violinist, composer, researcher, and educator based in Toronto. She co-founded the Badass Brahms Chamber Collective, and has collaborated with artists at the Banff Centre, Stanford University, Kingston Symphony, and National Youth Orchestra of Canada. She has an alter-ego named Ludmilla. deannahchoi.com
Selected credits: Damn Tank (Toronto Fringe Festival), Scorched (5th Co. Lane), If We Were Birds (Queen's Drama), The Pillowman, The Importance of Being Earnest (Vagabond),Avenue Q (Blue Canoe)
Many thanks to Thom and the rest of the team at TNB. Love to Mom, C+B, A+L, MJ, TH.
Mike Johnston (Set Designer)
Mike is a Set, Lighting and Projection designer residing in Fredericton. In addition to freelance work, he has been the Technical Director for Theatre UNB for the past 17 seasons. Beyond his work with TNB, he regularly designs for The Notable Acts Theatre Company, Saint John Theatre Company and a variety of other local groups.
David DeGrow (Lighting Designer)
David DeGrow is a designer, academic, and teacher whose work has been seen across Toronto and across Canada. He is in the third year of his PhD at the University of Toronto, where his research examines how theatre companies shape performance space, and vice versa. Selected designs include: Pyaasa (Theatre Passe Muraille/Theatre Jones Roy); Tap-Ex: Metallurgy (Tapestry Opera); Monday Nights (Sixth Man/Theatre Centre); Morro & Jasp: 9-5 (UNIT/Factory Theatre); Tagged(Greenthumb/Young People's Theatre); The Hours That Remain (Gwaandak); the tin drum (Unspun); Dreaming of Rob Ford (Mike Daisey/Crow's Theatre). It's lovely to be working with friends.
Christine Oakey (Stage Manager)
Christine is no stranger to Theatre New Brunswick having worked on Little Shop of Horrors, The Bricklin, Forever Plaid, A Christmas Carol, For the Pleasure of Seeing Her Again, and Pinocchio. Born in Fredericton, she is always happy to come back from away!
She has recently been on tour with Mermaid Theatre of Nova Scotia's production of Eric Carle Favourites, travelling throughout North America for the past two years and for 40 days in mainland China last summer.
Christine has served as stage manager with many of Atlantic Canada's theatres, including 2b Theatre, WillPower, Eastern Front Theatre, and most frequently with Two Planks and a Passion where her previous credits include As You Like It, The Illiad By Fire, Our Town, The Odyssey, and Halo. Christine has worked in Regina, Prince George, Edmonton, Blyth and Toronto in addition to six seasons as Assistant Stage Manager at the Shaw Festival in Niagara­ on ­the ­Lake, Ontario. She is a graduate of the University of King's College in Halifax and the National Theatre School of Canada, and has twice received the Merritt award for Best Stage Manager, most recently in 2014.