All submissions to our Fall Festival of New Plays will be read by three artists who will then make recommendations for the final selections.
The cat's out of the bag. We will be hosting a Fall Festival of New Plays later this year. Submissions are now open. We're looking to hear from New Brunswick born or New Brunswick based playwrights interested in developing a new and existing script for future production.
All plays submitted to through our open call process will be read by a Selection Committee made up of TNB Artistic Director Natasha MacLellan, TNB Theatre School playwriting instructor Anthony Bryan and theatre worker Lara Lewis. All three artists will make recommendations and act as a jury for the selection process.
Our Fall Festival of New Plays will take place September to November 2020. Call for Submissions closes July 31.
Meet the Selection Committee: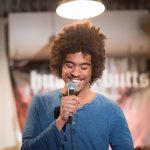 Anthony Bryan
Louis Anthony Bryan is a scriptwriter and stand-up comedian from Trinidad and Tobago. A St Thomas University alumnus with a major in English and a Concentration in Creative Writing, Anthony a graduate of the Bachelor of Education program. Joining the St. Thomas Early English Drama Society in 2016, his acting credits include The Tragical History of Doctor Faustus, and Hamlet. He adapted and directed their 2017 production of A Midsummer Night's Dream. His first original piece, I Love This City, was a winner of the Theatre St Thomas What's Next Theatre Festival. His recent acting credits include Together We Move, a short film directed by Kaitlyn Adair and Sophie Tremblay Pitre's With Love Josephine , a winner of the 2019 Notable Acts Theatre Festival. Anthony has also performed with the Fredericton improv group Hot Garbage Players.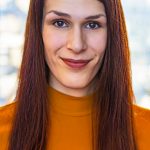 Lara Lewis
Lara Lewis is a queer Mi'kmaw theatre worker living in Kjipuktuk. She is a graduate of the Fountain School of Performing Arts and the University of King's College School of Journalism. She makes a living as an actor and arts administrator. Lara is the vice-chair of the board of the Bus Stop Theatre Co-operative and is a founding worker-owner of the Glitter Bean Café Co-op. As a dramaturge, she has apprenticed under Pamela Halstead, Ann-Marie Kerr, Jenny Munday, and Natasha MacLellan.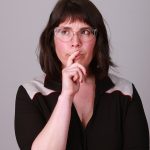 Natasha MacLellan
Natasha MacLellan has been working in New Play Development in Atlantic Canada for almost fifteen years. Her love of new scripts was fostered through Playwrights Atlantic Resource Centre where she mentored with Jenny Munday and through years of working at Mulgrave Road Theatre in Guysborough, NS. From there she started Forerunner Playwrights Theatre, which produced new works in Halifax for a decade. As Artistic Producer of Ship's Company Theatre in Parrsboro, she has premiered eight new scripts, including Chasing Champions which played at Canada's National Arts Centre in November 2018. She is honored to have been twice named the protégé of nationally respected theatre artists: Jenny Munday, recipient of the inaugural Mallory Gilbert award and Mary Vingoe, recipient of the Portia White Prize. She also serves on the PACT Board, chairing the Network & Learning Committee and is a member of the Labour Relations Committee. In the fall of 2018,Natasha moved to Fredericton, NB to become the 13th Artistic Director of Theatre New Brunswick.