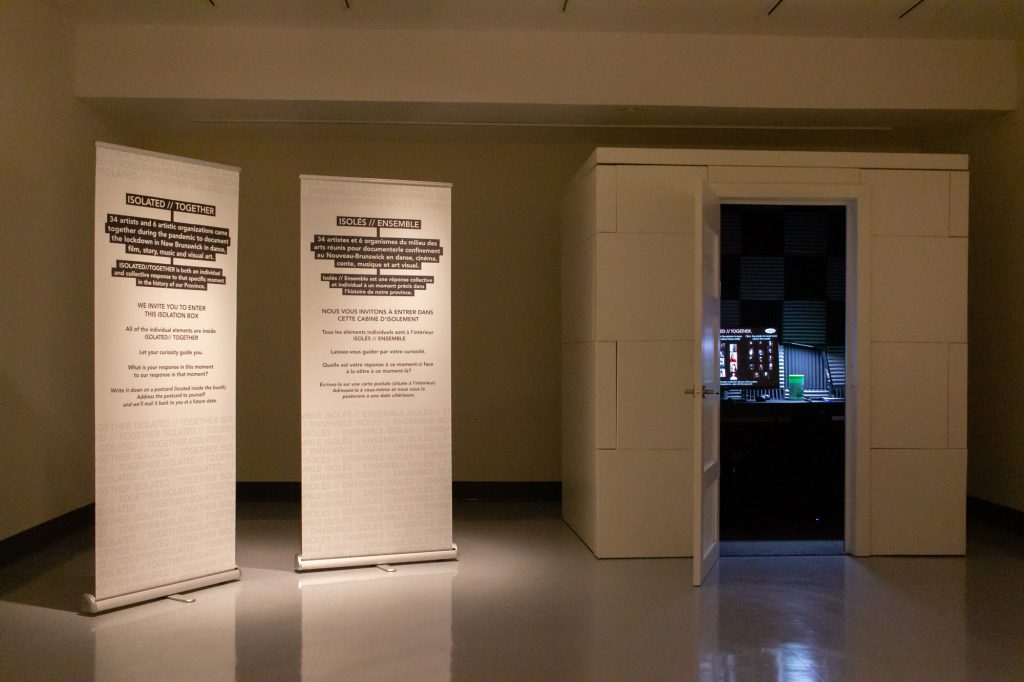 A partnership between Atlantic Ballet Atlantique Canada, Theatre New Brunswick, and the Beaverbrook Art Gallery, Isolated//Together is a multidisciplinary project documenting the COVID-19 experience in New Brunswick through dance, film, music, spoken word, photography and visual arts.
For our contribution to this incredible project, we collected stories from people all over New Brunswick to learn how they experienced the pandemic's onset and how their lives were affected. Each storyteller spoke in their first language resulting in a series of stories told in English, French, Mandarin, Arabic, Filipino, Tamil, Mi'kmag and Hebrew.
As part of the current exhibition at the Beaverbrook Art Gallery, audiences can enjoy these stories together with a range of stunning videos created by videographer Harrison Burton featuring the work of dancers from Atlantic Ballet Atlantique Canada, Solo Chicken Productions, Connection Dance Works and dancer and choreographer Possesom Paul with original music by Clifford J. Doucette aka Elephant Skeletons. The entire audio-visual collection exists within an accessible isolation booth where audiences can surround themselves with the various elements of this project and cater their own unique experience.
The storytellers in this series include Abby Paige, Badrinathan Seshadri, Brian Francis, David Wang, Jean-Étienne Sheehy, Jocelyn Iloreta, Neomi Lancuh, Katherine Moller, Lais Nicolini and Omar Eissa. 
The masks on display were created by Vicky Lentz, Brigitte Clavette, Katrina Slade, Emma Hassencahl-Perley, Kyana Kingbird, Luc Charette, Trish Hirschkorn, Jennifer Adam, Sheryl Crowley, Alevtina Sharapova, Amanda Trizna, Jasmine Cull, Ralph Simpson, and Alisa Arseneault.
The exhibition will conclude with a live dance and storytelling performance on April 30 at the Gallery. This is a ticketed event. Tickets are on sale now through the Gallery's website.
Isolated // Together was supported by the Department of Tourism, Heritage, and Culture.