Vermont-born, Fredericton-based playwright Abby Paige is developing her second solo show as part of our Fall Festival of New Plays.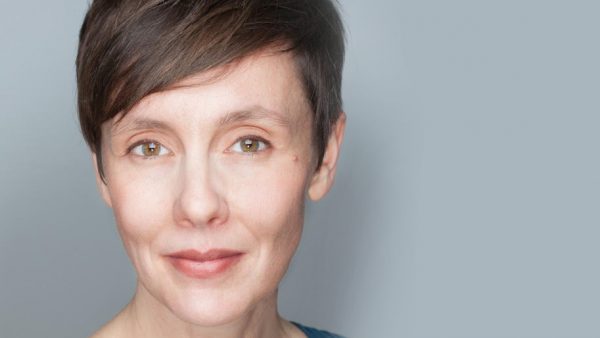 We're pleased to include Abby Paige as one of 12 New Brunswick playwrights featured in our Fall Festival of New Plays. Abby has been a friend of TNB's for a few years now and was one of two actors involved in our COVID-cancelled production of Heroine, which was planned to tour the province in March of this year.
An accomplished actor, writer and poet, Abby's recent work for the stage has been inspired in part by a deep interest in exploring her French-Canadian roots. Her current in-development play Les filles du quoi? is her second solo show focused on the topic.
"What interests me most about solo work is the relationship between the performer and the audience," said Paige. "In more traditional theatre, there's a tacit agreement between performers and audience that each will kind of pretend that the other isn't there. There's this pre-negotiated politeness and formality that make it a pretty passive experience for the audience. My background is in comedy, and there, the terms are negotiated in performance. You have to earn laughs. The performer has to set the tone and earn the audience's trust. I love the listening and attention that that requires. You have to really tune into an audience to get them to laugh. But to me, beyond the laughter, there's an intimacy that you're creating. Without that secure fourth wall, the performer is vulnerable to and reliant on the audience in a different way. It demands a lot of the audience, too, to acknowledge that we're all just people in a room together, sharing a story; the audience gives up a kind of anonymity, too, when a performer looks out at them and says, essentially, I see you. Those are really interesting conditions under which to bring up difficult topics. To shift from laughter to something that's dead serious. To me, that feels more like the true origins of theatre, a more primordial idea of storytelling. I'm interested in building a trust with an audience that's maybe not totally comfortable. Intimacy isn't necessarily comfortable, but it's exciting."
Both of Paige's solo shows respond to the history of French-heritage peoples in New England. Her first solo show, Piecework: When We Were French, was commissioned by Burlington City Arts.
"I'm so lucky that it was," said Paige. "I probably would never have written a solo show in any other way than having it assigned to me. The topic was part of the assignment, so I didn't come to any of it through my own creative urge. But at the time, I had just moved from Vermont to Quebec, because I married a Canadian, and having grown up with French-Canadian heritage, I had always taken my relationship with Quebec and Canada for granted. I had never really considered how my heritage made me culturally different from other Americans or from my relatives in Canada. So the process of making and touring that first show was my education as a Franco-American — learning my history, listening to other people's stories, figuring out what it all meant."
After moving to New Brunswick five years ago, Paige thought about presenting the work here but decided because of its New England context, the story might not have the same impact it would if it was told from a perspective more familiar to Canadian audiences.
"The Franco-American story is not well-known in Canada, especially among non-Francophones. So I started writing to try to create a new frame around the show, for that context, and the more I wrote, the more I realized that I was writing something new, something much more about my own experience, my personal relationship to my heritage, and what it means to me to be a tenth- or twelfth-generation settler. My family came to this part of the world a very long time ago, so I am very much implicated in all the colonial nonsense that's gone on in the past four hundred years. I wanted to understand that legacy."
Paige's interest in her own history includes exploring how we use stories to shape our identities, both as individuals and as communities. She describes her first show as being about beauty and necessity, and the second being focused more on what truths we erase, ignore and silence with the stories we tell ourselves.
"In some ways culture and identity are just storytelling," said Paige. "They're the process of us telling ourselves and each other who we are. But very often, we do that by exclusion: You can't be French-Canadian if you don't speak French. You can't be American if you don't speak English. You can't be white if you have one drop of African blood. You can't have 'Indian status' unless you meet the criteria. Some of us are very invested in these barriers. These barriers are our stories. The exclusion is our culture. I'm not interested in celebration or appreciation of that. I'm interested in thinking about new ways — for white settlers, especially — to create and belong to culture."
 The development of a solo work of theatre can take on a different character than traditional plays. For one, if a playwright creates a solo piece they intend to perform, they rarely get the benefit of hearing their words performed by someone other than themselves. There is a slight disadvantage there.
As part of her participation in our Fall Festival of New Plays, Paige has been exploring the collaborative aspect of creating solo work by working with director Ann-Marie Kerr and dramaturg Leigh Ann Vardy.
"Solo work is actually very collaborative," said Paige. "The person on stage, by the time they get there in front of an audience, has relied on so many people for support, feedback, and direction. It's very humbling. That said, that hasn't really been the case for me with this show so far. I started writing it when I first moved to New Brunswick, and I didn't know anyone, and the early parts of its development were extremely solitary. I've gone through periods where I was too much inside the thing to have good perspective on it. But I'm a big believer in living with a text for a really long time, until the words don't feel like my own anymore. At this point I've lived with this text for a long time, and I think I'm outside of it enough to be able to see it. But I'm totally ready to be surprised by other people's readings and interpretations. I'm going to learn so much, and that collaborative energy is really what I need to get across the finish line.
"I'm so grateful to be lent these amazing collaborators after labouring alone for a long time. Right now, our plan is to actually work together in the space at TNB, which sounds so ambitious after being locked away for most of this year. I'm very hopeful that the COVID restrictions hold so that we can do that, because improvisation is going to be an important part of how the show is performed. It's written bilingually (English/French), and the idea is that the performer will speak in whichever language matches the audience that night or whichever language matches a particular moment. So I'm excited to observe how Ann-Marie and Leigh Ann think through that.
"I also really want to learn about how the piece lives in a space. The main character is doing laundry for a lot of the show, and during the past year or so I've been working with Danielle Hogan, a textile artist here in Fredericton, who's been creating the laundry. We're going to see how those pieces look on stage and work a little bit on how to incorporate them into performance. They're these beautiful textile pieces that respond to certain themes in the show, and as they're hung on clotheslines, my hope is that they'll sort of transform the space. It's a less text-based workshop than some of the other playwrights are doing, but I'm sure it will impact the writing, and it will definitely clarify for me what the show is, because it's always something different from what I think it is on paper."
Abby will join Ann-Marie Kerr and fellow actor/playwright Kirsten Alter for a livestreamed conversation surrounding solo play development on November 26 at 7:30 p.m. Watch it here.