We received a generous gift last week from one of our former theatre school students.
Megan Murphy was a member of the TNB Theatre School since she was in first grade. In fact, she had been rehearsing to play the leading role in what was supposed to be our 2020 Senior Musical Theatre production of Annie until the arrival of COVID-19 brought on the unexpected cancellation of much of our 2020-2021 plans. Hitting the Fredericton Playhouse stage in a big end-of-year production would have been a great way to cap off her many years as a theatre school student but it was not to be. Yet despite the obvious setbacks, 2020 wasn't a complete write off for Megan. She received one of two bursary awards given annually by the TNB Foundation and began the next chapter of her life as a student at the National Theatre School in Montreal.
Megan was home this summer and in addition to acting in one of this year's NotaBle Acts productions, she also devoted a lot of time to her visual art practice. With support from a Theatre Engaging Communities grant from NTS, Megan created five unique and distinct "Fredericton" works of art which she has now put up for auction in support of bursaries for students attending future classes at the TNB Theatre School!
We encourage you to stop by Megan's art auction and have a look at her beautiful work and place a bid. 100% of the proceeds from this generous auction will go directly to supporting our city's next generation performers.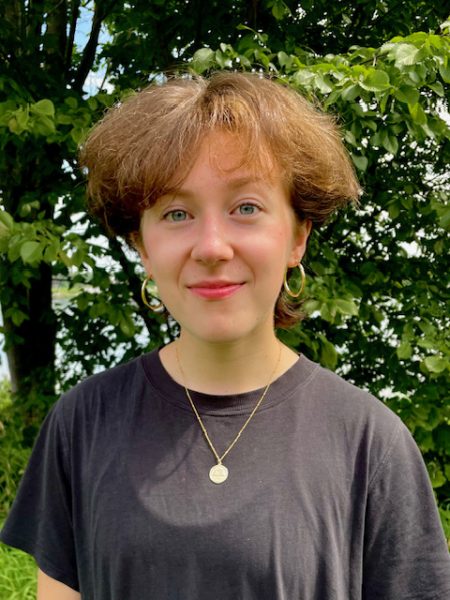 Thanks Megan!
_____
Megan Murphy
Instagram: @meganmurphyart
Megan Murphy (she/they) is an actor, painter, writer, and singer from Fredericton, New Brunswick. She studied at the TNB Theatre School for her entire childhood, starting in Playtime, all the way up to Senior classes, where she had the opportunity to play roles such as Belle in Beauty and the Beast, and Emily in Our Town. Throughout their time in Fredericton, Megan has also been in productions with Theatre St. Thomas, Notable Acts, St. Thomas Musical Theatre, STEEDS, and many more. Currently, Megan is a second year acting student at the National Theatre School of Canada in Montreal, Quebec.
Megan started selling her paintings when they were 11 years old. It has been an absolute pleasure for her to return to painting work, this time full-time, thanks to a generous Theatre Engaging Communities grant given to her by NTS. This project has been created by Megan, who designed the series and concept. Much love and care have gone into every one of these pieces, and it brings them great joy to be able to donate 100% of the proceeds back to the theatre school that raised her.