With instruction by Cathy MacKinnon
November 7-8, 2015 | TNB Studio Theatre | 55 Whiting Road, Fredericton | $85+HST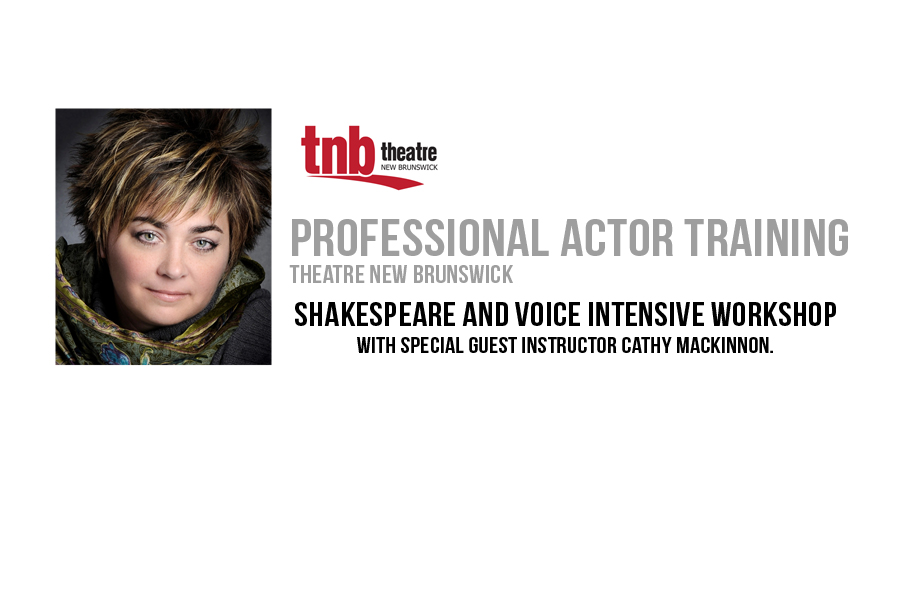 (Fredericton)  Theatre New Brunswick is proud to announce its upcoming Shakespeare and Voice Intensive Workshop, with guest instructor Cathy MacKinnon.  This will be the company's third workshop of its 2015-2016 season.  The workshop will take place November 7-8, 2015 at the TNB Studio Theatre, 55 Whiting Road.
"What a great privilege it is for us to be able to bring Cathy to Atlantic Canada," said TNB Artistic Director, Thomas Morgan Jones.  "As a voice and Shakespeare coach for almost a decade at one of Canada's leading classical theatres, The Stratford Festival, her impact on performance in Canada has been astonishing.  She is a hugely gifted teacher, and we are so excited to bring her knowledge and her energy to Atlantic Canada."
TNB's return to a full slate of professional training workshops this year has proven very popular so far, attracting actors from Ontario, Nova Scotia and throughout the province to train with the company.
"As artists, we often have to travel to find the right teacher," said Jones.  "By bringing Cathy to the province, our hope is that artists here in Atlantic Canada can have access to the same training they would receive in Stratford, only they can engage with this training here at home.  I'll be in the hall for the weekend of training, too, learning with the participants, and simply cannot wait for this brilliant artistic exchange and opportunity for us all to grow."
The upcoming Shakespeare and Voice Intensive Workshop will be limited to 24 students.  Interested actors are asked to register on or before October 30 to reserve a spot for this exciting training opportunity.
Shakespeare and Voice Intensive Workshop | TNB Studio Theatre | November 7-8, 2015 | $85+HST | deadline for registrations is October 30, 2015. For more information or to register, please contact Joanna Bryson at general@tnb.nb.ca
Instructor Bio:
Cathy is the Artistic Director of Shakespeare Link Canada and is affiliated with the Shakespeare Link in the UK. She is a coach, director, actor and teacher. Most recently she directed Saltwater Moon for Common Roof. She is currently in her 9th season at the Stratford Festival of Canada as a Voice and Text Coach where she had the privilege to apprentice under the guidance of Janine Pearson. She has taught for the Education Department in Stratford for 11 years. She is a graduate from the Stratford Conservatory for Classical Theatre Training where she also teaches.
For SLC she created and directed With Love, Will Shakespeare a commissioned play for the Sunnybrook Veteran's Residence, Hamlet, Alone and Drowning Ophelia for the Shakespeare Link International Festival in Wales, and has directed numerous workshops of Signing the Bard – Romeo and Juliet, a collaboration between hearing and deaf actors. With SLC she spearheaded The Africa Project: Dance with Us, Not with AIDS and was co-creator/co-director of Romeo and Juliet, Medida Por Medida (Measure for Measure), A Tempestade and Sonho Nocturno – Dream at Night and is very excited about SLC's continued partnership with Montes Namuli in Mozambique. Kennedy co-directed/co-adapted the NAC/NEPA production of Death of the Chief.
Kennedy was the Head of the Voice at the Humber College Theatre School for ten years where she also taught Shakespeare. She is the creator and coordinator of the Summer Shakespeare Intensive. Kennedy has taught and given workshops for Native Earth Theatre, Centre for Indigenous Theatre, George Brown Theatre School, Equity Showcase Theatre/Player's Academy, University of Windsor, York University, Randolph School for the Performing Arts, YPT and the National Voice Intensive.
She coaches for film, television, radio and at theatres around Toronto. In Denver, Colorado, Kennedy interned as assistant to Gary Logan (Head of Voice and Speech) at the Denver Center for the Performing Arts/ National Theater Conservatory. She holds an MFA in Acting, a Diploma in Voice Teacher Training (York University) and a BFA in Acting (University of Windsor).