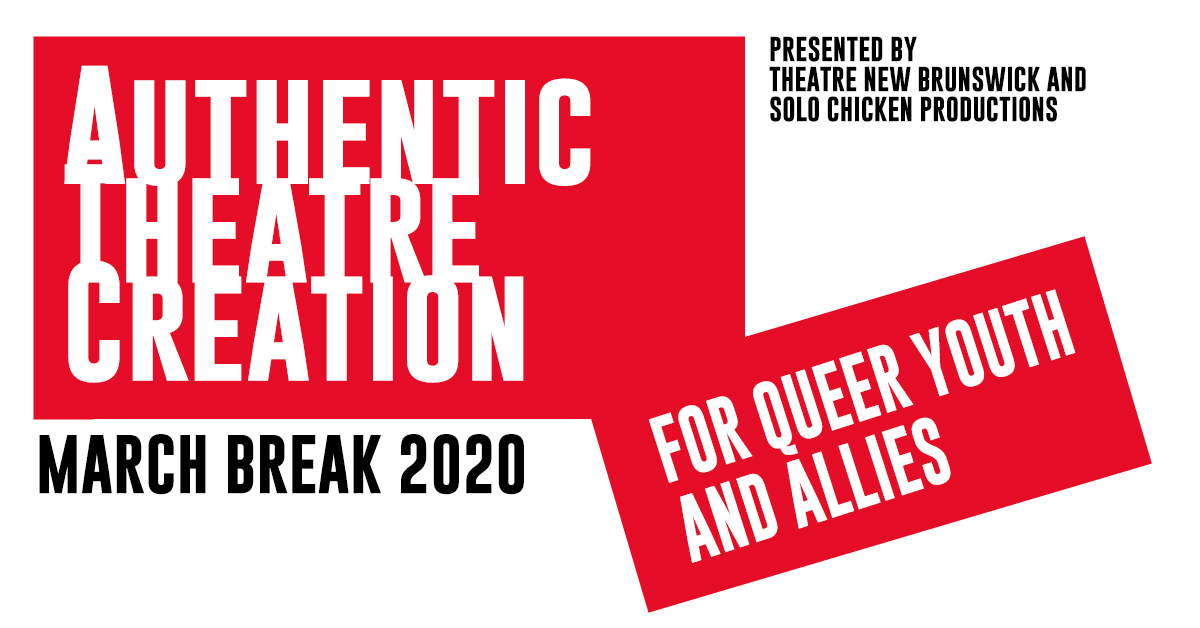 Authentic Theatre Creation Workshops for Queer Youth and Allies
(Fredericton) Theatre New Brunswick and Solo Chicken Productions are teaming up to offer a pair of theatre creation workshops for LGBTQ2+ youth with the goal of helping participants find their story and give them a voice to share their personal histories with other workshop participants.
Made possible through a local grant, this free workshop series is an extension of current projects by both theatre companies.
TNB Young Company's current touring productions (Boys, Girls and Other Mythological Creatures and It's A Girl!) champion the importance of individual identity and encourage acceptance and understanding of what makes every individual unique. Solo Chicken Productions' current workshop series, Own This Space, has brought together LGBTQ2+ students from three local high schools to create a new work of theatre that will be presented at the New Brunswick Drama Festival in May 2020.
"As New Brunswick's provincial theatre company, it is our responsibility to address current social themes and to challenge people to expand their understanding of the world," said TNB General Manager Julie Friddell. "Giving people a voice to break down social barriers and a community of peers to support their creativity are two important goals we hope this project will achieve."
Led by playwright/performer Michelle Raine (TNB Young Company 2020) with assistance from Alex Rioux and Esther Soucoup (Solo Chicken Productions), Authentic Theatre Creation Workshops for Queer Youth and Allies will be offered as two three-day sessions during March Break 2020.
"This workshop series will amplify the voices, needs, and achievements of LGBTQ2+ individuals and will help everyone understand more what it means to be non-heteronormative," said Friddell. "These voices need to be heard and supported."
Dates: March Break 2020
Session 1: Wednesday, Thursday, and Friday, March 4-6, 2020 (1-4 p.m. daily) – High School/University Students
Session 2: Friday, Saturday, Sunday March 6-8, 2020, (Friday 6-9 p.m., Saturday and Sunday 1-4 p.m.) – Open to all ages
Workshop Description:
It doesn't matter who you are – sometimes we have a difficult time being authentic. With pressure from outside sources to conform to certain ideologies, it is important for us to stay true to ourselves and find ways to ask difficult questions about who we are. For LGBTQ2+ individuals, the stories we have to tell are new and exciting, but it can be a struggle to create narratives that are attainable and relatable to cisgender and heteronormative audiences. For straight-cisgender folk, it can be a struggle to strip away conformity and to understand what it truly feels like to ask the question, "Who am I, in spite of what others think?" These three-day workshops challenge participants to take a used book, deconstruct it, and rebuild it to match their internal identity. Students will use this method to find their story, write it out, and share personal stories of identity with the group. One-on-one feedback, group critique, and a safe space will help participants create relatable narratives that remain authentic.
Registration cost:
These workshops are FREE. Everyone is encouraged and welcome to participate but preference will go to transgender and non-binary high school and university students, if more than 12 people register for each workshop. To register for either, please fill out this form and send it to info@tnb.nb.ca