October 13
Open Space Theatre | 55 Whiting Road | 7:30 pm | Buy Tickets
October 14
Open Space Theatre | 55 Whiting Road | 7:30 pm | Buy Tickets
October 15
Open Space Theatre | 55 Whiting Road | 2:00 pm & 7:30 pm | Buy Tickets
October 16
Open Space Theatre | 55 Whiting Road | 2:00 pm | Buy Tickets
_____
October 20
Open Space Theatre | 55 Whiting Road | 7:30 pm | Buy Tickets
October 21
Open Space Theatre | 55 Whiting Road | 7:30 pm | Buy Tickets
October 22
Open Space Theatre | 55 Whiting Road | 2:00 pm & 7:30 pm | Buy Tickets
October 23
Open Space Theatre | 55 Whiting Road | 2:00 pm | Pay What You Wish
On Tour*
October 25
WC O'Neil Arena Complex Theatre | 24 Reed Street, St. Andrews, NB | 7:30 pm | Buy Tickets - $20
October 26
McAdam Train Station | 146 Saunders Road, McAdam, NB | 7:30 pm | Buy Tickets - $15
October 27
Woodstock High School | 144 Connell Park Rd, Woodstock, NB | 7:30 pm | Buy Tickets - $20
October 28
The Vogue Theatre | 50 Cunard Street, Miramichi, NB | 7:30 pm | Buy Tickets - $20
October 30
École Secondaire Népisiguit | 915 St.Anne St, Bathurst, NB | 2:00 pm | Buy Tickets - $20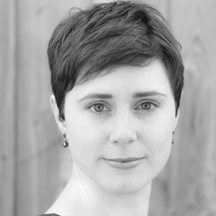 Gabrielle Houle
Playwright
Gabrielle Houle is a theatre educator, performer, and mask-maker who trained in Canada, the United States, Italy, France, Denmark, and Costa Rica. Acting credits include Bizzarium: Aquarium (Les Sages Fous), The Proust Project (staged by Moynan King at CanStage Festival of Ideas and Creation), and Electro Bing! Bang! (a staged reading supported by the Théâtre Français de Toronto). In 2012 and 2014, she had the pleasure to co-create A Sunday Affair with Thomas Morgan Jones and Richard Lee. She holds a Ph.D in drama from the University of Toronto and has taught at Dalhousie University, the University of Waterloo, and the University of Toronto, among other institutions. She currently teaches theatre at Glendon College, the bilingual faculty of York University in Toronto.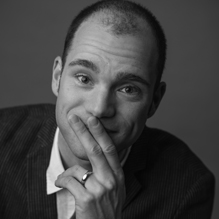 Thomas Morgan Jones
Director/Playwright
Thomas is an award winning director, playwright, movement coach, dramaturg, and teacher. For over 15 years he has created theatre nationally and internationally with companies and schools that include: The Stratford Festival, Theatre Direct, Theatre Passe Muraille, The Charlottetown Festival, Carousel Players, Cia Enviezada (Brazil), NTS, Sheridan, and The Randolph Academy. He holds a BA from Guelph, an MA from UofT, and has trained with SITI Company in NYC/Madrid/Paris and SCOT in Japan and Italy.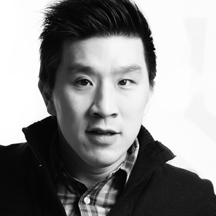 Richard Lee
Playwright
Richard Lee is an Award winning actor, fight director, sound designer and theatre producer. Although he didn't choose a career in the later few, his love of all things based in movement and sound and being bossy have led him on many an interesting journey. Richard graduated with a BFA from York University's Theatre Program and has worked extensively in both film and theatre. In his career he's had the joy of playing many interesting roles. Some highlights include Bruce Lee (Little Dragon – K'now/Theatre Passe Muraille); Rick Wong (Banana Boys – fu-GEN Theatre Company); Sun WuKong (The Forbidden Phoenix – Lorraine Kimsa Theatre For Young People/Citadel Theatre); Falkor (The Neverending Story – Roseneath Theatre) all of which he has received Dora nominations for. He has received three Dora Mavor Moore Awards for his work on paper series (Cahoots Theatre Company), Cinderella: A Ratical Retelling and Sultans of the Street (Young People's Theatre). In 2013 he received the infamous Harold Award, a theatre award bestowed upon one individual to another in to recognize the outstanding and often under-recognized dedication on or off the stage.
Beyond the performing arts Richard has spent the last 18 years living and training as a Martial Artist. Over this time he has trained in many varying styles. From Aikido to Banethi, Richard marvels at how the uniqueness of each form he has learned from. He is continually fascinated by each person's individual martial journey. Because of this, he performed a study of martial arts and its application to theatre with the assistance of the Ontario Arts Councils' Chalmers Professional Development Grant.
Richard is also a founding member and former General Manager of fu-GEN Asian-Canadian Theatre Company. A company dedicated to the development of professional Asian Canadian theatre artists. He also serves on the boards of The Toronto Arts Council and princess productions, a small independent dance company. Richard is quite passionate about issues of Cultural Diversity as it relates to the Canadian Performing Arts Industry and seeks to actively address and raise awareness of this issue.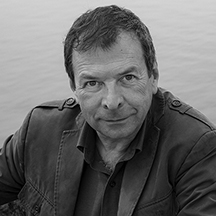 Maurice Arsenault
Translator
Maurice Arsenault has been working in the cultural sector for thirty-three years, essentially in theatre. Artistic director and general manager of Théâtre populaire d'Acadie (TPA) since 2005, he has programmed about a hundred plays for the company, including thirty productions or coproductions by TPA. He worked at the National Arts Centre as a theatre festival coordinator from 1998 to 2002 and freelanced as a project manager and consultant in the cultural sector for several years, after having directed Théâtre l'Escaouette in Moncton from 1989 to 1995. He has directed many plays for TPA and l'Escaouette and has translated four plays to French : A Sunday Affair by Gabrielle Houle, Thomas Morgan Jones and Richard Lee; Bump, by Rick Merrill; Lucien Helter Skelter by Marshall Button and The Morning Bird by Colleen Wagner, all of which were produced or coproduced by TPA. His theatre experience also includes acting, production management and stage management. In September 2013, the Fondation pour l'avancement du théâtre francophone du Canada awarded him the prix Marcus-Banque Nationale 2013 for three decades of work contributing to Acadian and Franco-Canadian theatre development.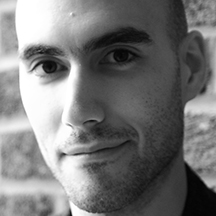 Mathieu Chouinard
Father Tom
Mathieu studied theatre extensively at Université de Moncton, École supérieure de théâtre de l'UQAM (Montréal), École internationale de théâtre Jacques Lecoq (Paris) and through the teaching of numerous masters (Reijiro Tsumura, Marcello Magni, Jos Houben, Yumiko Yoshioka, Catherine Tardif). Co-artistic director of Satellite Théâtre in Montréal since 2009 and working closely with Théâtre populaire d'Acadie since, Mathieu is constantly searching, through highly physical and visual theatre, different ways of building bridges – between languages, cultures and theatre forms. Since 2005, Mathieu performed, taught and presented his work over four continents. As actor, co-creator, author or director, he's been seen in shows including SplasH2O, Aurel aux quatre vents, Tréteau(x), Bump and Les Trois Mousquetaires Plomberie.
Mathieu was rewarded three times by Fondation pour l'avancement du théâtre francophone au Canada (2008, 2011, 2015). He was designated Theatre Artist of the Year at the Gala des prix Éloizes (NB) in 2012 and 2016, and his acclaimed co-devised shows Mouving and BOUFFE were also rewarded Show of the Year in 2012 and 2014. Fascinated by the process and impact of cross-cultural work, Mathieu is presently coordinating a collaboration project in Tchad with Association Ndam Se Na, exploring physical theatre and dance as artistic tools bringing greater awareness and peace to refugees.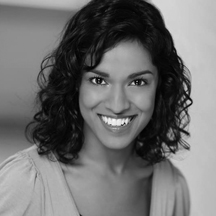 Miriam Fernandes
Josephine
Miriam Fernandes is a Toronto-born actor, theatre-maker, and the Co-Artistic Director of La Faim Theatre. Her acting credits include the World Premieres of The Living (Summerworks Performance Festival) and Soliciting Temptation (Tarragon Theatre), The Tempest (Driftwood Theatre), The Biographer (Tango Co.), Hamlet (Shakespeare in Action), and The Bundle (Edward Bond Festival).
Miriam has served on the board of directors for Volcano Theatre and is currently an Associate Artist with Why Not Theatre. A graduate of York University's Acting Conservatory, Miriam has also trained with Anne Bogart, Ellen Lauren and the SITI Company, and Master Teacher Philippe Gaulier. Miriam recently graduated from Ecole International de Theatre Jacques Lecoq in Paris, France and has begun work on two new international collaborations, La Faim based between Oslo, Norway and Paris, France, and XY, which will be created in Sydney, Australia. Miriam is very excited to be working with Theatre New Brunswick on A Sunday Affair and The Snow Queen.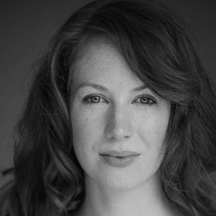 Kaitlin Hickey
Set and Lighting Designer
Kaitlin Hickey is a production designer based in Toronto, ON. Recent theatre credits include: Lighting Design: Counting Sheep, (Lemon Bucket Orchestra & SummerWorks Performance Festival), Assistant Projection Design: You Never Can Tell and Sweet Charity (Shaw Festival), Associate Projection Design: R-E-B-E-C-C-A (Theatre Passe Muraille), Production Designer: Chapel Arm (Mindless Theatrics), Associate Projection Designer & Video Technician: A Moveable Beast (Volcano Theatre), Production Manager & Lighting Designer: The Book of Judith (Selfconscious Theatre), Associate Video Designer: Beatrice and Virgil (Factory Theatre), Production Manager: Weather the Weather (Theatre Columbus).
Kaitlin is an artistic associate for Mindless Theatrics (St. John's Newfoundland), a graduate of the National Theatre School of Canada, and holds a B.Sc. from St. Francis Xavier University.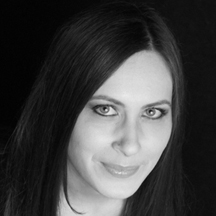 Sherry Kinnear
Costume Designer
Sherry is the costume designer for the TNB Young Company and TNB Theatre School as well as the Head of Wardrobe for all branches of the company. Sherry most recently designed costumes for Marion Bridge, Vigil, The Drowsy Chaperone, The Eighth Fire, and The Net, as well as Guys & Dolls, West Side Story, The Wizard of Oz, Les Miserables and has created costumes for A Christmas Carol, Frankenstein, Miracle on 34th Street, It's a Wonderful Life, Little Shop of Horrors, Gifts of the Magi, The Dollar Woman, Treasure Island, and many other TNB productions over the past nine years.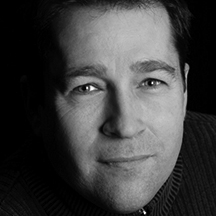 Jean-François Mallet
Composer & Sound Designer
Originally from Shippagan, New Brunswick, Jean-François Mallet is a composer who has written music for film scores, documentary series, and musical soundtracks for theatre. His name appears in the credits of Monique Leblanc Black & Blanc and Acadie Américaine (CinImage Productions 2015) and also Ginette Pellerin's On a bâti une cathédrale (Améri ka Productions 2014), the documentary series Courants (CinImage Productions 2013), Trésors vivants (Productions Phare-Est Inc. 2005-2009), and the movies Kedwick et Hasroum (Bellefeuille Production 2009). More recently in theatre, he produced the soundtracks for The land – La terre (2016) Théâtre Alacenne and Mermaid theatre, Le lac aux deux falaises (2016) Théatre l'escaouette and Thèâtre de quartier, Alden envers et contre tous (2016) Théâtre populaire d'Acadie, Tréteaux (2015) Théâtre populaire d'Acadie and Théâtre Satellite, Bump (Théâtre populaire d'Acadie 2014), Conte de la neige (Théâtre des Confettis and Sortie de Secours 2014), Naufrages (Théâtre l'escaouette and Théâtre du Double Signe 2014), Visage de feu (Théâtre Blanc/Théâtre l'escaouette and the Ottawa National Arts Centre French Theatre 2013), L'espérance de vie des éoliennes (Théâtre du Tandem and Théâtre populaire d'Acadie 2013), La ville en rouge (Théâtre Populaire d'Acadie, Théâtre du Gros mécano and Théâtre Pupulus Mordicus, 2012).
Jean-François is also a concert music composer, a musical director, and orchestrator: Seth write a story (2016) for violin, marimba and narrator is a work that was commissioned by Nadia Francavilla, Contemplation (2015) for three choirs : commissioned by Rencontres Chorales 2015, Université Paris 8, La vallée des possibles : l'oeuvre de Camille Lefebvre 2014 - 2015 is an oratorio composed for the 150th anniversary celebrations of the Collège Saint- Joseph de Memramcook, Matin de brume sur la Baie des chaleurs is a work commissioned by the New Brunswick Symphony Orchestra (2013), Le violon fantastique, a musical comedy written for the 2009 Congrès mondial acadien, and in 2010-2011, he was the musical director, arranger, and orchestrator for the Compagnie Viola Léger's musical Louis Mailloux; Fantaisie sur des reels acadiens is a work that was commissioned by the New Brunswick Youth Orchestra (Forbidden City Tour 2007, China), La fête des violons, broadcast on Radio-Canada radio and television (2006 National Acadian Day). Jean-François Mallet has also been associate professor at the Music Department of the Université de Moncton since 1998.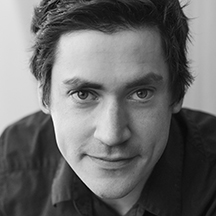 Joseph McNally
Stage Manager
Joseph is both a performer and a technician. He first cut his teeth on the stage in Moncton as an improv player. In 2008, he was chosen as a member of the national improv team and competed on an international level at the Quebec City Francophonie Summit. In April 2015, he obtained an Arts degree from the Université de Moncton in Theatre, Philosophy, and English. Most recently, he has toured as a stage technician with the Théâtre Populaire de l'Acadie's production of Alden (February 2016), and has played « Joe » in the Université de Moncton theatre department's play Chaque Jour (April 2016). Early next year, he will be portraying « Tim Horton » for the Théâtre Populaire de l'Acadie's production Les Beignes. This is his first professional contract as a stage manager and is eager to learn from and with the Theatre New Brunswick team.